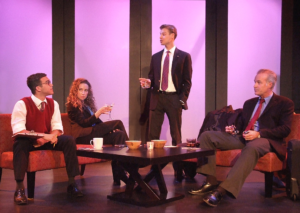 Adam Faison, Jennifer Cannon, Jack Tynan and Geoffrey Lower (all photos by Ed Krieger)
Beau Willimon's 2008 play Farragut North was loosely based on 2004 Democratic Presidential candidate Howard Dean's campaign. The show previously played the Geffen Playhouse in 2009 and has now been revived by Theatre Planners at the Odyssey Theatre. Willimon's much revised and expanded script (with input from George Clooney and Grant Heslov) received an Academy Award nomination for The Ides of March, a 2011 film version. Willimon has gone on to create and write NetFlix's House of Cards. The writer knows the political milieu very well indeed. The play is billed as "a classic tale of hubris" and that it is. Every one of the main characters is brimming over with hubris and the cutthroat world of modern American politics is their playpen. It's a fascinating piece of writing. The current production is competent if unexciting. Cathy Fitzpatrick Linder's workmanlike direction gets the actors from point A to point B without much finesse. The actors are also competent but don't really inhabit their roles; they merely seem to be playing caricatures rather than characters.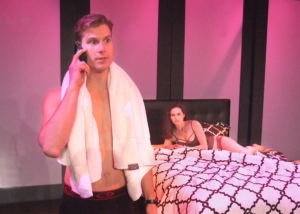 Jack Tynan and Margaret Fegan
Stephen (a winning Jack Tynan) has been a political junkie since age 15. By 20 he had worked four major campaigns. Now at 25 he is Communications Director for the presidential campaign of Democratic Senator Morris, perceived to be the frontrunner in the upcoming Iowa primary. But he makes one bad mistake when he meets clandestinely with Tom Duffy (Andy Umberger), campaign manager for a rival candidate. Duffy offers him a job if he jumps ship. Stephen refuses because he feels he's already on the winning team. But when he tells his campaign manager Paul (Geoffrey Lower) of the meeting, his personal house of cards starts to collapse and his political future is in doubt. Ida (Jennifer Cannon), an investigative reporter for the New York Times publishes the story. Who leaked it? The rival campaign? Molly (Margaret Fegan), the campaign intern Stephen drunkenly slept with? Stephen himself? The news comes as a shock as all these characters cross, double cross, backstab and drag each other through the proverbial mud. This production needed more energy and perhaps would have had more impact had it been produced during the 2016 election cycle. Now it comes across as so much old news.

Odyssey Theatre, 2055 S. Sepulveda Blvd. in Los Angeles. Ends June 21. www.plays411.com/farragut.