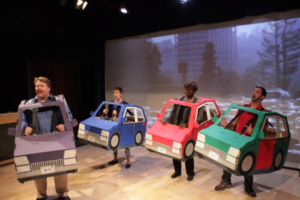 Darren Mangler, Leslie Rubino, Stephanie B. Andersen and Jonathan Brett (photo by Alonzo Tavares)
Composer/lyricist/bookwriter Wayne Moore's Freeway Dreams started life as a four-person sung through cabaret show at West Hollywood's The Gardenia in 1992. It was a popular show that has lived on thanks to its original cast recording. Now 25 years later, Moore has sketched together a little connective tissue for these four L.A. commuters stuck in a massive traffic jam on the Hollywood freeway as it receives a production at Write Act Repertory in North Hollywood. Brenda (Stephanie B. Andersen) is a high-powered casting director desperately trying to find a leading man for the next Stephen Spielberg movie while immobile on the 101. Andrew (Darren Mangler) is a conflicted actor late again on his way to yet another audition he thinks he's not right for and sure he won't land. Deborah (Leslie Rubino) is a yoga instructor in a bad relationship trying to figure out her life. Lee (Jonathan Brett) is a young, carefree friendly pizza delivery boy whose carload of pizzas is rapidly cooling. Moore's songs cover a gamut of styles and emotions but there only connection is the dreamlike nature of their material and their singers. Lee sets the mood with "Dreams" while Andrew expresses his frustrations with "The Manic-Depressive Blues." Brenda is the earth mother type in "I Have This Friend" while Deborah dreams of her dream man in "My Superman." Director/choreographer Jim Blanchette hasn't added much variation to the proceedings and some of his choices are questionable. He has Rubino do a seductive dance up against the wall of the small playing place in nearly total darkness. The cast is personable and the voices pleasant. Andersen sells her big sassy, brassy "Big Woman Needs a Big Man" number while Brett really has fun with his increasingly seductive list of Italian cuisine in "And a Pizza To Go." The show runs barely an hour and needs more songs and more book. What worked in 1992, the song "Doncha Wanna Know?" about a 976 operator, doesn't always make much sense today. As the puppet sings in Avenue Q, "the internet is for porn." There is a solid kernel of a hit show here, it just needs more time in the creative oven to really pop to its fullest potential. Ken Cosby's AV Design helps expand the claustrophobic playing space.

Write Act Repertory, 10950 Peach Grove St. in North Hollywood. Ends June 11. www.brownpapertickets.com/event2951519.