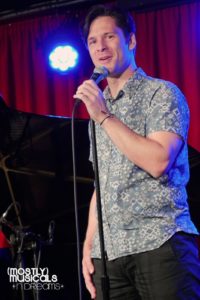 Christopher Maikish (all photos by Amy Francis Schott)
For its 23rd outing, at the E Spot Lounge in Studio City, on Monday, May 22, (Mostly) Musicals had the theme of In Dreams. Most of the 15-plus member cast held onto the dream theme and most of the tunes were from musicals. It was an eclectic night as usual and a well sung evening as well. The majority of voices were strong and the performances well delivered. As usual, Gregory Nabours gave great accompaniment from the piano as well as taking the solo spot for one of his own compositions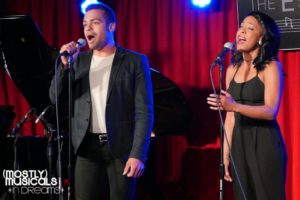 William Cooper Howell and Domonique Paton
Christopher Maikish got the show off to a dreamy opening with "Pure Imagination," from the film and now Broadway musical version of Willy Wonka and the Chocolate Factory. Michelle Ortiz was in lovely voice on "Once Upon a December," a haunting song that opens the animated film and now the Broadway musical Anastasia. Espiridion Magana pulled a role reversal singing "Still Hurting," one of Catherine's songs from Jason Robert Brown's Last Five Years. The role reversal continued as Matt Valle sang the lovely "Just Around the Riverbend," the I Want song from the animated Disney film Pocahontas. Ashley Ruth Jones gave the heartbreaking, rude-awakening from dreams song "Simple Little Things" from 110 in the Shade, a strong outing. As you can tell, the evening was a mixture of new and old songs, some familiar and some unknown to most audiences.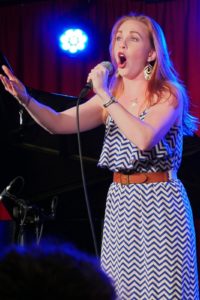 Kelley Dorney
Alli Miller added some pointed political humor to her rendition of "A Dream is a Wish" from Disney's animated Cinderella. The highlight of the evening came when William Cooper Howell and Domonique Paton combined their glorious voices on that paean of upward mobility dreaming from Ragtime, "Wheels of a Dream." Christine Tucker delivered another haunting dreamlike ballad, the rarely heard "Follow Me" from the musical Camelot. Kelley Dorney seems to be spending 2017 in Rodgers & Hammerstein Land. She's already appeared in Carousel and State Fair and can soon be seen in Oklahoma. She had the audience cracking up with "Follow Your Dream," which seemed to contain every hopeful sentiment ever written by Messrs. R&H.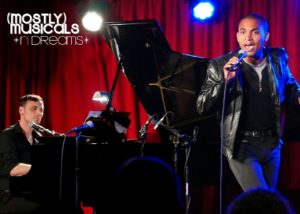 Gregory Nabours on piano providing great accompaniment for David LaMarr
Matt Magnusson, accompanying himself on guitar, set a darker mood with his impassioned "Boulevard of Broken Dreams." David LaMarr had great fun going over the top but keeping it together with the infectious "Sit Down You're Rocking' the Boat." Sharon McNight shook the rafters as usual with her powerful "Some People" from Gypsy. Someone produce that show for this talent stat!. Michael-Leon Wooley is a giant of a man with a big booming voice who sang "Taking the Long Way Home," a song he sang as Tiny Joe Dixon in the film version of Dreamgirls. Paton would return to lead the cast in the finale, a dream song everyone can sing along to, "Over the Rainbow." The talent and enthusiasm left their audience cheering over the rainbow.