Well, dear readers, Kritzerland at Sterling's 77 was a rousing success and was way too much fun. We've certainly been on a roll this year and hopefully we can continue that roll. Due to some very silly scheduling by some who should know better, we weren't completely full, but it was still plenty full and it was a great audience to boot. All my worrying about my voice was for naught – I knew the minute I got to the club that I was fine and I never had a moment's worry after that. These kinds of shows are my favorites, and I'm thinking we'll just keep doing them for a while because it's just nice not to be tied to a composer night or even a theme night. Our cast was simply stellar straight down the line. Every song really was received very well and our cast really delivered the goods. Some highlights for me personally: Misty Cotton hitting Sunset Strip 1965 right out of the park, as she did with her other two numbers. Sami doing a great job with Take It in Your Stride and my When You're Waiting for Love. Jean Louisa Kelly recreating her performance of Someone to Watch Over Me from Mr. Holland's Opus, and tap dancing through the instrumental of If I Can't Take It With Me. Elle Parker recreating her performance of the L.A. Now and Then song, The Black Dahlia. Elle, Sami, and Jenna Lea Rosen doing The Helms Man and for the first time allowing me to hear the harmonies that the LACC folks couldn't do. Jenna did a great What Am I Doing Here cut from Promises, Promises and a bang-up job on The Lights and the Smiles from Nudie Musical. Robert Yacko – he was coming off a terrible cold – he literally had almost no voice at sound check, but between then and the show, whatever he did was a miracle, because not one person in the audience was aware he was even coming off a cold at all. Of course he excelled in his two L.A. Now and Then numbers, but he absolutely killed with the What If – What if Andrew Lloyd Webber instead of writing Phantom of the Opera in 1986, had written Sunset Blvd. back then. I will have videos of most of this stuff, and I think you'll really enjoy the What If. Bill Hayes was his always charming and wonderful self on his two numbers – the audience adored him. It's always great having Grant Geissman on guitar, and Richard Allen was in fine form at the keyboard. Best of all, we were so happy and honored that Richard Sherman chose our show for his first appearance in public in over ten weeks, since he had his back problem. He really feels like Kritzerland is where he belongs and I know he was very moved when Robert did his song The Whimsey Works.  Here are some actual photographs – first our merry troupe sans Bill Hayes who arrived after we'd taken the photo.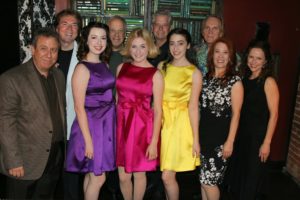 And, of course, the ubiquitous Sami and BK photo.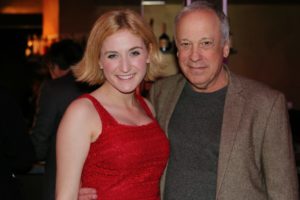 We had lots of fun people with us, including Barry Pearl and his ever-lovin' Cindy, D.C. Fontana and her ever-lovin' Dennis Skotak, Grant's entire family, Doug Haverty's entire family, Howard Green and his Disney cohorts, and lots o' others. After the show, some of us went over to Little Toni's, where I had a salad and a sandwich, which I actually couldn't finish. Then I came home, sat like so much fish, and listened to music whilst catching up on things.
Prior to all that, I'd gotten ten hours of gloriously glorious sleep, then spent the day relaxing. I have some vague memory of trying to watch something – oh, yeah, a little hour-long PBS thing about the NYC blackout of 1977. Very interesting. Then I got ready for sound check and then we did our show.
As promised (in case you missed it within the posts of yesterday), here is the actual video of my song being done at Saturday night's event.
Today, I have to do a little relaxing, but I have a lot to catch up on, plus I will work on the Sherman Brothers musical's script for a bit, I have to go print out the latest version of the musical I'm directing, so I can begin prepping it for our first rehearsal a week from Tuesday. My goodness, that came up VERY fast. I'll eat, I'll hopefully pick up some packages, and then I'll relax some more.
Tomorrow we're seeing about ten more actor candidates for Dial 'M' for Murder. The rest of the week is meetings and meals, prepping, and seeing a reading of the first act of a musical in progress that friends are writing.
Well, dear readers, I must take the day, I must do the things I do, I must, for example, do some work on a script, eat, hopefully pick up packages, print out a script, and relax. Today's topic of discussion: Have you ever seen a revival of a show that you felt topped the original production? Let's have loads of lovely postings, shall we, whilst I hit the road to dreamland, happy to have had such a wonderful Kritzerland at Sterling's 77.