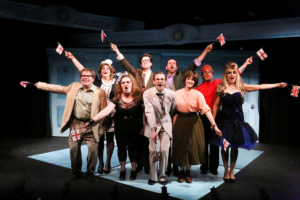 The cast of Lucky Stiff (all photos by Michael Lamont)
Lucky Stiff is a 1988 musical farce with book and lyrics by Lynn Ahrens and music by Stephen Flaherty. It was the team's first collaboration and luckily they would go on to write Once on This Island, Ragtime, A Man of No Importance and the current Broadway hit Anastasia among other shows. Lucky Stiff can easily be seen as a rough first outing with hints of better things to come. Flaherty's music is melodic at times but mostly just frenetic while Ahrens's lyrics, both comedic and romantic, usually just fall flat. The show premiered at off-Broadway's Playwright's Horizon where it only ran for 15 performances. It's had a few productions since then and the current one at Actors Co-Op is probably its first full-fledged one in Los Angeles (Musical Theatre Guild did a staged concert version more than 15 years ago). Most of the show's problems stem from Ahrens's adaptation of Michael Butterworth's novel The Man Who Broke the Bank at Monte Carlo. The plot involves Harry, a timid British shoe salesman who, in order to inherit $6 million, has to take his dead uncle Anthony on an all-expenses paid trip to Monte Carlo. His uncle, who has been taxidermied and placed in a wheelchair, has left a series of instructions on a tape recorder that must be followed to the letter or the money will go to his favorite charity, the Universal Dog Home of Brooklyn. Annabel, a spy from the charity, follows Harry and Anthony to Monte Carlo in the hopes Harry will mess us and the millions will literally go to the dogs. Add in Vincent's legally blind adulterous lover Rita and her optometrist brother Vinnie, embezzled casino money, missing diamonds and tacky Monte Carlo entertainers and you should have a lively evening.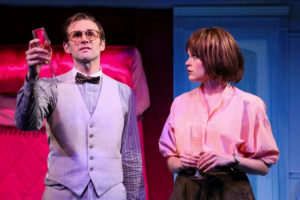 Brandon Parrish and Claire Adams
Even though there are the requisite number of doors in Lex Gernon's set design, this production is far from being a farce. Right from the chaotic opening number, "Something Funny's Going On," the pace and the style of Stephen Van Dorn's direction doom this production to mediocrity. Everything is shouted and/or shouted louder. There is not an iota of wit or finesse in the staging or the performances. The cast and the show just stumble on for nearly two hours until the finale. Brandon Parrish does emit some charm as Harry but his performance is mostly lost in the general ineptness of the production. Claire Adams displays a lovely voice as Annabel even though musical director Taylor Stephenson and his four-piece band give the music a pedestrian playing. Julie Hall's choreography is as frantic and out of step as everything else in the evening. Lucky Stiff is D.O.A.

Actors Co-Op, 1760 N. Gower St. in Hollywood. Ends June 18. www.actorsco-op.org.