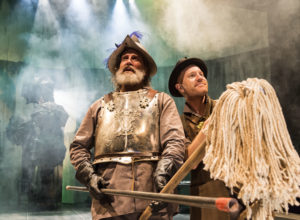 Geoff Elliott and Kasey Mahaffey (all photos by Craig Schwartz)
It has been over 50 years since the musical Man of La Mancha (book by Dale Wasserman, lyrics by Joe Darion and music by Mitch Leigh) premiered on Broadway and won Tony Awards for Best Musical, director, leading actor (Richard Kiley), score and scenic design. It has since been produced in countries around the world from China to Poland, Sweden to the Dominican Republic. There have been many Broadway revivals, National tours and local productions since starring everyone from Raul Julia and Robert Goulet to Jose Ferrer and Brian Stokes Mitchell. I remember seeing that first tour with Ferrer at the Ahmanson Theatre and the chills I felt as that ominous staircase descended from the rafters to deposit prisoners to a holding cell and later to take them to trial before the dreaded Inquisition. It was musical theatre at its finest and the newly imagined production at A Noise Within, under the inspired direction of Julia Rodriguez-Elliott, makes it feel as vibrant as ever, with a brand new sense of immediacy and overpowering danger. In her director's notes, she states the modern day setting, reminiscent of third-world prisons and military detention centers, is intentional. She wanted the production to feel personal, intimate and epic and she succeeds on every level. If you have seen Man of La Mancha before, you have never experienced it this viscerally. If you have never seen it before, don't miss it. It is sure to be one of the best productions of 2017.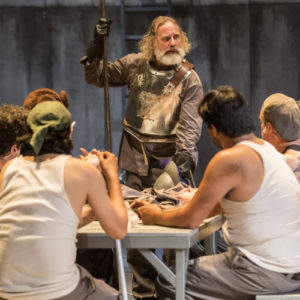 Don Quixote and the Muleteers
Fred Kinney's scenic design places the action in the pit of hell and easily transforms itself into the various locations the imprisoned poet Cervantes needs to tell his tale of befuddled nobleman Alonzo Quijano, who thinks of himself as knight-errant Don Quixote. Ken Booth's masterful lighting sets the perfect mood for every scene from joyous to tragic. Martin Carrillo's sound design makes every word, every lyric, crystal clear as well as providing some thrilling aural surprises. Angela Balogh Calin performs her usual alchemy with the costumes, utilizing everything from garbage bags to combat boots. The seven-piece band under the musical direction of Dr. Melissa Sky-Eagle makes the score sound fresh and new and as electrifying as usual. Props Master Erin Walley deserves special credit for utilizing the simplest of items for maximum effect-mops as horses, tattered umbrellas for a windmill, cafeteria trays for mirrors and on and on. This is one perfectly realized production.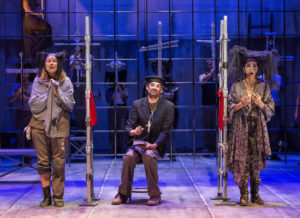 Cynthia Marty, Jeremy Rabb and Cassie Simone
Not only has Rodriguez-Elliott created this modern, brutal setting and re-envisioned the trappings, she has elicited heartfelt and heart-rending performances from her cast of eleven, many playing a multitude of roles as they enact Cervantes's defense to his fellow prisoners. At first the prisoners are skeptical but they are soon caught up in the sheer theatricality of Cervantes's storytelling. Gabriel Zenone easily morphs from the authoritarian Governor of the prisoners to the kindly and bemused Innkeeper. Michael Uribes shows the proper disdain as both Duke the prisoner as well as the learned Dr. Carrasco. The trio of Cassie Simone, Jeremy Rabb and Cynthia Marty as the family and friends of Quijana do a lovely job with "I'm Only Thinking of Him." The sextet of men playing the rough Muleteers blend their voices beautifully on "Little Bird, Little Bird."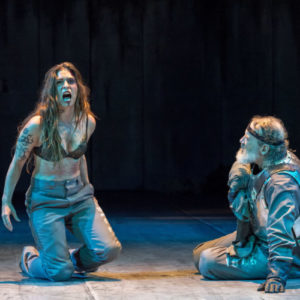 Cassandra Marie Murphy and Geoff Elliott
The leading trio of performers are excellent. Geoff Elliott enacts the childish joy of Quixote, always seeking adventure and the good graces of his lady. He balances the comedy and drama of the role perfectly. His rendition of "The Impossible Dream" dramatically reaches the heights. Jeffrey Landman gives a fresh take on Quijana and Quixote's servant and friend, Sancho. Usually played as a roly-poly comic relief character, here Landman gives true depth to the character and his relationship with his master, who really is more of a friend. Cassandra Marie Murphy ignites the stage with her performance as Aldonza, "the kitchen slut reeking with sweat." Her fire, her anger, her ferocity begins to melt under the kindness of Quixote's attention until she assumes the nobility that is the birthright of the lady Dulcinea. Brava Diva! Brava everyone!

A Noise Within, 3352 E. Foothill Blvd. in Pasadena. Ends June 4. www.anoisewithin.org