Well, dear readers, I had my day off and yet I don't believe it could really be called a day off since I did this and that as well as that and this, went hither and thither and even yon but am here to tell the tale and tell it I shall.
I had a rough night in Jericho – something I ate didn't agree with me and I had an upset tummy that kept me awake for a couple of hours. Therefore I only got about five hours of sleep. Once up, I answered e-mails and then I had to hie myself over to LACC to meet two actors – one current student who couldn't come to our auditions, and one alum of Asian heritage. The former was there and we talked, and the latter never showed up due to a medical emergency, so we'll reschedule him. I came right back to the Valley, picked up one package and came home.
Then I had a lovely e-mail response to my proposed changes to the last three scenes of the musical I'm directing – they loved my suggestions and loved cutting the one song I wanted to lose, so all is well and we'll implement those changes today. Then Kay Cole and John Boswell arrived and we played through the songs for her act, added one, worked out a couple of arrangements and that was that.
Then I had to hurry to my old neighborhood for a dinner with dear reader Jeanne and dear reader Jane and her ever-lovin' Keith at Factor's Deli, a deli I could have walked to from either of the houses I lived in when I was growing up – but somehow I'd never been there. The fact is the only delis I can ever remember going to as a child were The Bagel on Fairfax in the 1950s prior to my grandpa Sam (my father's father) passing away, or an excursion or two to Zucky's in Santa Monica in the late 1950s when we'd visit my grandparents in Ocean Park.
I knew I was in for horrendous traffic over Laurel Canyon but happily I was wrong – it was clear sailing almost all the way to Olympic Blvd. Since I got there faster than anticipated, I paid a visit to my old street – as I drove towards my house I was dismayed but not shocked to see that half the street was lined with awful McMansions, not a one of which looked like it belonged there – a travesty but when real estate people and developers come in waving a check for a million dollars that's the end of the story. The good news was that my house is there looking exactly as it did (from the front) when I lived there, and the houses in close proximity are also still the original houses that were there. I got a little sick to my stomach thinking that within a few years there will be almost no original houses left on that street – the greed is appalling.
Then I went to Factor's – Jeanne was already there so we got a table and chatted until Jane and Keith arrived a few minutes later. It was fun to see Jane and Keith – it's been ages. And surprisingly, it was the first time Jane and Keith were meeting Jeanne. As to me, I've known Jeanne since 1962 and Jane and Keith since a year later – that is well over fifty years now. And frankly we all look pretty damn good.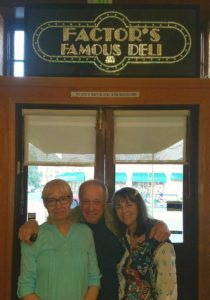 My three compatriots don't really eat meat, so I was the lone meat-eating Jew. I had my usual pastrami (lean) on rye with cole slaw and Russian dressing. I'd ordered for my included side a potato pancake but they brought potato salad instead, which was fine as Jane wanted to taste it. Then they remembered and brought me the potato pancake, too – and it was quite good – Keith and Jeanne had a bite, too. My sandwich was a winner – great pastrami, wonderful Russian dressing, fresh cole slaw, and perfect rye bread. I'll be back for sure.
We were there about ninety minutes, I'd guess and it was really a lovelier than lovely dinner with old friends. Afterwards, I came right home and had very little traffic. Once home, I had lots of e-mails to answer, and then I listened to the new recording of Ralph Vaughan Williams' complete score for Scott of the Antarctic film. What a score and an excellent new recording. It's really great to have it in its entirety. Then, taking a Shostakovich break, I listened to a few Sibelius symphonies by different conductors – such beautiful music and worlds apart from Shostakovich. I did some work on the Dial 'M' for Murder script and then relaxed.
Today, we're back to rehearsing the musical. I told Kay and our musical director Todd they could have the first hour of the morning, but then I must go to work on the performances and scenes – we need to find the inner rhythms of every scene as well as the proper energy from each character. I don't really get in the way of the actors, other than making suggestions to build on what they're doing or telling them technical things about vocal energy or getting rid of extraneous pauses – that kind of thing. I'll do that for about two-and-a-half hours, but within that time I also have to stage the new ending to one scene, so that will take a little time. Then around three we'll do our daily run-through and then I'll give notes in the remaining time. Then Kay and I will grab a bite to eat, and then we have our first rehearsal for Dial 'M'. As always, I'll start with my little speech about how I work, then we'll go through the script to conform a few things that will be specific to my production, just as there were things in Li'l Abner that were specific to that production. Then we'll begin staging the show in order. I love old-fashioned talking plays and I'm looking forward to figuring out how to always keep the show moving along at a steady clip.
The rest of the week through Thursday is more of the same – day rehearsals followed by food followed by evening rehearsals. We're not doing any Friday night rehearsals until the current play closes, and while the cast will meet on the weekends those meetings will just be for line-throughs and memorization, which I'm sure will be helpful and necessary. Friday night I'm seeing some Beach Boys thing at the Pantages, and then one of the authors is coming in to see a run-through on Saturday, and we'll go out to eat after and hopefully hear positive thoughts.
Well, dear readers, I must take the day, I must do the things I do, I must, for example, have a rehearsal, eat, have a rehearsal, and relax. Today's topic of discussion: What are your favorite plays from the 1950s – a wonderful decade for dramatic and comedic plays. Let's have loads of lovely postings, shall we, whilst I hit the road to dreamland, happy to have had a semi day off and a lovelier than lovely visit with old friends.