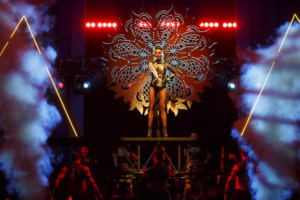 Deborah Cox (all photos by Joan Marcus)
The 1992 film The Bodyguard starred Kevin Costner in the title role and featured the film debut of singing superstar Whitney Houston. The film received seven Golden Raspberry Award nominations, including Worst Picture, and has a score of 32% on Rotten Tomatoes yet it was the second highest grossing film worldwide that year. The soundtrack album featured Houston on six songs, two of which were nominated for the Academy Award. It won three Grammy Awards, including Album of the year, and is still the best selling soundtrack album of all time. In 2012 a stage musical version of the story opened in London. The score featured 16 songs made famous by Whitney Houston. A National Tour of the show is now under way and is currently playing the Pantages Theatre in Hollywood.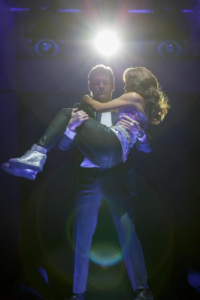 Hudson Mills and Deborah Cox
If you are looking for a Whitney Houston jukebox musical with all its overproduced Clive Davis-like extravagances, this is the show for you. As a jukebox musical, it even concludes with a mini mega-mix curtain call featuring just two songs. The big musical numbers, featuring concert style lighting and sound designs by Mark Henderson and Richard Brooker respectively, come across like Starlight Express on steroids but without the roller skates. The dialogue (book by Alexander Dinelaris), the direction (by Thea Sharrock) and the overall production are so cheesy you should be given crackers along with your theatre program. Sharrock tries to ramp up the tension and suspense by interjecting Hitchock styled sound and sight bites featuring the crazed Stalker (Jorge Paniagua) that actually just provokes titters of laughter rather than shivers from the audience. The Stalker is often shirtless and with his prominent six-pack, if he had the moves he could easily be one of the star's backup dancers and have easier access to her. Judson Mills is properly stoic as Frank, the titular hero. His pained karaoke rendition of the show's mega-hit, "I Will Always Love You," is painful but wins over the woman he is protecting. The show's strongest asset, besides the Houston song titles, is Deborah Cox in the role of Rachel Marron. She has channeled her vocal prowess to sound eerily like Houston yet doesn't provide a carbon copy version. She is her own well-crafted diva. This show is a two diva affair—Jasmin Richardson, as Rachel's sister and songwriting partner, gets to display her considerable vocal charms in a few solos. Even though there were several large signs stating " No alcohol in the auditorium," the opening night audience was juiced. They treated The Bodyguard The Musical as if it were a concert and it might have been a lot more enjoyable as just that, minus all that mind-numbing dialogue.

Pantages Theatre, 6233 Hollywood Blvd. in Hollywood. Ends May 21. www.hollywoodpantages.com.