Playwright Nicky Silver has written over a dozen plays which have mostly been produced off-Broadway and at the Woolly Mammoth Theatre Company in Washington, D.C. South Coast Repertory produced his Pterodactyls and Raised in Captivity in the early 1990s. Silver made his Broadway debut in 2012 with The Lyons which is currently receiving its Los Angeles Premiere courtesy of The Road Theatre Company at their space on Lankershim Blvd. in North Hollywood. Silver tends to write in the tradition of dark farce created by gay playwrights such as Oscar Wilde, Joe Orton and Christopher Durang. His plays also usually deal with the theme of the prodigal son.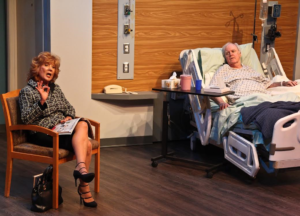 Judith Scarpone and James Handy (all photos by Michele Young)
Silver's plays also feature very dysfunctional families and The Lyons is one of his most dysfunctional yet. Rita (Judith Scarpone) is the Mother from Hell (although she would be the first to tell you Jews don't really believe in Hell). Rita puts the dys in dysfunctional. She has spent 40 years in a loveless marriage to Ben (James Handy) who is literally on his death bed in the first act. Ben is full of cancer and in pain and lashes out at everyone with foul language. Rita does her best to ignore him while also needling him, looking at magazine photos to get redecorating ideas for her living room. Ben wants nothing changed, even after he's gone, but Rita tells him bluntly he has no choice in the matter.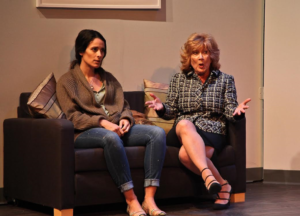 Verity Branco and Judith Scarpone
Daughter Lisa (Verity Branco) visits and is shocked to learn her parents have kept Ben's illness a secret from her for months. Lisa is divorced from her physically abusive husband although she is hoping for reconciliation. Grandma Rita thinks one of Lisa's boys is retarded and should be tested. Lisa is also a recovering alcoholic and in desperate need of her sponsor after visiting with her parents. Gay son Curtis (Chad Coe) arrives, also unaware of his father's terminal illness. He has been estranged from his father because of his homosexuality although his mother seems to dote on him. This is a family totally devoid of love and compassion for each other. They are all miserable alone and more so together. Only Rita has a joie de vivre she rediscovers after her husband's death. She's cutting her kids off and running off to Aruba with Lisa's young AA sponsor.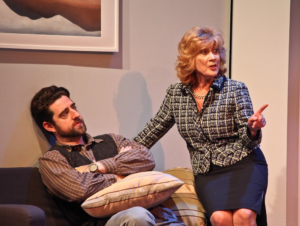 Chad Coe and Judith Scarpone
The humor is very dark in The Lyons and director Scott Alan Smith and his cast delicately balance the laughs and the pathos. Scarpone is superlative as Rita, a truly hateful spouse and negligent parent, yet you still feel sympathy for her. Handy rants and raves in a supine position from his hospital bed and he manages to volley back Rita's barbs with his own spiked vitriol. Branco paints the perfect picture of the daughter no one seems to notice while Coe wears his homosexuality on his sleeve as a badge of defiance. But Curtis is also fearful of his homosexuality, creating make believe lovers for years at a time. Audiences will be glad they are not a member of this family. The Lyons may be fun to watch but you don't really want to associate with them.

The Road on Lankershim, 5108 Lankershim Blvd. in North Hollywood. Ends July 16. www.roadtheatre.org.