Who knew a play about architects, their creations and their egos could be so much fun? Evidently playwright Amy Freed whose father, Richard, was an architect. South Coast Repertory, which is currently presenting her The Monster Builder, has commissioned and presented the World Premiere of four of Freed's plays in the past 20 years. Another, Shrew!, is scheduled for their 2017-2018 season. Her outrageous mix of brains, wit and farce make for an infectious and rollicking experience in the theatre.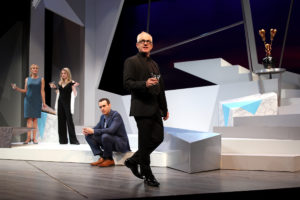 Susannah Schulman Rogers, Annie Abrams, Aubrey Deeker and Danny Scheie (all photos by Debora Robinson)
Gregor (Danny Scheie) is possibly the world's most famous starchitect, his ego is surely the largest. He builds bigger and uglier monstrosities around the world. He has invited Rita (Susannah Schulman Rogers) and Dieter (Aubrey Decker), two neophyte architects struggling for their first important commission, to his new all glass house on an island near a major American city. Every room can easily be seen by tourists arriving on the ferry and design trumps comfort. There is no place to sit except the floor and there is a marvelous outdoor staircase leading nowhere. Co-hosting with Gregor is his actress/muse Tamsin (Annie Abrams) who is the typical empty-headed Hollywood starlet. Gregor learns that Rita and Dieter are the leading contenders to restore a local historical landmark, a boathouse that has fallen into disrepair. He uses his influence to snatch the commission from them then offers Rita a position as his assistant so she can learn from the master. Is he really aiming to help the young couple or has he nefarious plans for Rita as Dieter begins to suspect? Soon a full scale war for Rita's heart and soul is being fought.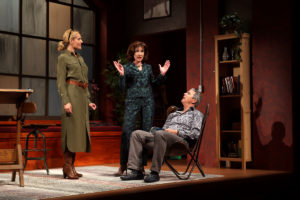 Susannah Schulman Rogers, Colette Kilroy and Gareth Williams
The hilarity ratchets up the scale as Dieter begins to suspect Gregor has sold his soul to the devil, a la Faust, and is really Nazi builder Albert Speer or maybe even Hitler himself. He enlists nouveau riche clients Pamela (Colette Kilroy) and Andy (Gareth Williams), who hate Gregor for their own reasons, to aid him. The laughs come fast and furious and are intellectual as well as lowbrow. Gregor's office, in an old Gothic church, contains an organ that he plays a la Phantom of the Opera at one point. There is also a mysterious workroom/laboratory to which only he has access.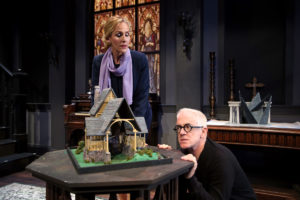 Susannah Schulman Rogers and Danny Scheie
Director Art Manke has directed this manic farce with a sure and steady hand, leading his talented cast to ever more outrageous postures and pronouncements yet always retaining a touch of reality. Scheie takes his role as Gregor to comic heights and commands the stage at every moment. It is a larger than life performance by an actor who knows how to skillfully walk that tightrope between nonsensical and brilliance. Rogers gives a solid performance as Rita, torn between her innate goodness and the desire for fame. Abrams delivers a comic gem of a performance as Tasmin. Thomas Buderwitz, a multiple award winning scenic designer, has outdone himself here, creating three wildly different playing spaces and making them all flow in an out of each other seamlessly. Kent Dorsey's lighting adds to the play's various moods as does Rodolfo Ortega's original music and soundscape. The Monster Builder is a monster laugh producer. When was the last time you laughed at Bauhaus and Howard Roark references?

South Coast Repertory, 655 Town Center Dr. in Costa Mesa. Ends June 4. www.scr.org.