Well, dear readers, I have eaten a box of Raisinets. Yes, you heard it here, dear readers, I, BK, have eaten a box of Raisinets. I don't know why, really, but I saw the box and decided that I simply needed to eat some Raisinets and eat them I did. And they say we never have any interesting news here at haineshisway.com. Where else on all the Internet can you have read such an opening salvo as THIS opening salvo. I like an open salvo, don't you? Much better than a closed salvo, if you ask me, which you didn't. What the HELL am I talking about? Oh, yes – I have eaten a box of Raisinets and I don't care who knows it.
I had a perfectly okay day yesterday. I overslept because the alarm didn't go off. Apparently my iPad is so on its last legs that the alarm clock app has decided it will damn well ring when it feels like it. So, my eleven o'clock alarm actually went off at ten after four. Go know. That's happened twice, so I guess I can't set the alarm for eleven. If I set it for ten it rings at ten, but apparently eleven isn't having any of it and wants not to ring until ten after four. So, I didn't actually get up till noon but in so doing I was able to get nine hours of blessed sleep. But my throat is all weird because of the lack of sleep from the prior two days – I'm nursing it and taking all my preventatives, of course. I answered e-mails, had a telephonic conversation, then at one-thirty I figured it was safe to go to Jerry's Deli for my meal o' the day – it's been empty there anyway for the last few days. But noooooooo – the parking lot was completely full and I just left in a huff and went to Popeye's and got a couple of mild breasts. I don't like the spicy breasts, I prefer my breasts mild. I came home and ate one breast and one biscuit. Then the Shermans came over to pick up the script to the Sherman Brothers musical, my revision, and we all had a fun chat. Then they left and I ate the second breast and biscuit and all was well with the world and all was world with the well.
Then it was finally time to mosey on over to the theater for our run-through. Before we began I was shown the costumes and approved them with a couple of slight changes. When they're all spruced up they'll look very nice indeed. More work had been done on the set, so that was good. And since there's been a whole slew of miscommunication over the last few days, I put a stop to it and set the schedule for our remaining week, including how and when we're doing the tech. There are simply too many voices talking at cross-purposes and I was hoping that was done, but it wasn't but now is. We began our run-through at seven-forty and with our two ten-minute breaks we came down exactly two hours later – I'm very happy that the running time is now very consistent and that if they actually stick to the ten-minute intermissions we'll be out in exactly two hours. Last night's run-through was much better than the previous night – lots less fumbling for lines, blocking looking good with the exception of a couple of technical things, and the performances starting to come together, with the actors now really playing off each other. So onward we go – we begin tech at ten Saturday morning and we'll have four complete run-throughs over the weekend, which is the best thing for us.
Because I had quite a few notes, and also wanted to run a few things for positioning purposes, we didn't finish until ten-thirty. Then I stopped at a Rite-Aid and bought the box of Raisinets, then came home and ate them all up. Oh, and I had to get everything ready for the announcement of the new Kritzerland release. And here it is – a wacky exploitation picture called Sharkansas Women's Prison Massacre, from the prolific Jim Wynorski, whose probably directed more movies that Orson Welles and Martin Scorsese put together. He's survived and changed genres over and over again, and is currently doing low-budget kid movies – and I always admire a survivor. We'd chatted one day when he was visiting and we just decided to have some fun and put out one of his soundtracks. His composer, Chuck Cirino is talented and understands exactly what Jim's films need – they've been working together for quite some time. So, it's a fun listen and the cover alone is worth having it. But the first 100 copies will be signed by Jim and Chuck as well as two of the film's stars, Dominique Swain and Cindy Lucas. Here's the wacky cover.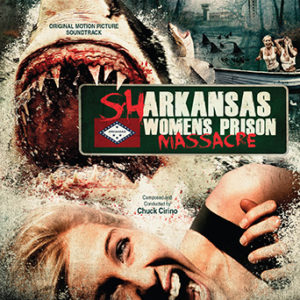 Today, I'll be up by ten, I'll hopefully print out some orders, I'll eat, I'll hopefully pick up packages, if I have to put out any fires I may stop by the theater, otherwise I'll try to relax until it's time for our run-through.
Tomorrow is more of the same followed by a run-through, then at ten Saturday morning we tech, then do a run-through, have a meal break, then do a second run-through. Sunday is the exact same schedule, then we have Monday off, Tuesday is a dress rehearsal, Wednesday and Thursday are preview performances, and then Friday we open.
Well, dear readers, I must take the day, I must do the things I do, I must, for example, print out orders, eat, hopefully pick up packages, hopefully not have to put out fires, then have our run-through. Today's topic of discussion: Favorite candies – from childhood to now. Let's have loads of lovely postings, shall we, whilst I hit the road to dreamland, happy to have eaten a box of Raisinets.