Well, dear readers, I had me a nice Sunday all to myself. Not quite all of the Sunday since I didn't fall asleep until four in the morning and woke up at noon-forty or something like that – I got nine hours of necessary sleep, though, and that was a good thing.
Once up, I was just a lazybones, lazily sitting at the computer like so much fish listening to a lot of music. I did read through my commentary, made a few changes here and there and printed it out. I did make a Gelson's run – I got some of their hot food bar pasta with meat sauce, some popcorn, and some caramels. I ate the pasta, had a thing of popcorn, and two caramels, which was basically my meal o' the day. At some point I did make the attempt to watch a motion picture on a home grown DVD – Vittorio de Sica's The Condemned of Altona, which I've never seen. It's in Eyetalian with English subtitles, but since most of the stars are American and they're clearly speaking English, I would have preferred an American version of the track. The most interesting thing about the film, thus far, is that it's scored solely with the Shostakovich Symphony No. 11 – great music, and it works surprisingly well. However good my intentions were, after five minutes I fell asleep for forty minutes, so I shut it off. I didn't need to lose yet more hours napping.
I heard a lot of music by composers I'm simply not familiar with – the oldsters – and while I'm giving it the old college try, I'm just not responding to Haydn or Schumann or any of the stuff I'm trying to get an education on – the musical language is simply not interesting to my ear. I did like the Beethoven second piano concerto – that had enough interesting stuff to keep my attention. But then Ravel comes on and all is well with the world. I'm about fourteen CDs in to this set, which is all mono recordings but very good sounding mono recordings. I had listened to a few of the stereo CDs already, about six of them. All the performances are wonderful and the big ol' box is a huge bargain – it comes out to about $1.50 per CD.
At some point I went and filled the motor car with gas. The packages that were supposed to arrive didn't arrive until just before the UPS Store closed so I'll get those today at some point. So, it was just the sort of day I needed to have and I did get some lovely texts from the Darling Daughter.
I did discover a couple of composers new to me, one of whom was named Emmanuel Bondeville, a French composer from France. Not many works credited to him, the selections in this box were very much to my liking – very melodic. Two of the three selections were from his opera of Madame Bovary – it made me want to hear the whole thing, but it's never been issued on CD. And a more "modern" sounding composer named Serge Nigg, whose piano concerto I found very interesting. I'm nuking stuff I know I won't listen to again and if I suddenly have an urge I can just upload those discs again.
I got more pictures from Hit Song so I can share them with you. I was so proud of this production and so grateful to get to work on a show in a big theater with top-notch designers – what a treat. Here come the photographs. Here's Adrienne Stiefel (on the left) and Heather Marsden as sisters Crystal and Jessie.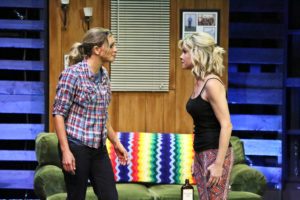 Here's Heather as Jessie.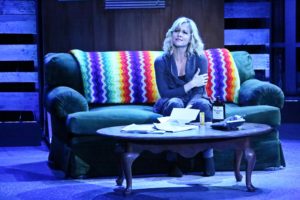 Here's Lance Guest as Johnny, and on the left in back of him is Kier Kirkegaard as Archie and on the right, Tim Christensen as Jake.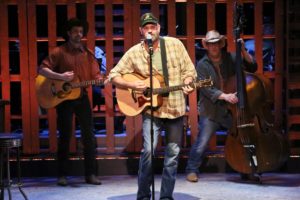 Here's Kier, Robert Yacko, Adrienne, and Tim.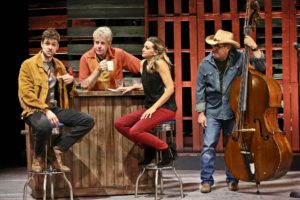 Here's Daniel Belluschi as Billy – he's trying to wake his mom up – note what's on the table and you can hazard a guess as to whether this is mom's last scene in the show.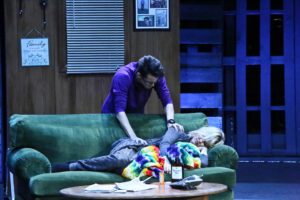 Here are the three on the Spectrum characters – that's Jackson Hinden on the left, Daniel in the middle, and Josey McCoy on the right – in their special needs classroom doing a Wizard of Oz quiz. The TV was my idea and its used for really fun and comic effect in other scenes.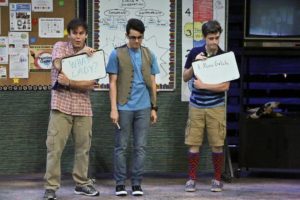 Here's the amazing Adrienne with Kier.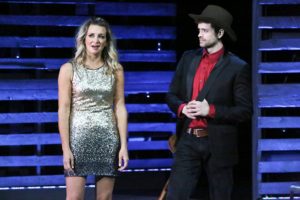 Here's Robert, Kier, and Tim singin' up a storm. This number always got a great reception.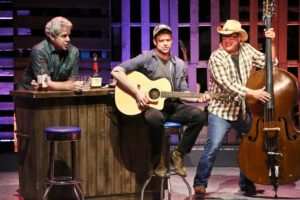 Finally, here's Daniel.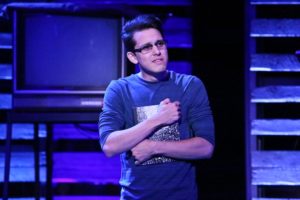 Today, I'll relax, do some banking, hopefully pick up some packages, relax, remain quiet, and then I'll mosey on over to The Federal around four-thirty for our five o'clock sound check. Then at eight we do our show, and I'm sure some of us will go out for a bite afterwards.
Tomorrow we resume run-throughs for Dial 'M' for Murder, which I'm looking forward to. We have six evenings of that. My days will be filled with working on the Sherman Brothers musical, casting the private reading coming up in July, working on the song arrangements, and then there will be the usual meetings and meals, too. So, a busy week.
Well, dear readers, I must take the day, I must do the things I do, I must, for example, relax, bank, hopefully pick up packages, relax, remain quiet, do a sound check, and then do a show. Today's topic of discussion: What movie that's never been on home video is your most wanted home video release? Let's have loads of lovely postings, shall we, whilst I hit the road to dreamland, happy to have been a lazybones on a Sunday.