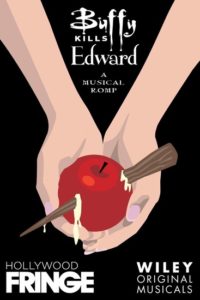 Laura Wiley's Buffy Kills Edward A Musical Romp may very well turn out to be the cleverest show in this year's Hollywood Fringe Festival. It's no Hellmouth, that is for sure. Wiley (book, music & lyrics) has combined characters from TV's beloved Buffyverse with characters from the tween romance series Twilight and the result is hysterical nirvana. Bella (Corinne Mestemacher) is annoyingly whiny as she yet again begs her sparkly vampire boyfriend Edward (Casey Suddeth) to turn her. Unfortunately he bites down on that neck just as Buffy the Vampire Slayer (Sherry Berg) wanders onto the scene. Mr. Pointy is soon planted in Edward's undead heart and he sparkles no longer. Bella vows to exact revenge on Buffy but Dr. Cullen (Matthew Thomas) is not keen on having the boring Bella join his vampire clan. Buffy doesn't understand why anyone would want to be a vampire as she explains her encounter to her Scooby Gang–Giles (Thomas), Willow (Lauren Sperling) and Xander (Cory Robinson).
Wiley knows her characters and plotlines inside out and she delights in mixing and matching the two very different universes. The psychic vampire Alice (the always wonderful Kim Dalton) can't tell us who will live and die but she can tell us who is backstage making a quick costume change from one character to another. Alice also cleverly dismisses such no-show characters like Anya and Cordelia. The ludicrous appearance of Buffy's younger sister Dawn (Dalton) in Season Five gets royally roasted. Wiley's clever wit extends to her songs as Xander bemoans the fact that no one ever notices him, like he's invisible. Angel (Thomas yet again in a trio of wonderful turns) sings about being spun off into his own TV series. Jacob (Robinson) the werewolf howls at yet another rejection from Bella. Spike (Suddeth) struts his bad boy image to the max. The voices of the entire seven-person cast are very strong and really sell this rock score, aided by the great three-person band led by music director Sandy Chao Wang. There are two amazing diva sing offs. First 12-year old vampire and pain giver Jane (Dalton) duels Dark Willow (Sperling) then Buffy takes down Bella.
This one-hour show doesn't have a wasted minute. Marc LeClerc did the well-staged fight choreography that the cast, especially Berg as The Slayer, pull off expertly on the tiny stage at Three Clubs. That is my one complaint—this was the wrong venue for the show. Buffy Kills Edward belonged on a bigger stage and with much better sight lines. Hopefully that will happen soon. Maybe Alice can tell us when and where.

https://www.facebook.com/Buffykillsedward/