Well, dear readers, we had our second Kritzerland rehearsal – sort of. Three of our five singers were not in attendance – one had come the prior day as she was leaving town, and two are coming today because it was easier for them. So, we only had three singers with us, but we had lots and lots of fun. Our first singer is a surprise so I can't tell you more about it, other than it's sweet and funny. Adrienne Visnic was back and we made some minor adjustments to her opening number. Then Jill Schoelen came and we adjusted one key for her – she's nervous, as she hasn't sung in five years, but I just adore her and I like her voice – it's completely unique. She's always had that throaty, husky voice, part of her charm and why she was so popular in the late 1980s – and her songs are very well suited for her – so, I'm just a happy audience member and am bolstering her confidence as much as I possibly can.
Prior to that, I overslept by an hour due to the alarm clock not going off on the iPad – but that did enable me to actually get eight hours of sleep. So, I hurried the morning stuff along, then went and had a California melt (it was so hot I was already a California melt) – that sandwich is comprised of turkey, avocado, some kind of white melted cheese, and bacon, grilled on sourdough. I put a little 1000-Island dressing on it, which perks it up just fine. I had a small side Caesar salad with it. Though packages were due, they hadn't arrived (and didn't until six, so I didn't get them), so I just came home. I began listening to my second set of the Prokofiev symphonies. I have three, and I'd begun with the Walter Weller. Now up is Dimitri Kitajenko, the conductor who I thought did such a swell job with the Scriabin symphonies. I really liked the Weller set a lot, and I really like these a lot, too – they're very different in tone, but they're very compelling and the music is wonderfully recorded and performed. Very happy to have these two sets, and I'll get around to the third set this weekend.
Then it was time for our rehearsal, and as soon as it was done I had to get right to the Dial 'M' rehearsal. I spent the entire evening vacuuming act two and the first scene of act three – we'd already vacuumed act one and the final scene of act three. And I spent about thirty minutes on the attempted murder. The actor playing the potential killer is unique and really terrific – but he's so scared of this scene and hurting the actress. So tonight I cleaned up the staging of it and made it even more violent, and then I demonstrated how to do it about ten times. It's all in the sound and fury, the noise of it, along with Margot's reactions. He's not actually "doing" anything – she does most of it. But it has to be done exactly as I've staged it – nothing is left to chance, it's all controlled and on beats – he'll get it at some point, and it was better when we finally ran it in context. The other fun thing is we're now using the scissors device and it works great. The device is actually controlled offstage with an RF remote. I'm going to block an alternate version in case something goes awry, so that we're always covered. I'm now very pleased with the blocking and I anticipate no further blocking adjustments – that is, as long as the actors now lock in what we've done.
After that, I stopped at Gelson's and got a light snack and then came home. I continued with the Prokofiev music, and worked a bit on the song order for the act I'm directing for Kay Cole. It's never easy figuring that stuff out, but I'm close to having something we can at least start with. I was also missing our Hit Song cast and I just wish it had been more than two performances. Here's Adrienne Stiefel (on the left) and Heather Marsden (on the right) in the opening number. In the rear on the left is Kier Kirkegaard and on the right, Tim Christensen.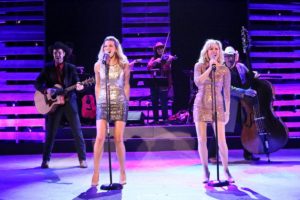 Today, we have our two gals coming at noon o'clock for their second rehearsal. Then I'll pick up yesterday's packages and then have something light but amusing for my meal o' the day. Then I'll relax until it's time to go to the Dial 'M' rehearsal. We're running the show, start to finish, no stopping. We'll see how that goes, but I have to start timing the acts to see where I need to tighten things.
Tomorrow we have a morning rehearsal and as soon as that's finished I come right home to have the Kritzerland stumble-through – after that, I'll need to have a nice meal of some sort or another. Sunday we're off for Father's Day, so I'll be able to relax and clear my head. Monday is sound check and our Kritzerland show, Tuesday we're back and in run-throughs all week.
Well, dear readers, I must take the day, I must do the things I do, I must, for example, have a noon rehearsal, pick up yesterday's packages today, relax, and then have an evening rehearsal. Today's topic of discussion: It's Friday – what is currently in your CD player and your DVD/Blu and Ray player? I'll start – CD, Prokofiev. DVD and Blu-ray – haven't a clew – haven't even been in the entertainment room for five days. Your turn. Let's have loads of lovely postings, shall we, whilst I hit the road to dreamland, ready for another hot day and another California melt.