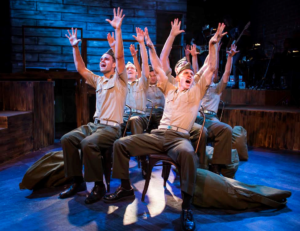 The Marines of DOGFIGHT (all photos by Nicole Priest)
The composing team of Benji Pasek and Justin Paul are very hot right now having just won an Academy Award for their song in the film La La Land. They are also the frontrunners for a Tony Award for their score to the Broadway smash Dear Evan Hansen. Producer Graham Wetterhahn and After Hours Theatre Company are currently presenting Dogfight, an earlier work by the talented duo. The show's title may be a bit misleading to some as there are no singing WW I flying aces to be seen. Peter Duchan based his book on the 1991 film of the same name which was written by Bob Comfort and starred River Phoenix and Lili Taylor. It's the story of a trio of horny marines in November, 1963 on their last night in San Francisco before shipping out as military advisers to a small Asian country called Viet Nam. Their naiveté about their immediate future is charming as well as chilling to audiences that remember how that turned out.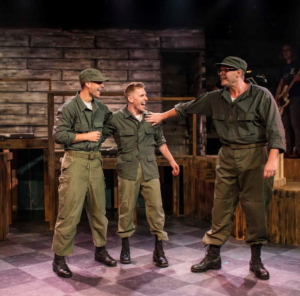 Spencer Strong Smith, Payson Lewis and Trent Mills
The marines have a tradition of betting who can bring the ugliest girl as his date to a dance, where the MC/singer picks the winner; hence the term dogfight. Birdlace (Payson Lewis), Boland (Spencer Strong Smith) and Bernstein (Trent Mills), known collectively as the Three B's, have been inseparable since they found themselves next to each other in line at basic training. Eddie Birdlace invites shy waitress and wannabe folk singer/composer Rose (Nicci Claspell) to be his date and, even though she just met him as a customer in her Mom's diner, she hesitantly accepts. As Eddie gets to know Rose better he tries to talk her out of attending the party but she insists since she is so seldom asked out on a date. (Claspell looks too pretty to be this dateless wallflower but she oozes charm.) Eddie don't know that Boland has rigged the contest by hiring hooker Marcy (Emily Morris) who has a surefire look to win. After winning, Marcy spills the beans to Rose who angrily lashes out at Eddie and his fellow marines. Chastened and feeling miserable, Eddie tries to make amends and he and Rose end up on a romantic "first date" after all.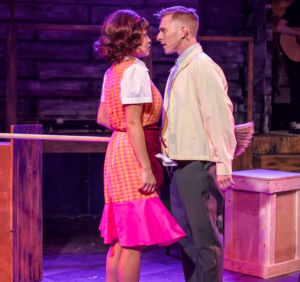 Nicci Claspell and Payson Lewis
It's a charming little story and Duchan has created a varied and interesting mix of characters. Pasek & Paul have further fleshed them out with their songs which really are integral to the plot. Justin Ryan Brown's modular scenic design easily adapts to the many different locales and Andrew Schmedake's lighting is a real winner. Musical director and bass player Elmo Zapp leads the six-piece on-stage band. The cello and violin really bring great intensity to the haunting melodies. Unfortunately Julia Pinhey's sound mix often has the band drowning out the singers in the tiny space of the Hudson Mainstage Theatre.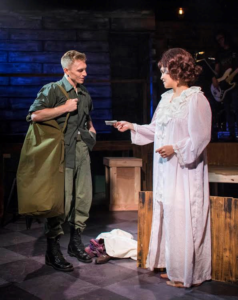 Payson Lewis and Nicci Claspell
Co-directors Jennifer Strattan and Jennifer Oundjian keep the pace flowing nicely and there are some raucously funny scenes with the boys being boys and their group numbers like "Some Kinda Time" and "Hey Good Lookin'" really rock. Claspell and Lewis are delightfully charming in "First Date/Last Night" as they both start to let down their barriers and really relate to each other. There isn't a lot of depth to the other characterizations by the cast members and Morris doesn't really register until her bitter rendition of the title song, but they still manage to sell the show. Oundjian's choreography is plentiful and well executed by the cast. Dogfight is a welcome addition to the local musical theatre scene and should be seen by anyone who loves good theatre and relatively unknown shows by suddenly very hot composers.

Hudson Mainstage Theatre, 6539 Santa Monica Blvd. in Los Angeles. Ends June 25. www.plays411.com/dogfight.