Well, dear readers, we had our final rehearsal in our rehearsal room at Screenland and now we have our day off, then resume our work at the El Portal Theatre tomorrow at one. I got seven hours of sleep and awoke to an e-mail from our writer, who eloquently told me how my what if suggestion for the problem scene was exactly right. So, when I got to the rehearsal hall, Kay and I and the stage manager went and had a huddle – I made the cut to the scene and figured out how to get from point A past the cut bit. I knew we needed about four new lines of dialogue to really get to what the scene was really about. I improvised a few lines, finessed them, and we wrote them down.
When the actors arrived I took the people in the scene and told them what was cut and that the sequence was now just two people once the others in the scene left (there was a re-entrance in the middle that was pointless). I told the actress who had the new lines what they were – we finessed them a bit further with her participation, and we set it and rehearsed it twice. It was so instantly clear that it worked and not only worked but was very emotional and more importantly right for that moment. Suddenly all the unnecessary stuff was gone and we'd found the exact heartbeat of the scene. I cannot tell you how gratifying that is, for not just me but for the actors who now have a scene they can actually play with complete honesty.
Then we ran the show and it was quite a wonderful run-through and the new sequence not only played beautifully but resulted in moist eyes from many in the room. It helps that the two actors involved are doing such a great job – the actress especially, whose name is Adrienne Stiefel, is simply superb in this show, whether singing or acting. This character was so unlikeable in the original script, was such a snide person – and we got rid of all of it and made her still snappy when she needs to be, but also she completely finds herself as a person now, and she has warmth, charm, and most importantly, humor. So we've taken a character that could never have worked as the center of a show and made it work wonderfully. Very proud of that.
We let everyone go by two-fifteen, so they'll have a nice day-and-a-half off now. Here's a photo of our wonderful company of players. Front row, left to right: Adrienne Stiefel, Stefanie Morse, Josey Montana McCoy, Heather Marsden. Second row, left to right: Jackson Hinden, Daniel Bellusci, Benai Boyd, Tim Christensen. Back row, left to right: Lance Guest, John Massey, Kier Kirkegaard, Robert Yacko.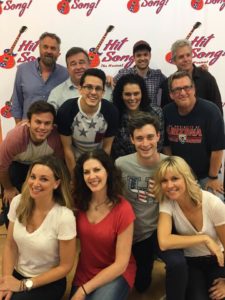 And here's a photograph adding in li'l ol' me and Kay Cole over on the right, then in row two our general manager John Holly (in the red, white, and blue shirt) and behind him writer Keith Edwards, and in the row above Keith, our musical director Todd Schroeder.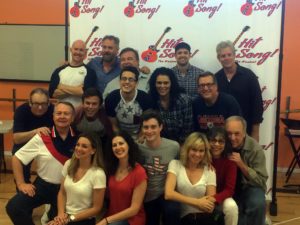 I stopped at Gelson's on the way home and got some chicken filets and ingredients for Wacky Noodles. Once home, I sautéed the chicken (not all of it, only about three ounces), and then made about six ounces of noodles. I ate it all up and it was quite yummilicious. Whilst eating, I listened to more Stravinsky, which I'm really enjoying – what an interesting and always-evolving composer he was. At some point I sat on my couch like so much fish.
Last night, I finished watching a rather pointlessly arty documentary about Rachmaninoff – interesting stuff and of course the musical selections were amazing. I did fall asleep for over an hour and had to go back and watch what I'd slept through. Then I watched another documentary, this one called Stravinsky in Hollywood, which was part of the big box set. It was also very interesting, but rather ineptly put together. I had no idea that Stravinsky was supposed to write the score for The Song of Bernadette and several other films of that era – he used what he wrote for Bernadette and other films in various classical pieces where he repurposed the music.
After that, I answered e-mails, found that one of our Kritzerland singers had too many conflicts for me to deal with, so I set about replacing her. I should know this morning who's doing it, and I'll get whoever it is whatever music she'll need. We're still two weeks ahead of the show so it should be fine – just irritating. I listened to the Stravinsky opera, The Rake's Progress – I'd never heard a note of it and I must say I was rather delighted by it – it's the 1953 mono recording from Columbia with most of the singers who'd premiered the opera in New York the year before. The stereo remake from 1963 is also in this set but I can't imagine it being as well performed as this one – it's just fun and tuneful and I enjoyed it thoroughly. I wonder how many LPs it originally was? It's on two CDs and is quite long – wondering if it was originally four or six sides.
I'm still uploading the rest of the set – I'm 22 CDs in of the 56 – a LOT of music. I won't keep it all in iTunes – just the stuff I think I'll listen to multiple times. And that was that.
Today, I'll do some banking, eat, have a work session with Richard Allen for the Sherman Brothers musical, then Richard Sherman will join us for a chat and to hear what we've done with the arrangement of the show's eleven o'clock number. I may or may not drop by the El Portal, just to say hey to everyone. We shall see. But mostly I'm just relaxing so I'll be totally alert and with it for our tech and performance week, as well as the three Dial 'M' rehearsals. Grant Geissman sent me his delightful music he's written for show.
Tomorrow we begin tech, which I'm hoping will not be an ordeal, and which I'm hoping we can get through in a day. Then I have a Dial 'M' rehearsal.
The rest of the week is more of the same – I'm hoping we can get a non-stop run in on Wednesday because if we don't it's really going to be hard to get us back to where we were and to that performance level, making adjustments for the theater. Friday night we play an invited dress rehearsal, Saturday I'm hoping we don't need to have the actors come in during the day, and then Saturday we play our seven-thirty show and Sunday we play our 2:00 matinee, and then I'm hoping we can all go out for a bite to eat nearby. If not, we'll try to do something during the following week, as our thank you to this hard working cast. And of course on Sunday evening we have our annual Tony Awards Bash right here at haineshisway.com. Be there or be round.
Well, dear readers, I must take the day, I must do the things I do, I must, for example, bank, eat, work, have a visit with Richard Sherman, and relax. Today's topic of discussion: What are your favorite operas by twentieth-century composers? Let's have loads of lovely postings, shall we, whilst I hit the road to dreamland, happy that we're done with our rehearsal room and moving into the theater.