Well, dear readers, we had our first day of tech and we are here to tell the tale. I was hoping we'd get a little further along, but it was a day of many components – getting the cast in mics and doing sound check, which took quite a bit of time, and getting everything ready to run. Plus giving the crew their hour break – the breaks are what causes us to constantly be behind but there's no way around it, and on the contract the show is using we only have the cast for six hours – normally these would be ten out of twelve days.
At some point we actually began from the start of the show. And when I saw the opening with lights and a set move I didn't think it worked at all – the show opens with a very short backstage scene in which a character is running in late, says one line, then there's an announcement and we flip everything from backstage to onstage – it just didn't work in the way I'd envisioned it – partly because of the way the set is and partly because it just didn't work. We could have kept wasting time and trying to get it to work, but rather than that I simply did what I should have done all along – cut the little scene. We now have the announcement, curtain up, bright lights, big music, excitement, and we're off and running. That is how to open a show. We moved slowly through the first five scenes, which is almost half the show, but not quite half. I'm hoping that today goes more quickly and a lot more smoothly – everyone there knows that is what I want. It's doubtful we'll get an actual run-through in, which is a shame.
The lighting is going to be beautiful once all the cues are smoothed out and running correctly, and the set works really well, although I made another quick decision about an upstage kind of wall that flies in and out, occasionally masking the band. I didn't like the look with the band exposed, so the wall is only out at the top of the show, and then it's in for the rest of the show until bows. It's much better that way and a lot less busy with the up and down.
Here is an actual photograph from our tech.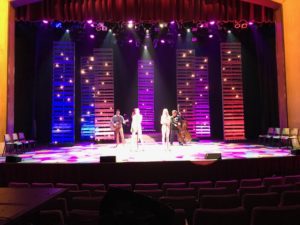 Here is another actual photograph from our tech.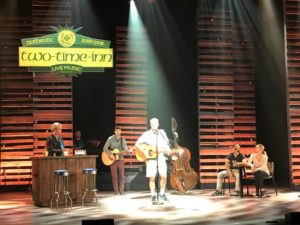 Before we began, the general manager and I went over to the local Panera and got a sandwich to bring back and eat. I had the turkey, bacon and avocado sandwich on white bread. When I got it to the theater and unwrapped it I was instantly taken aback by the globs of mayo – I don't mind light mayo, but this was GLOBS, which made me want to vomit on the ground. I scraped off as much as I could, but it was really disgusting, plus the bacon was that pre-fab crap that's already cooked and they just nuke it for a few seconds, but it doesn't taste like bacon and is gross. So, horrible. Won't be going back there again.
After we wrapped I went over to the Group Rep, told them the other decision I'd made – which was not to be there this week. It was one thing wrapping at five so I could have two hours to relax, eat, and clear my head – but wrapping at seven and starting another rehearsal ten minutes later was something I realized I could not do. So, they'll run the acts, solidify their lines and blocking, so that the next time I see them (next Tuesday) they'll be ready to do a run-through for me, and then I'm with them six days a week and we can do a run-through every night and two on the weekends, and that's what this show needs – it needs to find its internal and external rhythms and then we have to get the performances pitch perfect.
Then I stopped at Gelson's and got a few shrimp and some lobster salad from their new seafood bar, and then I came home and ate it all up, whilst answering e-mails and listening to music.
Today, I'll stop by the band rehearsal, which is at a studio literally next door to the theater, I'll get something to eat whilst we rehearse, then at one the cast arrives, gets into their mics, and we continue on – hopefully moving faster and hopefully getting through the rest of the show well in advance of our seven o'clock finish. After, I'll come right home.
Thursday, we'll have at least one dress rehearsal, but if we can get in a second run, I really want to do it – it's the first day for the cast with the band – we're not going to do a sitzprobe – no time, but the band will know what they're doing and we should be fine. Friday we'll do a dress during the day, and then we have our invited dress rehearsal in the evening. Saturday, if it's necessary we'll call people in, but I'm hoping it won't be. Saturday night we play our first performance, and Sunday we do our matinee performance and then I'll be here for our Annual Tony Awards Bash. Monday is our first Kritzerland rehearsal, then I have meetings and meals all week, our second Kritzerland rehearsal, writing the commentary, our stumble-through, a day off, and then sound check and show.
Well, dear readers, I must take the day, I must do the things I do, I must, for example, hear a bit of a band rehearsal, eat, and do our second day of tech, then come home and relax. Today's topic of discussion: It's Ask BK Day, the day in which you get to ask me or any dear reader any old question you like and we get to give any old answer we like. So, let's have loads of lovely questions and loads of lovely answers and loads of lovely postings, shall we, whilst I hit the road to dreamland, happy to have survived the first day of tech.