Well, dear readers, I do believe we had us a pretty nice opening night performance. I had so much fun working on this show for a whole slew of reasons. New material is always challenging and we made reams of changes from where we began and while the audience can't know that, we all do and every single person who worked on this contributed to its growth. I'm really proud of everyone and of the work – more to come, of course, but we've come miles already. In the end, the cast has to own the show and I could not have asked for a better group of actors than this – so thanks Michael Donovan for bringing them to us and especially to me, because every one of these folks I'm about to name has a big heart and a boatload of talent – and that makes my job SO much easier. And I don't believe any show has ever had note sessions as funny as ours!
Adrienne Stiefel – I don't know why I didn't know this woman, but she's great to work with and I've worked with some of the best musical theater actors in the world over the years, especially on the albums I've done, and Adrienne is right up there with the best of them.  Heather Marie Marsden, also wonderful, and if we do this again I promise she'll live just a little longer. Stefanie Morse was also grand to work with and so giving and invested. Daniel Bellusci – we all knew he was great when we voted for him at Michael Sterling's talent contest (he won), and he is just great in this show – filled with heart, with the only downside being he didn't get to display his wonderful voice.
Kier Kierkegaard – another person completely new to me, but what a find – funny, smart, terrific actor and singer and musician. Robert Yacko, a Kritzerland regular for the last five years and always a pro and always a pleasure.  John Massey – as I said to him in one of our notes sessions, "You're making a meal out of a diet plate" – and he is – so much fun.  Tim Christensen – our bass player and now actor – he's having a blast and we're having a blast watching him have a blast. And a trouper like I've never seen – a week into rehearsals he had a family tragedy and he never missed a rehearsal and because this cast was so loving, I believe it helped him to be with us.
Lance Guest – I knew he was our guy the minute he walked into the room and I didn't realize for some time that he was the star of The Last Starfighter. Josey Montana McCoy – this kid is fantastic and is pretty much stealing every scene he's in – in a good way. The audience ate him up tonight. Benai Boyd – love her to pieces and love being around her light. And Jackson Hinden, making the most of having to play a bully – but thankfully we found a way to make it work without the audience hating him, and that, my friends, is no mean feat.
This is long, but I'm not stopping until I'm through, so you may as well get a pizza and eat while you're reading. And then there are my partners in crime – choreographer Kay Cole – we've done lots together and it's always a wonderful time and collaboration.  Todd Schroeder, our musical director, always looking for ways to make things better, which is all you'd ever want in a collaborator, and the fact that he's a superb musician on top of it is the icing on that cake. Set designer Stephen Gifford gave me what I asked for, but in a really fresh way that I just loved – the first time I saw it I simply said, "Works for me."  Jared A. Sayeg, our wonderful lighting person – so much fun to be with and boy did we laugh a lot. And his beautiful lighting design is so perfect for this show. Kate Bergh – another person I just adored – our costume designer – what she does is real and magical. And Jonathan Burke, who makes the show sound so wonderful – crystal clear and a great guy to boot.
Then there's John Webster Calder III who is a rock and a great stage manager, and his ASM Art Brickman, keeping everything running smoothly. And kudos to our entire backstage crew, too.
And getting its own paragraph – the band! I don't have the names at hand but what a band this is, seriously. When 90% of the audience stays in their seats for the play out music, you know that's a great band. I hope I didn't forget anyone!
Then of course there's our general manager, John Holly, who somehow thought I'd be an interesting choice for this show – it turned out I was and I love being around him – we also laugh a lot. Then again, I don't take jobs unless there are lots of laughs in the bargain. Our writers, Keith Edwards and Elizabeth Edwards, so willing to trust me to help their baby take baby steps – they never ever said my most hated word – "no" – they were always willing to try and always willing to give me the space to create. And our fearless producer, Anne F. Cavanagh – one of the nicest women ever, and she alone was worth this whole experience. We hope there will be a life for the show, and we suspect there will be. But for this first step of that journey, I could not have been happier with tonight. So, on to our matinee and final performance of this iteration of the show. Here's an actual photograph of musical director Todd Schroeder and my very own self.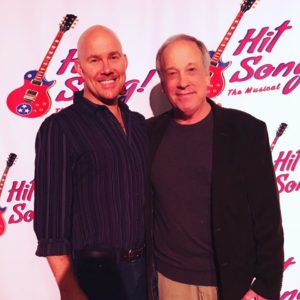 The only hiccup last night was a sound issue – not sure what happened, but the kick drum and the keyboard seemed to be in the same channel and about 10db hotter than our invited dress. It was way too loud and because of it the vocals had to be pumped up – I'm coming in early tomorrow to see why it happened and to make sure it's fixed for the matinee.
Prior to the show, I slept about seven hours. Then I was just lazy all day, going out only to pick up a package and have some chicken tenders. I got to the theater around six-fifteen, and then people began arriving around six-thirty. I knew tons of folks and Richard and Elizabeth Sherman were with us, which is always great. He actually enjoyed the show quite a bit. After the show there was a little do in the lobby, then Yacko, Kay, and I went to the Eclectic. I ordered a small Caesar and mac-and-cheese – the salad was not so hot, and the mac-and-cheese, well, there was something really off about it – I took about four small bites and began feeling sick to my stomach – they didn't charge me for it. I took a Pepcid when I got home and that helped quite a bit.
Today, I'll sleep till about ten, then mosey on over to the theater around twelve-thirty to make sure the sound is fixed for the matinee. Then we'll do our matinee, go out for a drink after, and then I'll get some food to bring home for our Annual Tony Awards Bash. Be there or be round.
Tomorrow is our first Kritzerland rehearsal, which I'm looking forward to. We also have to see one performer for their second rehearsal on Tuesday, and two performers for their second rehearsal on Wednesday, then our real second rehearsal on Thursday. On Tuesday evening I'm back with Dial 'M' for Murder and will devote all my attention to getting that show into great shape. Those rehearsals continue every night, and on the weekend as well. We have our stumble-through on Saturday in the late afternoon, and then we do our show on Monday night. I also have to make the show order and write the commentary – I'm normally done with that by this time, but who had any time? Not me.
Well, dear readers, I must take the day, I must do the things I do, I must, for example, fix the sound issue, see our matinee, have a drink, get some food to bring home, and then have our Annual Tony Awards Bash. Today's topic of discussion: It's free-for-all day, the day in which you dear readers get to make with the topics and we all get to post about them. So, let's have loads of lovely topics and loads of lovely postings, shall we, whilst I hit the road to dreamland, happy to have had a lovely opening night performance.