Well, dear readers, our tech if finally coming together quite nicely. The lighting, which is still being futzed with, looks beautiful, the set functions really well, the scene changes are almost where they need to be – there's still a bit of a hang-up involving an audio-visual cart with a TV – complicated as it's got a lot of wires and it's also hard-wired to a video camera that comes in at the same time – but our crew is terrific and we'll get it down. Best of all, the cast did their first run-through with the band – the first time they heard it. And let me tell you, this is a kick-ASS band – two guitars, piano, second keyboard, fiddle, bass, and drums. And our sound guy has done wonders making the sound great in the house. They're still figuring out balances and cues and who talks where, but it's all getting there. For the first run, in costumes, the energy was a little low – after basically sitting around for two days they needed to get their show game back and that was the major part of my notes session after the first run.
For the second run, they marked the vocals but upped the energy considerably for the scenes and that was just what we needed and suddenly everything moved right along, had impact, the bits of humor I've been able to add are working, and we're just ready for an audience, frankly. The show is running about eighty-eight minutes right now, like clockwork. I think it will run a couple of minutes longer with laughs and applause. One of my happiest things with this show happens when you enter the theater. This is what you see.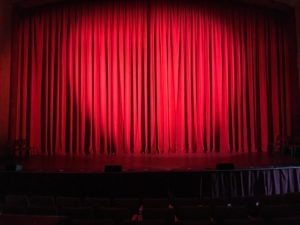 Now, you may say, so it's just a curtain. But I cannot remember more than one or two times in the past twenty years that a show has used a main drape and I hate the way they do it today and I told everyone up front that this wasn't a discussable thing – I wanted the main drape and that was that. I grew up seeing wonderful plays and musicals in wonderful theaters – and having that curtain rise at the beginning was so magical, getting to enter a new world like that. And it works really well for this show. I remember seeing Stop the World at the Huntington Hartford and thinking how radical that there was no curtain, but for that show it worked – most of what I see today you get the show logo projected on a scrim – why? I know what damn show I'm seeing, I don't need to be hit on the head by that stupidity. You will NEVER see that in any show I direct, you have my solemn promise. Here's our cast doing the final number of the show. I'll tell you more about it in a day or two.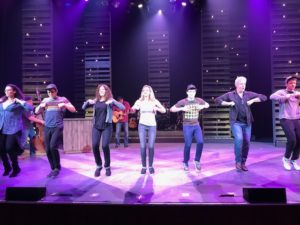 I did get eight hours of sleep, so that was good. I picked up some packages on the way to the theater. At some point our general manager got he and I a pizza slice from Big Mama's Pizza down the street. They have one across from LACC so I knew what I was in for, but am never quite prepared when I see it, for it's the biggest slice of pizza you will ever be served. It's HUGE, but for a chain it's actually quite good and I may have that again today if I'm feeling like it, but I also may wait until after the invited dress, as I have friends coming who want to go out after.
After we wrapped, I stopped at Gelson's and got a bit of chicken enchilada and some of the pasta with meat sauce from the hot food bar – just a couple of ounces of the pasta, and not too much of the enchilada. I came home and ate that up whilst catching up on e-mails and phone messages. Of course, I listened to music whilst doing all that – two concertos I wasn't familiar with – Bartok's violin and piano concertos, both wonderful and wonderfully conducted by Karel Ancerl. I also listened to some more Ancerl doing Martinu – one piece had a lot of singing and I didn't care for it, but the other two pieces were terrific. And then I heard a performance of the Rachmaninoff second symphony I'd never heard before – one of those mono Capitol Full Dimensional Sound albums, many of which were issued on CD – and I have to say it's just a fantastic performance (of the short version) – Steinberg is just the berries and mono or not, this is one great CD – the sound is terrific and the companion pieces are the Prokofiev Classical Symphony and Strauss' Till Eulenspiegel. The CD cost me exactly 1.29 plus shipping – lots of third-party sellers have it and I already know I'll be playing it a lot.
Today, I get to sleep in a bit because the actor call isn't until two-thirty – so I don't need to really get to the theater until two or thereabouts. Once there, we'll do a full run with costumes as close to three o'clock as possible. We've told the cast they can mark the songs, but not the scenes – we need that good theater energy. Then they'll have a two-hour break and half-hour for them is at seven. We then do our invited dress rehearsal – we won't be full or anything, but I'm told there will be perhaps fifty people and I'm hoping a few more show up. Saturday and Sunday are filling up nicely and I think Saturday we may get up to about 250 or 275 people. Barry Pearl and his ever-lovin' Cindy are coming tonight, so we'll go over to Little Toni's after.
Tomorrow, depending on how I feel, I might stop by the Dial 'M' for Murder rehearsal at noon, just for an hour or so to see how they're doing – then again, I might not. I have my little thank you notes to write, of course, so I have to do that on Saturday, too. Then we play our opening performance. I'm sure some of us will go out after. Then Sunday we play our matinee and that's it for this go-round. We're all hoping there will be more life for the show, maybe even later this year. If so, we'll be fixing the last of the stuff there was no time to get to, but I'm here to tell you I am very proud of what we've accomplished in a short amount of time – if we'd done the show we read through at my house it would have been a very unpleasant evening and I wouldn't have wanted anyone to really come. But thanks to willing authors, we really were able to rid ourselves of almost all of the unpleasant aspects that were beaten into the ground in that original version – there are still dark aspects to the show, but thanks to some great actors we've made the characters likeable and you care about them now. And the story focus is very clear in terms of getting from thing to thing and what the timelines are. I can't say enough how much I love this cast and our creatives – they're really collaborative and I've had not one unpleasant day on this show. Monday we begin the Kritzerland rehearsal week and I'm back with Dial 'M' every night.
Well, dear readers, I must take the day, I must do the things I do, I must, for example, hopefully pick up some packages, do a dress rehearsal, have a break, and then play our invited dress rehearsal. Today's topic of discussion: It's Friday – what is currently in your CD player and your DVD/Blu and Ray player? I'll start – haven't a clew. CD, lots and lots of classical music and much more Stravinsky to get through. Your turn. Let's have loads of lovely postings, shall we, whilst I hit the road to dreamland, happy our show is looking and sounding good.