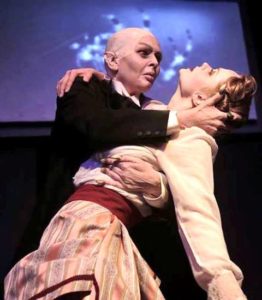 Michelle Holmes and Alina Bolshakova
Nosferatu: A Symphony of Horror is a 1922 German Expressionist horror film directed by F.W. Murnau. The film was an unauthorized adaptation of Bram Stoker's Dracula with various names and details changed from the novel. That did not stop Stoker's heirs from suing. A court actually ruled that all copies of the film be destroyed but luckily a few copies survived and currently it is the third best reviewed horror film of all time on Rotten Tomatoes. Crown City Theatre is reprising their production of Nosferatu A Symphony in Terror for the Hollywood Fringe Festival. William A. Reilly adapted his play from the film, retaining its black and white silent film look. Reilly directed, and even with some technical problems with sound and video at the start of the first preview performance, he has created an intriguing recreation that holds your attention. He is ably assisted by Lisaun Whittingham's balletic choreography and a talented troupe of actor/dancers. It is like viewing a silent film come to life right before your eyes.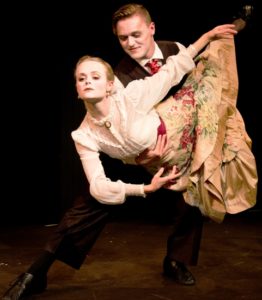 Alina Bolshakova and Michael J. Marchak
Michael J. Marchak easily portrays the various emotions of his leading character of Thomas, a young German in Wisborg who marries Ellen (Alina Bolshakova), the beautiful young woman he falls in love with at first sight. Their courtship pas de deux is beautifully staged and danced. Thomas is given the assignment to travel to the distant Carpathians to enact the sale of a Wisborg estate to the mysterious Count Orlock. Michelle Holmes is appropriately sinister and other-worldly as the Count. The usual bloodsucking ensues until good (and sunlight) triumphs over evil. The supporting cast– Amanda Walter, Shayna Gabrielle, Renee Cohen, Rolando J. Vargas, Matthew Campell and Kristian Steel—effortlessly fill a bevy of roles from nuns to rodents, from villagers to town elders. Saige Spinney's narration is the perfect companion to the images created by this talented ensemble. If you are a lover of vampire lore, ballet, silent film history—any or all of the above—you need to see Nosferatu A Symphony in Terror.

http://www.hollywoodfringe.org/projects/4556