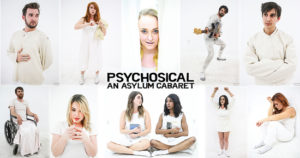 The inmates have taken over the asylum in 2Cents Theatre's Fringe Festival show Psychosical: An Asylum Cabaret and the audience is in danger of never wanting to check out. Director Kristen Boule's artistic vision is brilliant, focused and stunning. A group of 10 totally dedicated and absolutely vocally blessed singers portray a collection of patients with various medical disorders. There is no dialogue or plot and none is needed. This is a raw, vibrant cabaret event that expresses its heart, soul and power through its music. Each performer gets the spotlight and they shimmer, glow and explode under the lights. This was by far the best, most involving experience I have been a part of in four years of Fringe Festival attendance. I can't express how much I long for this show to have an extended run somewhere so I can see it again and again and cajole all my musical theatre friends to witness it.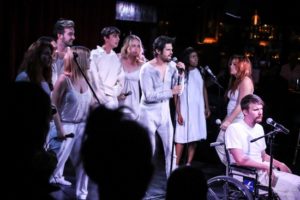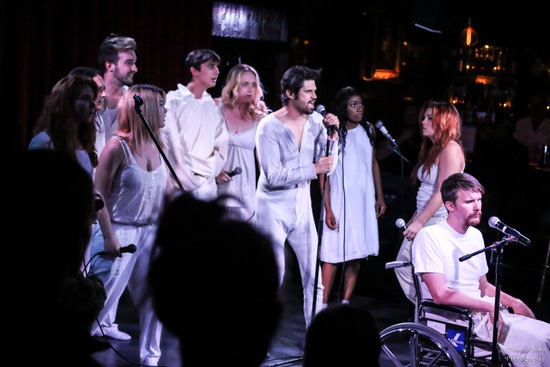 Among the song choices, there are the usual suspects for a mental patient playlist—Patsy Cline's "Crazy," Jekyll & Hyde's "The World Has Gone Insane" and Sondheim's "Losing My Mind." Sondheim seems to be the composer of choice for the inmates as his "My Friend" and "There Are Giants in the Sky" are also performed. Then there are the least expected songs to be sung in an asylum—"Summer Nights" from Grease, "Mother Who Bore Me" from Spring Awakening and Pharrell Williams's "Happy." Other pop songs included Elton John's "Rocket Man," The Police's "Every Breath You Take," and Styx's "Come Sail Away." Boule and Juan Lozano created the vocal arrangements while Sandy Wang did the musical arrangements and led the three-piece band on keys. Excellent choices all around.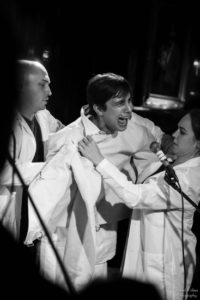 There was some sheer inspiration at times in pairing up the mental condition to the song choice. The catatonic wheelchair bound Chris Lanehart sang "Mr. Cellophane" while "MultiFace" Reagan Osborne sang the lyrics for both Marius and Eponine in "Heart Full of Love" with "BiPo" Kate Bowman. Amber Bracken, Catt Christine, Katy Harvey, Danny Helms, Amanda Hootman, Jessica J'aime and Juan Lozano (who also played the electric guitar at times) could each carry a show on their own talents. As a tightly meshed group of ten, they were formidable.

www.2centstheatre.com