Well, dear readers, sometimes you just have to restage a murder, and last night I finally fixed what wasn't working for me in the murder of Dial 'M' for Murder. Part of it had to do with the "gag" and how it works, part with how close the stage is to the audience, and part with the costume. I've been watching it night after night, knowing it wasn't going to work, but last night when we saw it with the costume and even a hint of the lighting, I knew I'd have to change it. And at the end of the evening, I ended up making what is just one adjustment, all to do with the way the victim falls, and suddenly it was just totally right and even creepy and a bit shocking. So, I'm hoping when I see it with the proper lighting and lightning and thunder sounds that it will all work splendidly. That wasn't the only thing I restaged – I also re-blocked the end of act two, again a simple adjustment that made everything work better. Prior to those adjustments we'd gotten a late start because things were being done to the set, which is looking really good right now and there's still a few more things to be done. And the actors decided to work in costume, so that took a bit of time. So, we only got through acts one and two but I'm happy to say that the time we'd added to act one the night before was, happily, gone and the act ran a tight thirty-eight minutes. I'm being maniacal about how the scenes a paced, both overall and internally within sections. But it's all looking very good, and even having a hint of the lighting was so nice.
Prior to rehearsal, I'd gotten about seven hours of sleep (the iPad alarm app actually worked). Once up, I answered e-mails and did some work on the computer, then I toddled over to Hugo's and had my beloved small Caesar salad and pasta papa, both excellent. After that I came back home. I listened to music for a bit, and then had a nice and long visit with Richard Sherman, just chatting about the musical and how much he likes my revision of same. We're both looking forward to the July reading and, more importantly, to the full production. Here's an actual photograph of the actual Richard Sherman standing in my actual living room, holding the script for the musical. Since you can see the title on the spine of his notebook, I may as well tell you that the musical is entitled Levi – and is the story of Levi Strauss – an immigrant who came to the United States and was the epitome of finding the American dream.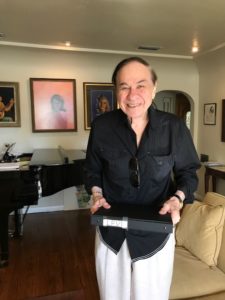 After Richard left, I did more work on the computer, then got ready to go to the theater, first stopping and picking up a couple of packages. Then I went to the theater and hung out until it was time to begin.
After rehearsal, I came right home. I had some popcorn, some cashews, and a tiny bit of low-calorie ice cream (pistachio).
Today I'll be up by eight-thirty or so and to the theater by 9:45. At ten we begin our cue-to-cue. Most of the show is easy – lights up, lights down. But there are several cues within the acts when people are switching on different light sources, so hopefully that won't take too much time to work out. The big lighting scene is, of course, the murder, so that may take a bit of time. We've got three hours slotted and then we begin a run-through with no stops, even if lights and/or sound is screwed up. Then we have a one-hour meal break, then come back and start the second non-stop run-through. The plan is to be done between six and six-thirty – I'll give notes tomorrow before the run-throughs. Then I'll have a nice dinner somewhere, then come home and relax.
Tomorrow, we're on the same schedule – work through stuff in the morning, run-through one, meal break, and then a full dress rehearsal with a photographer taking production photos. Monday is a day off and I'm doing nothing but relaxing. Tuesday is our final dress, Wednesday and Thursday are previews, and we open on Friday and then play seven weeks.
Well, dear readers, I must take the day, I must do the things I do, I must, for example, do a cue-to-cue, do a run-through, have a meal break, do another run-through, eat, and relax. Today's topic of discussion: First crush – who was yours? What age? And who was your first movie crush? Let's have loads of lovely postings, shall we, whilst I hit the road to dreamland, happy to have restaged a murder.