Well, dear readers, I am trying my hardest not to succumb to this dreaded whatever-it-is – overtired, allergies, wannabe cold, who knows, but I'm mightily sick of being on the verge of sick. So, send some excellent vibes and xylophones for not getting this crud. I am, of course, taking all my preventatives in abundance. And thankfully I got eleven hours of sleep yesterday thanks to the Ny-Quil before bed cocktail. Perhaps another night of sleep like that and I'll be back on the road. It's a busy week leading up to opening night on Friday and I've got to be on my A game. And this damn cough is driving me a little batty, too. Enough already, say I.
Yesterday wasn't too bad as days go. As mentioned I got eleven hours of sleep, arising at noon. I was very congested and yucky. The helper came at two and we went and did our Costco run – didn't get much, just waters and Diet Coke, some Airborne, and a few other little things. I stopped at the mail place and picked up one package, then came home. The helper left and I did some work on the computer and then I rustled up some bow tie pasta in butter with cheese and sautéed chicken breasts – about six ounces of pasta, I think – it was very good.
Then I listened to some music, the first three Prokofiev piano concertos. The first two will take some getting used to, I think, but the third was great. These are conducted by Andre Previn and the pianist is Vladimir Ashkanzy, a better pianist than conductor. Then I got an e-mail with some photographs of Dial 'M' for Murder. Here's the classic moment from the show. Carrie Schroeder as Margot and Michael Robb as Captain Lesgate.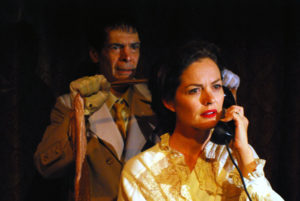 Here's our very own Doug Haverty as Inspector Hubbard, doing a round of questioning with Carrie Schroeder.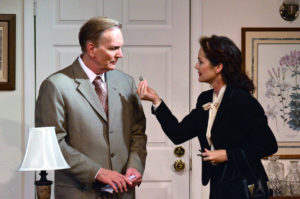 Here's Justin Waggle as Max Halliday, Carrie, and Adam Legaller as Tony Wendice.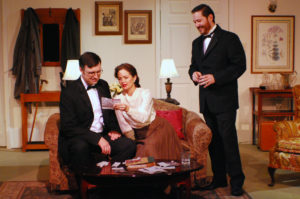 Here's Adam and Michael Robb planning a murder.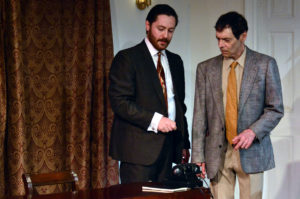 And here's Adam "persuading" Michael Robb that he must do the murder.
I then wrote a pre-curtain announcement, which I'll record today at some point. Then I sat on my couch like so much fish.
Last night, I watched a documentary on the Flix of Net, entitled S is for Stanley, about Stanley Kubrick's long-time driver and all around do-everything person. It's rather dry, but the man is charming and has some fun stories. He also kept a lot of memorabilia and every note and scrap of paper Kubrick wrote. It was a fast eighty minutes and I only fell asleep once for about ten minutes.
Then I left the Prokofiev piano concertos and had a change of mood by listening to Ormandy to the four Brahms symphonies. I've never really given these enough attention – and unlike some of the older composers whose musical language I simply don't respond to (I'm talking to you, Mozart and Beethoven), Brahms was later and his melodies are lovely and I'm enjoying them very much – as always the Ormandy performances are fine and the sound is classic Columbia stereo from their Golden Age.
Today, I'm hoping to arise after a good night's beauty sleep, and then I'll eat something light but amusing, and then I'll relax until it's time to go to the theater. I'm bringing everyone in at six to run some light cues and some slight staging adjustments, plus to give a few notes I didn't give the other day. At seven, they'll go get in makeup and costumes for our eight o'clock final dress. I'm hoping we have a few people with us in the audience. I'm hoping it won't be rough, but it will be the first time our stage manager is actually doing the light cues and only the second time our sound gal is doing the sound cues. I will, of course, have a full report.
Tomorrow and the rest of the week – days I can pretty much relax – I have a little work to do, but not much – and then Wednesday and Thursday night we have our previews, and Friday we open. Then we play Saturday night and Sunday matinee and then run another six weeks. I wish they'd publicize a bit more than they do, but hopefully we'll have okay houses.
Well, dear readers, I must take the day, I must do the things I do, I must, for example, hopefully feel better, eat, relax, hopefully pick up packages, have a brief spot of light cue running and notes giving, and then we play our final dress rehearsal. Today's topic of discussion: What are your favorite films of Mr. Stanley Kubrick. Let's have loads of lovely postings, shall we, whilst I hit the road to dreamland, really sick of being on the verge of being sick.