Joseph Smith. Angel Moroni. Nephites. Lamanites. Brigham Young. Golden Plates. You don't have to know anything about any of the above arcane items in the history of The Church of Jesus Christ of Latter-day Saints, commonly known as the Mormon church, to enjoy the outrageous musical The Book of Mormon which is in its third visit to the Hollywood Pantages Theatre. You will be too busy laughing at the in-your-face raunchiness and toe-tapping musicality of the production. Broadway neophytes Trey Parker and Matt Stone (of South Park fame) along with Avenue Q veteran Robert Lopez did a very smart mind meld in creating the book, music and lyrics for this show. If it were not for the unrepentant vulgarity and rampant crudeness, The Book of Mormon could easily have been written in the Golden Age of Broadway along with such stalwarts as The Music Man, Hello, Dolly!, Fiddler on the Roof, Mame etc. The musical is classically constructed and because of that careful attention to detail, it deserves its big hit status and its eventual classic status.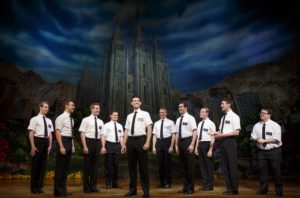 The Mormon Boys (all photos by Joan Marcus)
From the infectious joy of the opening "Hello," as the budding Mormon missionaries practice their door ringing proselytizing, to the final reprise you will have a great big smile upon your face. It's impossible to resist the sheer inane fun time this trio of creators has wrought. Elder Price (Gabe Gibbs) is an ego-filled young man "You and Me (But Mostly Me)", sure he is going to achieve personal greatness in his mission, especially if it is in his favorite place on Earth, "Orlando." But God doesn't grant his wish and instead he is teamed up with compulsive liar and foul up Elder Cunningham (Connor Pierson) and sent to Uganda. There they encounter a group of hapless fellow Mormon missionaries who have not converted a single native, but manage to put a happy face on everything with their philosophy "Turn It Off". The native population is more concerned about famine, AIDS, poverty and the local warlord General Butt-Fucking Naked who decrees genital mutilation for all women. Elder Cunningham makes some progress with the chief's daughter Nabulungi (Leanne Robinson) and soon has her dreaming of a better life in "Sal Tlay Ka Siti." She gets her fellow villagers to listen to Cunningham's preaching but when they get bored, Cunningham soon goes off Mormon script and adds in hobbits, Yoda, Darth Vader and Lt. Uhura among others and soon has everyone lining up to be baptized.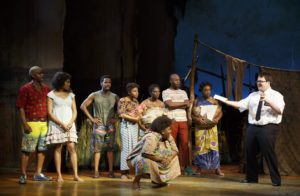 The Ugandan Converts
The Mission President (Ron Bohmer) is very impressed with the results and visits to present Cunningham with a medal. Nabulungi and the villagers decide to show their appreciation by presenting a truly skewered tribute of The King and I's "Small House of Uncle Thomas" entitled "Joseph Smith American Moses" in which frogs, dysentery, golden dinner plates and Darth Vader play important roles. It is the comic highlight of the evening although "Spooky Mormon Hell Dream," in which Hitler, Jeffrey Dahmer and Johnny Cochran are featured performers, comes in a close second. There is a lovely and raunchy first time love duet between Cunningham and Nabulungi, "Baptize Me," that is overflowing with sexual innuendos but still comes across as downright sweet.
Casey Nicholaw and Trey Parker have done a masterful job of directing all the madness, never missing a laugh but also never missing the underlying text of the piece. Nicholaw's choreography ranges from tap dancing Mormons to top hatted devils dancing in unison to tribal gyrations and is a key ingredient. Scott Pask's scenic design, perfectly lighted by Brian MacDevitt, and Ann Roth's costumes perfectly set the mood. The touring cast is headed by Gibbs and Pierson who are totally charming and winning in their own individual ways. They receive great support from the delightful Robinson and from Bohmer who essays many roles from Jesus to Joseph Smith to merely a proud father. The Book of Mormon may not bring any new converts to the LDS Church but it is sure to bring converts to the church of Musical Theatre.

Hollywood Pantages Theatre, 6233 Hollywood Blvd. in Hollywood. Ends July 9. www.hollywoodpantages.com