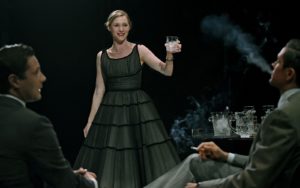 Augustus Prew, Jessica Collins, Neil Bledsoe (all photos by Kevin Parry)
Alexi Kaye Campbell's play The Pride was first produced in London in 2008 where it won the Laurence Olivier Award. There was a highly regarded American debut off-Broadway in 2010. Los Angeles is finally getting to see this play about two very distinct periods in gay history during the current Gay Pride Month thanks to the Wallis Annenberg Center for the Performing Arts in Beverly Hills. The play, which looks at the problems that confronted gay men in 1958 contrasted with the gay liberation options available to gay men in 2008, is very cold and distancing. Director Michael Arden adds even more layers of distancing with his "in the round" staging in the intimate Lovelace Studio Theatre. Arden's scenic design of clear plastic chairs, tables, benches and flooring give a clinical feel to the proceedings as does Travis Hagenbuch's harsh lighting. Scenes from the two very different eras dovetail each other as characters named Oliver (Augustus Prew), Philip (Neil Bledsoe) and Sylvia (Jessica Collins) interact.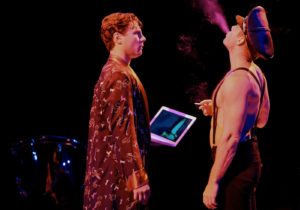 Augustus Prew and Matthew Wilkas
In the 1958 scenes, Oliver is a novelist, mostly of children's books. Sylvia, a former actress, is his newest illustrator. They've been working for a while and Sylvia has finally invited Oliver to dinner to meet her husband Philip, who is in the real estate business. Sylvia is dealing with the aftereffects of a miscarriage and the coolness of her husband. The two men seem to be opposites at first but we soon learn they are involved in a torrid homosexual affair. Oliver is in love but Philip tries to overcome his perversion and finally breaks with Oliver after savagely raping him. The final scene of this era has Philip submitting to primitive aversion therapy at a private clinic. The feel of these scenes is very much of a Terrence Rattigan/Harold Pinter type of play. The characters keep their emotions very controlled for the most part, afraid to break society's rules. In 2008, Philip has just broken up with Oliver for the third time in their year and a half relationship. This time it's serious because he's taken his books. Oliver loves Philip but he also has an addiction to public sex. He just can't stop himself from servicing men he encounters in parks. Oliver seems suicidal this time and his best friend Sylvia tries to cheer him up, while fending off the advances of her amorous Italian lover. Sylvia seems to forge a reconciliation by bringing the couple together for the Pride celebration. The acting is stellar with Prew having the biggest range in his characters. Bledsoe is very tightly buttoned up as both Philips yet he does expose some humanity and warmth. Collins effortlessly plays the frustrated wife/career woman as well as the liberated free spirit. Matthew Wilkas provides great support in a variety of roles from a role play escort to a homophobic doctor. At times The Pride is not an easy play to view but thanks to Arden's unrelenting direction and the talent of his cast, it demands and keeps your attention.

The Wallis, 9390 N. Santa Monica Blvd. in Beverly Hills. Ends July 9. www.thewallis.org.