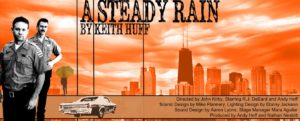 A Steady Rain, Keith Huff's two-hander play, is best known for its Broadway incarnation in 2009 which starred Hugh Jackman and Daniel Craig and broke box office records. The play premiered in Chicago in 2007 winning several awards and had a previous production in Los Angeles in 2014. Director/actor/acting coach John Kirby mounted a production for the Hollywood Fringe Festival in June and has now reopened the show at his studio stage in Hollywood. It is very obvious from the current production that big name movie stars are not needed to tell this story. Huff's poetic and gritty dialogue, Kirby's tight, focused direction and the powerful acting duo of R.J. DeBard and Andy Hoff will keep you on the edge of your seat for this fast and furious two hour ride.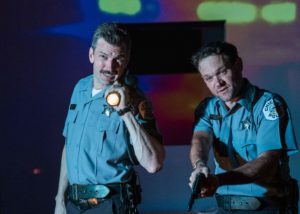 Andy Hoff and R.J. DeBard (photo by Adam Ikaika)
Bachelor and recovering alcoholic Joey (Hoff) and the married with kids Denny (DeBard) are childhood friends who are now partners on the Chicago police force. Denny is a racist who can't control his mouth, his anger or his libido. Joey has taken a Sensitivity Training Class and tried to impart his newfound sensitivity to his partner in the hopes they will finally make detective after being passed over previously. Denny has it in for a local pimp and vice versa. After Denny messes with the pimp's income once too often, he has his front window blown out and large screen TV shattered by a drive by gunshot. The broken glass severs an artery in the neck of Denny's two-year old son and Denny swears revenge. While searching for the pimp, the officers come across a young naked Vietnamese boy who seems spaced out on drugs. Because their anger is focused elsewhere, they return him to a man claiming to be his uncle only to find out later he was really a cannibalistic serial killer. The police department's inquiry into the incident puts more pressure on the duo's friendship, already strained by Denny's affair with a prostitute and Joey's attraction to Denny's wife. Someone has to take the fall for the police foul up and the Vietnamese boy's death. The tension ratchets up as the play speeds to its conclusion. The story is told in monologues and in some present moment dialogue. DeBard and Hoff never let up on the intensity of their performances and the result is a testosterone fueled evening of dynamic quality theatre. Kudos to all involved in bringing A Steady Rain to vibrant life.

John Kirby Studio, 1510 N. Las Palmas Ave. in Los Angeles. Ends Aug. 20. steadyrain.brownpapertickets.com