Well, dear readers, here's how it is: I hate to be late. Yes, you heard it here, dear readers, I, BK, hate to be late. HATE it. Therefore, I usually arrive early and just site around until it's time to do whatever it is I'm doing. So you can imagine my surprise, shock, and disgust when my wonderful second generation iPad caused my alarm clock app to malfunction once again – it was set for ten o'clock and I've used it four times this week and it's worked each time. The phone rang – I thought it was the usual nine o'clock robo call so I didn't answer. But I did think that it was already so hot for so early in the morning. So I checked the iPad to see what time it was and it was 12:55. I could not believe it. More importantly, the people I was meeting for lunch could not believe it. I called, apologized, and said I'd be there within thirty minutes. I told them to order (at that point they'd been sitting for thirty minutes) and eat. I was literally out of the house five minutes later, after throwing on clothes, brushing the teeth, and grabbing what I needed. I'd been warned traffic was bad, so I decided on Laurel Canyon to go over the hill. I flew over the hill, but then halfway down the hill things slowed a bit, until we finally got to the double lanes north of Sunset. From there I did my fancy-shmancy maneuvering all the way down to Melrose – very quick and the signals were with me. But I could see they were doing work and the traffic was already backed up from Beverly Blvd. So, I quickly turned right onto Melrose, zoomed over to San Vicente, turned left and then right on Burton Way. Thankfully, I knew the area like the back of my hand, as that's where my father lived in the final years of his life. So, I knew the secret street right after turning right onto Burton Way – I turned left onto the secret street and zoomed all the way down to Pico because there's a signal at every major intersection so it's easy. I turned right on Pico and zoomed down to Beverly Drive and Factor's Deli, valet parked, and ran in. Total time – twenty-five minutes. Pretty good. They were just starting to eat, so I ordered a pastrami with cole slaw and Russian dressing and a little potato pancake instead of potato salad. By the time that came, they were done so they began signing the CD booklets. I'd never met Dominique Swain before, but she's still beautiful and with a sparkling personality. Director Jim Wynorski and composer Chuck Cirino were the other signers. My sandwich was great and so was the potato pancake.
After they finished signing, Jim ordered some dessert so I did, too – rice pudding – very light and very good. By that time it was three-fifteen. I managed to get on Coldwater Canyon by three-thirty but the traffic was already horrible and it took thirty minutes from there to the mail place. An hour later and it would have taken an hour. I picked up a couple of packages, then came home. I'd already decided not to go to the theater after that wacky day. And I had a lot to catch up on, computer-wise. It was eighty-two degrees in the house, so I turned on the air to cool it down. I woke up the computer and began to answer e-mails and was about to check haineshisway.com as I hadn't had even a second to post in the morning before running out the door – I say about to because the electricity shut off – everywhere in the neighborhood. I couldn't believe it.
Thankfully it came on about five minutes later. I had to restart the computer and give it ten minutes for the modem to find the router and for the computer to load everything properly. So, I spent the next few hours answering e-mails and doing work on the computer, whilst listening to the last of that marvelous Vaughan Williams set. As I continued doing stuff, I moved on to a set of Brahms symphonies. As you know I'm trying to broaden my horizons (no mean feat), in terms of pre-20th century music. Now, I'd just listened to the four Brahms symphonies conducted by Eugene Ormandy for Columbia. I've uploaded them about five times over the past two years and each time I listen the music just doesn't "get" to me and I nuke them out of there. Then I think I should give it another chance with the same result.
So, the Australian Decca Eloquence line, whose remasterings I love, and whose CDs have been some of my favorites during this classical journey, just released a Brahms set (two CDs) recorded in 1956 and 1957 by Rafael Kubelik. I assumed the 1956 would have to be mono, but they're all early stereo, which I love. Well, from the first notes of symphony one it was like listening to completely different music – Kubelik's way with these is fantastic – hearty, warm, beautiful – and all in great early stereo, and beautifully played by the Vienna Philharmonic Orchestra. The music took on a beauty I'd never heard and the entire set was just a magical listening experience. And of course the famous tunes of the first and third symphony here sounded gorgeous and perfect. So, I can thoroughly recommend this set – it's glorious and it will get many plays from the likes of me.
And that was basically how I spent the evening. For my snack, I had four of those low-cal chicken mini-taco things that I forgot I had in the freezer. Doug Haverty called and told me we had about a half a house and that the show mostly went very well. Our new sound gal had a couple of problems that she'll hopefully fix by tonight's performance.
Today, I will not be sleeping until one, that much I can tell you. I have to pick up all my dry cleaning from the cleaners, I have to eat, I'll hopefully pick up some packages, I'll Xerox Levi scripts, and I have to have a Levi work session with the musical director of the show. Then I'll be seeing the evening performance of Dial 'M' for Murder. Here is our little flyer with review quotes – we're still waiting on a few reviews and if they're good we'll add them to these.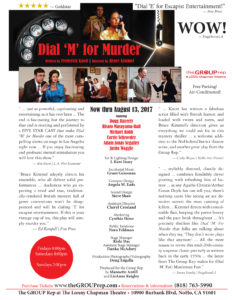 Tomorrow I have to highlight all the Levi scripts by person, so they know which roles they're reading on Monday night. That will take some of the morning, then I'm off to the theater for our talkback, then I'll come right home and finish marking up the scripts so I don't have to do it on Monday night. I may enlist some help if it becomes daunting. Monday I'll prepare everything for our seven o'clock reading. Several people have asked if they could come and listen, but with fourteen actors, an electric piano, and three creatives, there will be no room whatsoever. The rest of the week is meetings and meals and catching up and Kritzerland show stuff.
Well, dear readers, I must take the day, I must do the things I do, I must, for example, pick up dry cleaning, eat, hopefully pick up some packages, Xerox Levi scripts, have a work session, and see a show. Today's topic of discussion: What have been your most embarrassing latenesses? Let's have loads of lovely postings, shall we, whilst I hit the road to dreamland, still feeling guilty that the damn alarm didn't go off and that I was an hour late.