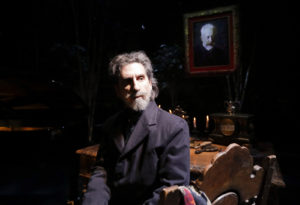 Hershey Felder in full Tchaikovsky makeup (photos by Hershey Felder Presents)
I guess the first time I became aware of Russian classical composer Piotr Ilyich Tchaikovsky was in January 1959 when Walt Disney presented The Peter Tchaikovsky Story as part of his weekly TV series. Although it did tell an abbreviated and sanitized biography of the composer, it was mostly a commercial for the newly released Disney animated film Sleeping Beauty, which contained a lot of the composer's music from his ballet of the same name. Of course I also saw the film, but came out remembering the evil fairy Maleficent turning into a dragon more than I did the music. Fast forward to 1970 and Ken Russell's more truthful but highly dramatic and at times outright outrageous take on the composer's life in The Music Lovers. Now I remembered the music and Tchaikovsky has remained my favorite classical composer.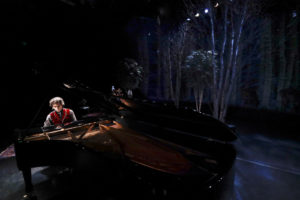 Felder at the piano
All of this is to lead up to the fact that playwright/actor/pianist Hershey Felder, known for his past shows about such composers as Gershwin, Lizst, Bernstein and Chopin, is currently performing Our Great Tchaikovsky at The Wallis in Beverly Hills. Felder plays the composer from early childhood until his mysterious death at age 53. At times he also plays other characters in the composer's life as well as stopping the performance to comment on the action and history as The Artist telling the story. It's an effective way to tell the complicated story of one of the greatest albeit most tortured classical composers. Tchaikovsky was a homosexual in Russia at a time when that would have meant banishment to Siberia had he been denounced. Today in Putin's Russia it can mean public beatings, even death. Married to a woman who would not divorce him but knew his secret and used it to blackmail him, Tchaikovsky tried to tamp down his homosexual tendencies but kept falling in love with men, even his younger nephew. Besides all the biographical details, Felder plays many of the composer's biggest hits—from his Romeo and Juliet opera, his Nutcracker and Swan Lake ballets, his symphonies and, most especially, his most famous work, the "1812 Overture". The show, running 105 minutes without intermission, is like an episode of Biography mixed with a classical music concert. Felder wrote the book and Trevor Hay's direction keeps the narrative flowing smoothly. Christopher Ash's lighting and especially his projection design greatly enhance the experience. There are even fireworks during the "1812 Overture", just like you get yearly at the Hollywood Bowl. Our Great Tchaikovsky is much more intimate and informative.

The Wallis, 9390 N. Santa Monica Blvd. in Beverly Hills. Ends Aug. 13. www.thewallis.org/felder