In one of its last acts before adjourning for summer, in late June the U.S. Supreme Court agreed to hear the case of a Colorado baker who refused to bake a cake for a same-sex marriage even though the state had an anti-discrimination law in effect at the time. It was just days later that Atwater's Echo Theater Company opened their World Premiere of playwright Bekah Brunstetter's The Cake. It's not about the Colorado case or about any legal case in fact. It's a much more personal story of a deeply religious woman faced with the fast-changing realities of modern American life. The 90-minute no intermission show has been given a stellar production by Echo. Pete Hickok's scenic design prominently features Della's bakery with mouth-watering cakes prominently displayed on countertops and in a glass case. You can almost smell the cakes baking in the off-stage oven.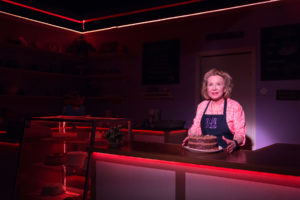 Debra Jo Rupp (all photos by Darrett Sanders)
Della (Debra Jo Rupp) is having a hard time getting Brooklyn based writer Macy (Carolyn Ratteray) to sample any of her baked goods. Macy doesn't do gluten or sugar (and Della would never skimp on ingredients) or much else that would seem to be fun. She's a writer on a road trip to Winston-Salem, North Carolina and has a very combative personality as she seems to be interviewing Della. Della is a religious woman, quoting scripture occasionally and creating a Noah's Ark cake for an upcoming christening. Della is thrilled to relate the fact that she will soon be a contestant on TV's Great American Baking Show (some fun fantasy sequences here with the booming voice of Morrison Keddie as the British host). While Della is in the kitchen checking on a cake, Jen (Shannon Lucio) arrives and it's obvious she and Macy are a couple. Della helped raise Jen and is delighted to see her, overjoyed that she has returned home to get married, but dismayed to learn that instead of a groom, Macy is the other bride. Jen wants Della to make the wedding cake but although Della doesn't outright refuse, she can't bring herself to bake a cake for that kind of wedding. The brides seem to be okay with the decision and leave. Della is conflicted but her even more prejudiced plumber husband Tim (Joe Hart) absolutely demands she not bake them a cake, setting off a bit of simmering rebellion in Della.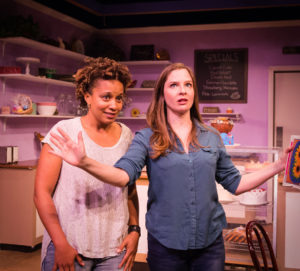 Carolyn Ratteray and Shannon Lucio
There are problems in the lesbian relationship—Jen, who isn't quite into all the lesbian trappings that come with living openly in Brooklyn, isn't comfortable being open in front of family and old friends in her hometown. But her late mother left her $30,000 for her wedding and Jen wants the big wedding in front of her family and friends. Macy is a forceful and proud lesbian and was never in favor of getting married; she would rather spend the money on a trip to Goa and a down payment on a house. These are not easy issues to solve and the writing makes Macy a very negative and unlikable character, especially when she writes and posts a story online about Della's refusal to bake the lesbians' wedding cake. Della is the new social media whipping boy and even loses her spot on the TV baking show as a result. In a heartfelt talk with Jen, Della realizes there is more love in the lesbian relationship than in her own childless marriage. She attempts to remedy that situation by surprising her husband with some tasty sexual diversions.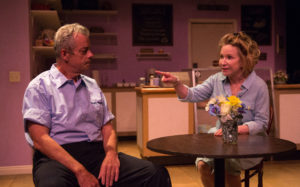 Joe Hart and Debra Jo Rupp
There is a happy ending for all even though Brunstetter's writing is pretty much one-sided, making Della out to be an anti-gay religious fanatic when she really is just a person with a deep-seated, old-fashioned moral code. She has always done the right thing the way she was raised and following her husband's dictates. But as she finally asserts her own independence, she becomes a newly born woman. Macy is the true villain of the piece as written, not giving Della or even Jen the benefit of their beliefs. Jennifer Chambers has done a fine job of directing and the cast delivers strong performances, especially Rupp. This is one instance where you can see The Cake and get to eat it also (in the lobby after the show).

Atwater Village Theatre, 3269 Casitas Ave. in Los Angeles. Ends Aug. 13. www.echotheatercompany.com