Well, dear readers, this cough from HELL will not go away and I, for one, am so damn tired of it that I'd like to choke a cauliflower. Yes, you heard it here, dear readers, I, BK, am so damn tired of this here cough from HELL that I'd like to choke a cauliflower. But then what would happen? I'd be forever known as the Cauliflower Killer and that would be most unseemly. In any case, I wish this damn cough would just go away at long last.
Was than an entire paragraph about a cough? And cauliflower? Yesterday I had a rather okay day – nothing amazing, but nothing disastrous. Well, a couple of really nice things, so that's always very much appreciated by the likes of me. I got about six hours of sleep – the helper's helper came by to pick up some stuff, and then I did some casting work on Levi and booked another three folks, but I never got around to Kritzerland, which I really must do today. After that, I went and had some chicken tenders, then picked up a couple of packages, after which I returned home.  Here are the two adorable girls.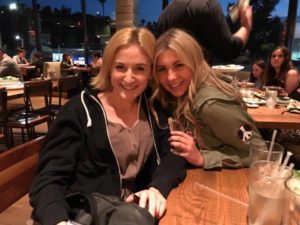 I did some work on the computer whilst diving into a new set of Prokofiev symphonies, which instantly became my favorite of the sets I've heard. Another winner Melodiya box (but only three CDs), conducted by Gennady Rozhdestvensky. The performances are wonderful, and the remastering on these late 1960s recordings is fantastic. I like the Weller and Kitayenko sets, too, but they're nowhere near this set. The music sounds so fresh and alive and I hear things I never heard in the other sets – one movement of one symphony has a prominent piano part that's all but buried in the other sets. A wonderful set that I'm very happy to have. It's not easily available but thankfully I found the one VERY reasonable copy on all the Internet. I think the person hadn't looked at what this was actually going for, so I got the benefit.
I had several long telephonic conversations, and then in the late afternoon got a call to come to an impromptu dinner at California Pizza Kitchen close by. So, I met Sami and her mom and Brennley Brown and her mom. Brennley's doing great post-The Voice, but is very grounded and down to earth. We had lots of fun. I had the low-cal cedar plank salmon (about 550 calories is all) and it was really good. I hadn't been to this branch of CPK in over a year. I must go more often, I think.
After that, I came back home. It was too late to watch anything, so I finished the Prokofiev set, and then moved onto another Vaughan Williams set, this conducted by Vernon Handley – it's excellent. Very different from Boult and obviously very different from Rozhdestvensky. The only downside for me is the very low mastering volume and slightly muddy sound. But the conducting is excellent. I got everything ready to make an event page for the Kay Cole act, which is coming up VERY quickly. I'm a bit taken aback that we actually have spent virtually no time on it and it's a week-and-a-half away. She got super busy, but we have to spend the time we have to spend in order for it to work – this stuff can't be winged. So, I've asked her to lock down a schedule for the upcoming days.
Today, I must finish casting Kritzerland and a few additional Levi folks, I then have to choose songs for Kritzerland and get that music (if I don't already have it on the computer), I must eat, I must hopefully pick up some packages, I must do other work on the computer and begin to assign the Levi roles, and I shall relax at some point.
Tomorrow, there's a pick-up rehearsal for Dial 'M' – I'm not attending. I have too much else to do, including getting fourteen copies of the Levi script Xeroxed. Friday something or other is going on during the day – a meeting or work session or something – and then Saturday we have a Kay rehearsal. Sunday is the Dial 'M' talkback and probably a work session for the music of Levi so we can at least stumble through the songs a bit, just for timing purposes.   I may attend the Friday or Saturday evening Dial 'M' performance – only one of the two, though, unless I decide to skip seeing the matinee and just show up for the talkback. We got another excellent review for the show, so that was nice, and I think there are still a couple to come.
Well, dear readers, I must take the day, I must do the things I do, I must, for example, finish casting both Kritzerland and Levi, I must assign songs, I must eat, I must hopefully pick up packages, and I must relax. Today's topic of discussion: It's Ask BK Day, the day in which you get to ask me or any dear reader any old question you like and we get to give any old answer we like. So, let's have loads of lovely questions and loads of lovely answers and loads of lovely postings, shall we, whilst I hit the road to dreamland, hoping I don't actually become The Cauliflower Killer.