Well, dear readers, I have always loved fried clams. Yes, you heard it here, dear readers, I, BK, have always loved clams. Even though at one point I lived near a Howard Johnson's I'd never actually tried them until Hamburger Hamlet put their fried catfish and clams platter on the menu. I fell in love with fried clams and ordered them every time I was there – not only were they great, but the Hamburger Hamlet knew how to make great tartar sauce, which is, I hate to tell you, half the battle. Ultimately, they got rid of it after a few years because in the late 80s/early 90s, fried was out. So, I eventually had them at HoJo's and while they were not quite up to the Hamlet's, they were excellent, with excellent tartar sauce. I tried the fried clams at the Coral Cafe in Burbank one time – like eating fried erasers and the tartar sauce was from hunger. So, last week I searched "best fried clams in LA" and was led to a jernt called Connie and Ted's – I read the Yelp reviews, which I should never believe or trust, and I excitedly made my reservation for an early lunch.
I arrived promptly at eleven-thirty, was the only one there, got my table, and ordered the Little Gem salad (basically a wedge) – first I ordered it with the 1000-Island dressing, but realized I should try it the way the restaurant prepares it – with bleu cheese. Mistake. More about that in a minute. And, of course, I ordered the fried clams. The waitperson was friendly and attentive and hopes were high. The restaurant itself is open and bright and airy in the trendy way of new restaurants, with the trendy open kitchen and the trendy big bar, which is really what the kiddies go there for.
The Little Gem salad arrived. Now, here's something that baffles me – when you have a wedge that is loaded with bleu cheese chunks (which I like) why on earth would you have bleu cheese dressing on top of it? I understand most restaurants do it that way, but it's just too much bleu cheese – too overwhelming. When I have my favorite wedge at The Smoke House, I have it with the 1000-Island dressing and it's fantastic – you still get the bleu cheese but it's an entirely different taste sensation with another dressing. In any case, I ate about half of it and couldn't eat any more – I have no idea how their 1000-Island dressing is, though, although given what I'm about to write, I wouldn't hold out hope that it's too good.
Then the fried clams arrived, served in a basket with french fries. Tartar sauce and ketchup were provided. I first tried the fries and I have to say they were really good, rather like the fries at Island's – good size, crispy, and tasting just fine, with or without the ketchup. So far, so good. Then came the true test – I tried the fried clams and the tartar sauce all at once. The fried clams were a bit rubbery but not too much so, the batter was okay, but it was very "fishy"-tasting, something I never said about the Hamlet or HoJo. The tartar sauce was a huge fail – in fact, this place is not alone in that – everywhere I try tartar sauce it's a huge fail. No one knows how to make proper tartar sauce anymore – want to have good tartar sauce that's made properly – The Smoke House – perfect. After about six bites of this stuff I asked my waiter to bring me some cocktail sauce. Now, I'm a traditionalist when it comes to sauces – and cocktail sauce is so easy, but this cocktail sauce was not real cocktail sauce, not in my book. This was something else and it just didn't taste very good, although I preferred it to the tartar sauce. Then again, I would have preferred the ketchup to the tartar sauce. I ate as much as I could but it wasn't pleasant. I ate quite a lot of fries, though.
And so, a very disappointing Dining Adventure that was basically a Dining Bust. And I shall not be fooled again by Yelp reviews – they're all written by mostly young people who simply like whatever's hip and trendy.
Prior to the DA that turned into a DB, I'd gotten eight hours of sleep. After the lunch, I hurried back home. Once there, I answered e-mails, had some telephonic calls, and did some work at the piano. Then I got everything ready for our new release announcement, which is the wonderful score to the hit documentary I spoke of right here on haineshisway.com, Betting on Zero, the kind of expose on Herbalife. The score is by Pete Anthony, who has spent most of his time orchestrating and conducting film scores for people like James Newton Howard, Danny Elfman, John Powell, and many others. But he's a terrific composer and it's a real film score – he scores it just like a movie. Here's the cover.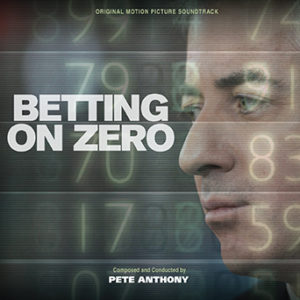 Then I did some other stuff until Ontrac, the worst shipping company EVER, finally delivered my Freshly package just before six o'clock. I picked it and a couple of other packages up and came back home. Then I sat on my couch like so much fish and watched another Hitchcock hour episode – not brilliant but not bad – starring Christopher Lee. And then I nervously put in a DVD that had arrived in the mail – the complete one and only season of The Young Lawyers. Here is what I posted on our handy-dandy discussion board last night:
In the jaw-dropper department: I just watched the I've Got a Problem episode of The Young Lawyers, my very first guest shot (I don't receive guest star billing – I'm in the co-starring group, but today my role would absolutely get guest star billing and I probably would have back then if I'd done other jobs – but I'm in VERY good co-starring company).  I remember the shoot, of course, and talk about it extensively in There's Mel, There's Woody, and There's You, but most of what I remember of the shoot has to do with the actual shooting, not with my role or the scenes.  I have little memory of those, but boy did it come rushing back to me.  Now, when we had our little viewing party when it was aired about three months after we shot, I remember sitting in our Van Nuys apartment with our friends, being somewhat mortified of certain aspects of what I'd done and I was very hard on myself.  And beginning with my very next job after seeing that (I'd already shot the pilot for Young Love but didn't have much to do in that pilot), I made what I would call film adjustments and posture adjustments – small but necessary things as I got the hang of the camera.
Well, time is interesting.  First of all, I am sooooooo skinny it's frightening – I weighed all of 137 pounds at 5'10".  Second of all, boy was my hair dark.  Third of all, I had hair. Fourth of all, there was nothing to really be embarrassed about in terms of my performance, especially considering it was a drama and that isn't my forte at all.  I have a few really okay moments but it's all basically fine.  There are times when I'm a bit loud but then everyone is except Gary Lockwood.  That was actually the style back then – you know, that you could actually hear and understand actors – rather refreshing actually.  Zalman King was so quirky and fussy – I think he made the wise choice to become a director.  My old pal Phil Clark is fun – we met on this show and then just seven years later he did Stages for me.  And my memory was that I didn't really have scenes involving Lee J. Cobb, although I do remember him driving a golf cart to the soundstage, and sure enough he's in the tag scene, which is me, Zalman, and Phil.  He stands outside the room listening but is in one shot with us.
Finally, who knew Lalo Schifrin wrote the theme and that Kenyon Hopkins was the music supervisor, which means he probably wrote the actual underscoring or library cues for the show.  This show lasted but one season (mine was the final episode) and was never shown again.  So, this is the first time in forty-seven years since I've seen this.  I was petrified but am breathing easier now. Whew!
Then I decided I hate the way I look so I went and did a two-and-a-half mile jog and felt better. I ate no other food. Then I watched the first half of the Sidney Lumet documentary, which is terrific. But I'd really like to know why all the clips used look terrible. Most of the films referenced have terrific Blu-ray transfers, but you wouldn't know it from this documentary, even though it's on Blu-ray. Looking forward to finishing it.
Today, I'll be up at six to announce our new title, then I'll go back to bed, I'm sure. Then I don't really have anything other than hopefully printing out a LOT of orders, until three o'clock, when I have a work session that will probably last an hour or so. Then I'll eat a Freshly meal, then at some point do a jog. Then I'll relax.
Tomorrow we resume performances of Dial 'M' for Murder but I'm not sure I'll see it this weekend. We shall see. Then next week we begin the Krtizerland rehearsals.
Well, dear readers, I must take the day, I must do the things I do, I must, for example, announce a new title, go back to bed, hopefully print out a LOT of orders, relax, have a work session, hopefully pick up packages, and relax. Today's topic of discussion: What are your favorite films directed by Sidney Lumet? Let's have loads of lovely postings, shall we, whilst I hit the road to dreamland, sorry that the DA turned into a DB.