Well, dear readers, once upon a time I was in Chesterfield Records on Wilshire Blvd. near Beverly Drive. The year was 1963. That was the year I discovered Chesterfield and I became a regular there. We'd already moved to Beverlywood so I'd just walk from our house up to Wilshire and over to Chesterfield. I became immediately known to the employees, who always greeted me when I'd come in, always happy to see me because here was a fifteen-year-old with eclectic musical tastes who was willing to learn, be shown new albums they thought I should know about, and generally took me under their wing, knowing the sort of things I liked. One of those employees was a man named Critt Davis, and he's someone I would continue to know right up until he passed away a few years ago. Oh, I still frequented Phil Harris Records when in Hollywood, and Wallichs, too, but Chesterfield became like a second home to me. And I was rather taken with their very high-end turntable – I can only tell you it was either a top of the line Garrard or, more likely, a Thorens.
I was fond of looking through various categories, even though I had no idea what kind of music was within them or who most of the artists were. Mostly I loved looking at LP covers – they were magical to me. I already knew a lot about soundtracks, shows, easy listening, and even jazz in the form of Dave Brubeck and various Broadway show albums in jazz cover versions, some of which I liked just as much as the cast recordings. Sometimes Critt would show me a soundtrack that had just come in that he thought I might enjoy, or whatever the new cast album was. I bought lots of albums at Chesterfield and couldn't get home fast enough to play them.
One fine day after school I was there and looking through the jazz section, just because some of those covers were beautifully done and very intriguing to me. I came upon a brand new release on Verve – the cover grabbed my eyeballs – I can't really tell you why, it just did. It was, like all Verve covers of that era, glossy, and it was also a gatefold LP, which always piqued my interest. The cover was a sort of blue and there was a photo of a man in silhouette with glasses, hunched at a piano (my posture exactly when the young me would sit and write at the piano), with a half a lamp over to the right of him, on a table. That photo ran from the left of the jacket to the center of the jacket. From center over to the right was the name Bill Evans and below that the title, Conversations With Myself. I turned it over to look at the back and see what it was about, but on the back there were no tracks listed at all. At the bottom was another photo of who I now presumed was Bill Evans, from further away, hunched over the piano even more, with the full lamp visible but it was also clear in this other photo that the wall wasn't real because there were microphones over the piano – so it was a recording studio made up to look like a living room of sorts. Above the photo was written: Bill Evans Conversations With Myself. And below that: A searching look into the genius of Bill Evans. So, what did I know from this cover? I knew Bill Evans was the man at the piano, that it was a jazz album, since it was in the jazz section, and that according to the back of the album, Mr. Evans was a genius and this looked to be some kind on introspective searching look into that genius.  Here is that cover that so piqued my interest.  I also loved the fonts used for the writing, although I didn't know they were called fonts.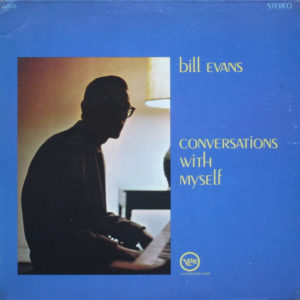 I took it up to the counter and showed it to Critt and the other employer who was always very sweet to me, Joe Cooper I think his name was. I asked if they knew anything about the album or Bill Evans and they, of course, did. They told me that Mr. Evans was a poetic jazz pianist and that they thought, knowing how open to things I was, that I'd probably like him. The people who'd already bought the album had been raving about it, saying it was one of the best albums ever made. Well, I was intrigued and had to have it, even though I had no idea if the tunes would be things I even knew. But that photo, the title, everything about the package all conspired to make me make the purchase.
I got home as quickly as I could, went into my room, turned on my stereophonic record player, popped the cellophane, carefully took out the stereo LP and put it on the player. Now that the cellophane was off I could open the gatefold. There for the first time I saw the list of songs. I'd heard of a couple of them, but one in particular made me know I'd just made the perfect decision in buying the album – the Love Theme from Spartacus. I'd seen that film in 1960 and had been completely obsessed with its music and the soundtrack LP ever since. Well, if Mr. Evans could choose one of my favorite movie themes he was someone who I wanted to learn about. Before I put the needle on the record, I first devoured the liner notes – the first half were by someone named Gene Lees, and from the notes I learned that the concept for the album was that Bill Evans would play one track, then do what he called overdubbing – playing a second part against his first, and then a third against those two, in other words a trio of Bill Evans, hence the title Conversations With Myself. But it was when Mr. Lees spent what must have been five long paragraphs talking about the Spartacus Love Theme track that I had to immediately put on that track to see what he was going on about – for to him, that track was one of the greatest things he'd ever heard – a beautiful love theme in which Bill Evans captured the very essence of love itself – whether romantic or love of a child or whatever. Well, sure, yeah, right – how could a piano player do all THAT?
I turned off the lights (as I always did when listening to music, sat on my bed cross-legged, and played the Love Theme from Spartacus. By the end of it I was in tears and by heaven if Gene Lees wasn't exactly right about everything he said that track was. I felt like I'd just heard something so soulful and deep and poetic and magical and which I thought really must be what love is all about – I played it again and then again and then again. Then I listened to the rest of the album and it was all of that quality and magic. Every track was amazing and different. But of course I just kept returning to Spartacus, and I would play it for all the girls I knew, and while some had no patience for that kind of thing, the smart ones sat there and were as astonished as I was. It became my go-to track whenever I was "in a mood" or feeling blue or feeling romantic or missing someone. Within one five-minute track was every feeling imaginable. I honestly can't tell you how he did it but I imagined he just closed his eyes and let it happen. It remains to this day my favorite recorded track ever.
So why am I going on about this – surely I've talked about it before and surely it's talked about in Kritzer Time. Well, over the years I've worn out countless copies of the LP, and then have owned ever single CD incarnation and there have been a LOT – the original US release, various imports, various masterings at higher bit rates with this thing or that thing – and every time I've heard it I'm invariably disappointed with the sound – not the album, which never gets old, but it just never sounded that good, and I began to think it probably never did, not even on the LP. When I got on my SACD kick I immediately searched to see what Bill Evans albums had SACD releases – there were a few of his earlier pre-Verve albums, but then I came upon a whole series of Japanese imports that were done about four years ago – not hybrids – which means you can only play them on a player that can do SACD – won't play on an ordinary CD player – and every one of them was already out of print – the two I was salivating over were, of course, Conversations With Myself, and my other favorite Evans album, Bill Evans Trio With Symphony Orchestra. The cheapest price I could find for the latter was close to three hundred dollars so that was a no-go – and that one copy sold and now no one at all has the damn thing. And I could find no copies of Conversations. Until three days ago, when one showed up at a web store that specializes in SACD releases. And it was reasonable and I grabbed it instantly. And yesterday it arrived. And I was just that kid again – that goofy kid, opening the package, reading the liner notes (so tiny is the reproduction that no one could ever read it unless you happen to, like me, own an old-fashioned Sherlock Holmesian magnifying glass. Re-reading those notes was such a time travel ride back to me at fifteen. But I knew I was going to be disappointed. Sure they would have used the masters but hadn't every other release done so? The hope, of course, was perhaps that they'd actually gone back to the three-track original tapes and done a new mix. So, into the den I went, as I carefully removed the CD from the package – most of the CD releases had included two bonus tracks, but this was exactly the album I'd bought back in 1963. I put it into the old Oppo and closed the drawer, turned off the lights and sat on my couch like so much fish. This wasn't a three-track SACD – just a proper stereo at the highest resolution you can have.
The minute Round About Midnight came on I knew there was to be no disappointment, because this was like hearing the music for the first time – everything clear and clean and sparkling. I shut it off after that first track and came back to the computer, went to iTunes and played my AIFF of that very track from the Japanese import that was made using the latest CD technology. That track sounded like it had several blankets over it compared to what I'd just heard, so I knew all these years I hadn't been nuts to have been disappointed. I went back and kept playing. And then the third track came on – the Love Theme from Spartacus – and two minutes in there I was, a blubbering old Jew, tears streaming down my face for the same reasons they had all those years ago – I was hearing sheer poetry and hearing it in the most wonderful way you could ever hope to. Again, I have no idea what they used or didn't use, I can only tell you it blew me away. It's so clear and so detailed that when it got to the second to last track for the first time I could hear that the piano had gone slightly out of tune on one of the overdubs. It's there on the CD releases but you barely hear it because the sound is so muffled compared to the SACD. Of course, now I want the symphony orchestra one even more and maybe I'll luck out one day and find it. But I also want all the others. Several of his classic Verve SACDs have one listing on Amazon Japan – for over eight hundred dollars. All I can tell you is if it sounds as good as Conversations With Myself, well, if someone has that dough to throw around it would be worth it, because I also have every CD release of it and none of them sound very good. These all came and went so fast that there aren't even any reviews of them anywhere.
In any case, if you've never heard Conversations With Myself, you really need to – you can thank me later.
Yesterday was a perfectly okay day. I got eight hours of sleep, did stuff, then went and had a chili, cheese, and onion hot dog and a few fries – excellent. Then I picked up some packages, then came home. Once here, I had some work to do on the computer, and then Alby Potts came by and we ran through all the songs for the Kritzerland show – it went very quickly because there wasn't much arranging work to do and even better there's only one put-together in the entire show and that one will have a chart already done. Just hearing the song choices made me very happy – an eclectic batch with some amazingly rare songs included.
Then Kay Cole came over and we had a little Levi meeting about how much there would be for her to do – it's not really much of a dance show – almost nothing, actually. But there's one sequence, one I heavily revised, that I envision being done like Chinese opera – with back-lit shadow play, masks, and red cloth on sticks to represent fire – you know the kind of thing. She's very excited about that.
After she left, I got everything ready so we could do the Facebook event page for the Kritzerland show, and at seven I got that up and running – it always takes a bit of time and even more so using Chrome. I'm calling Apple tomorrow because I am only having this Facebook issue on my desktop with Safari – it's fine in Chrome, it's fine on my phone and iPad and it's fine on my Macbook Air – all using Safari. So maybe some setting got switched mistakenly, but I'd like to get it fixed whatever it is. After that I went to Gelson's and got a couple of snacks for the evening as well as food to cook for the next two days. Then I listened to Conversations With Myself, and then some more Duke Ellington.
Today, I have a lot to do – work on the computer, at the piano, telephonic calls, I may have a meeting at some point, I'll eat, I'll hopefully pick up some packages, and then relax.
The rest of the week is meetings and meals (one of them potentially at the Smoke House – bring it on, baby), and then it's the weekend, and then we're into the busy Kritzerland rehearsal week.
Let's all put on our pointy party hats and our colored tights and pantaloons, let's all break out the cheese slices and the ham chunks, let's all dance the Hora or the Monkey, for today is the birthday of our very own beloved dear reader TCB.  So, let's give a big haineshisway.com birthday cheer to our very own beloved dear reader TCB.  On the count of three: One, two, three – A BIG HAINESHISWAY.COM BIRTHDAY CHEER TO OUR VERY OWN BELOVED DEAR READER TCB!!!
Well, dear readers I must take the day, I must do the things I do, I must, for example, work on the computer and at the piano, eat, hopefully pick up packages, and relax. Today's topic of discussion: It's Ask BK Day, the day in which you get to ask me or any dear reader any old question you like and we get to give any old answer we like. So, let's have loads of lovely questions and loads of lovely answers and loads of lovely postings, shall we, whilst I hit the road to dreamland, happy to have written these very long notes about the genius that was Bill Evans and the album that was and is Conversations With Myself.