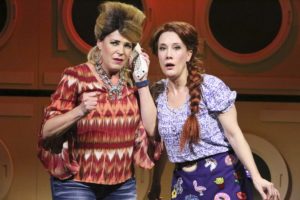 Bets Malone and Misty Cotton (photos by Michael Lamont)
Bets Malone and Misty Cotton are two of the Southland's best known and most talented musical theatre performers. They have known each other since they were children growing up in Northern San Diego County and first appeared together on the stage of the Moonlight Amphitheatre in Vista. I first saw Ms. Malone on stage at the Moonlight when she was a teenager, appearing as The Witch in Into The Woods. Not sure when I first saw Ms. Cotton on stage, probably shortly thereafter also on the Moonlight stage. Over the years since I have seen both of them many times. Ms. Cotton appeared on Broadway as Ellen in Miss Saigon. Locally she has appeared in a wide range of roles in musicals ranging from A Little Night Music to The Spitfire Grill to Sideshow, Parade and Carrie, winning five of my Robby Awards along the way. Ms. Malone has appeared locally in The Will Rogers Follies, Aida, Big Fish, 1776 and How the Grinch Stole Christmas among countless others. Together they appeared as part of the award-winning quartet in the Marvelous Wonderettes. Over a dozen years ago they asked Wonderettes's creator Roger Bean to write a two-person show for them and he obliged with Honky Tonk Laundry which premiered at Milwaukee Rep and is now playing at the Hudson Mainstage Theatre in Hollywood. The main question is what took them so long to bring it on down home?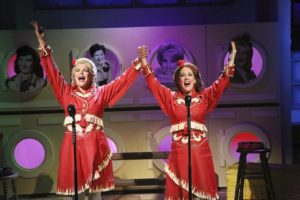 Bets Malone and Misty Cotton
It's obvious from the get go that the two women are best friends in life as well as on stage. They have such a fluid chemistry in their playing together. Malone plays Wishy Washy Washateria owner Lana Mae Hopkins who has trouble keeping employees. When Katie Lane Murphy (Cotton) shows up in dark glasses and a raincoat with what appears to be a blood soaked blouse to wash, she doesn't seem like a potential candidate for the "help wanted" situation. But the two women hit it off and are soon confiding and comforting each other as well as singing the county western blues. Roger Bean's direction and Steven Young's fabulous lighting design are very presentational in style, nearly every song seemingly done in concert performance mode. The second act is actually a concert the duo performs for an audience at the Washateria, fulfilling Lana Mae's long held dream of a singing career in Nashville. At times you wish the winning twosome just did a flat out concert instead of bothering with the at times tiresome clichés of the bare bones plot. But then you would have missed all the fun of a one-legged man in an ass-kicking contest or the joy of a one-eyed man at a peep show. Besides belting out such C&W standards like "D-I-V-O-R-C-E," "Stand By Your Man," "These Boots Were Made For Walkin'," "Independence Day" and "I Fall to Pieces," the two really inhabit their Southern Fried characters. Malone's Lana Mae really seems to love her life in the Washateria, sniffing the bleach, lovingly folding the clean clothes. Cotton's Katie Lane has frequent anxiety attacks that are hilariously solved with a combination of Xanax, Valium and beer. She seems to not have a bone in her body as she effortlessly executes drug induced pratfalls. This dynamic duo is really having a good old country girl fun time. Tom Buderwitz designed the very detailed Washateria set and Renetta Lloyd's costumes give the gals their lived in country look. Byron Batista's hair and makeup, especially the really big hair, are nearly a character unto themselves. Besides the country classics already mentioned, the gals tuck into some fun songs like "Cleopatra, Queen of Denial," "I Wish That I Could Yodel" and "I Need a Vacation." If you visit the Honky Tonk Laundry, you are sure to have a shit kickin' good ole time. Shucks, the opening night audience sure did.

Hudson Mainstage Theatre, 6539 Santa Monica Blvd. in Hollywood. Ends Oct. 1. www.honkytonklaundry.com