Well, dear readers, we had us our first rehearsal for the big Kritzerland anniversary show. I must say, it was a pretty good first rehearsal – those can sometimes be on the rough side but this was on the smooth side. Very few adjustments to arrangements – some tempo stuff, some vamps and rideouts, but we were on time the entire day, which is also unusual.
First to arrive was Jenna Lea Rosen. She's doing two numbers – one a put-together of How to Succeed and I Believe in You, the arrangement done for the Liz Callaway Frank Loesser CD by Alex Rybeck – it's terrific and so is he. She's doing a great job on it. Then she ran the second song, called Making Good, the precursor to The Wizard and I from Wicked – when I saw the very first reading of Wicked back in 2000, this song was in. It's an interesting song that didn't really deliver what it needed to in terms of Elphaba's deal. But we love doing these kinds of things and Jenna does it really well.
Then came Sami Staitman. I chose two really interesting things for her to learn and sing. First, Sondheim's What More Do I Need from Saturday Night. It's such a fun and infectious song, with a terrific tune and sprightly lyrics and Sami's having fun with it. Her second number is a put-together I did about seven years ago for someone's club act – The Party's Over paired with Sometimes a Day Goes By by Kander and Ebb. They work perfectly, story-wise, and it's a very different kind of number for Sami, which is what I always try to give her so she can stretch and grow.
After Sami came Kerry O'Malley. First she ran Someone Woke Up from Do I Hear a Waltz, a show she's perfect for and should do. Then it was The Music That Makes Me Dance, a song I absolutely love. Then Robert Yacko arrived and they did their duet. A very rare and mostly unheard Sondheim song that I don't really want to say more about until after the show. Then Kerry left and Robert ran his two solos – a new What If that opens the show – it's pretty short, but it made both Alby Potts and I laugh, so that's good. And it's perfect for Robert. His other solo is one we pulled from his new cabaret show – the first male to ever sing A Summer in Ohio from The Last Five Years. We adjusted a handful of lyrics to make it work and work it does.
After Robert came little Hayley Shukiar and mom Leasa. Hayley's premiering a song from Levi by the Sherman Brothers and it's adorable, as is she. The slightly disturbing thing was that she's shot up about two inches in the last two months. Then we're doing the song they commissioned me to write celebrating Hayley's dad. I really like the song and I thought it would be fun for people to actually hear it.
After that, Roger Befeler arrived. First he did Marking Time, a cut song from Pippin that I recorded on the final volume of Lost in Boston. Then it was The Kid Inside by Craig Carnelia, and finally If You Leave Me Now, a cut song from The Happy Time that I recorded for the first Lost in Boston album. So, the fun bit of tid is that not only is Roger doing a song from the first and final volumes of Lost in Boston, but two songs sung by Michael Rupert. Go know. He sounds great and I always enjoy having him in the Kritzerland shows. Still to come on Thursday is Jason Graae, about which more then.
Prior to that, I'd gotten about six hours of sleep, answered e-mails and did some work on the computer, then went and had a grilled cheese with bacon sandwich and a side Caesar salad, both good but smaller than usual. Then I picked up no packages and came home. I began prepping the release announcement but we were missing a piece of that puzzle that didn't come until later in the evening. Still, I got the eBlast ready and we're all ready to either announce tonight at midnight or in the morning at six. I'm thinking tonight at midnight might be a little easier on me.
After rehearsal, I went to Gelson's and got a little snack, came home, ate it up whilst doing more release announcement work. Oh, I guess I should mention that it's the follow-up (and a long time coming) to our Preminger at Fox set – this one Fuller at Fox – the soundtracks to three great Samuel Fuller movies: Hell and High Water by Alfred Newman (with cleaned up sound), Pickup on South Street, and House of Bamboo, the latter two by Leigh Harline. These are absolutely wonderful scores and I cannot recommend this set highly enough. I waffled back and forth about the price – it's really hard to do these and charge the one-CD price but in the end that's what we went with. Here's the cover.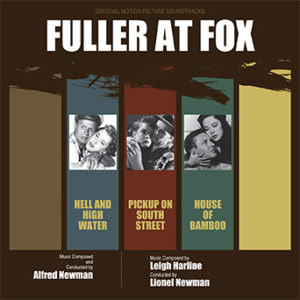 I also listened to music – my favorite performance of Strauss, Richard's Also Sprach Zarathustra conducted by William Steinberg (the companion piece to his brilliant The Planets – the only version you'd ever need of these pieces), then some Copland, and finally going through the Miaskovsky works again – just love them.
Today, I'll be up at six to announce UNLESS I've decided to announce this evening, which I'm thinking is the best for my health. Then I'll hopefully print out a LOT of orders, eat, then we have a short rehearsal for the film music event, then the piano tuner is coming. I'll hopefully pick up some packages, then relax.
Tomorrow there's some meeting or other happening but I can't remember what, but hopefully someone will remind me at some point. Thursday is our second Kritzerland rehearsal, Friday is another film music event rehearsal, Saturday is our stumble-through, Sunday is sound check and show. At some point I have to find the time to write the film music event commentary, which happens on Monday.
Well, dear readers, I must take the day, I must do the things I do, I must, for example, announce our new release, hopefully print out a LOT of orders, eat, have a rehearsal, hopefully pick up packages, and relax. Today's topic of discussion: Favorite cakes – where, when, how. Let's have loads of lovely postings, shall we, whilst I hit the road to dreamland, happy to have some Monday Musings on a Tuesday.