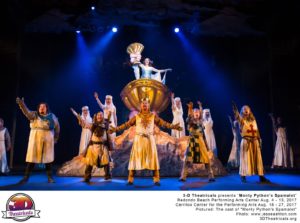 (all photos by Jesse Ashton Photograph)
If you are a Monty Python fan, you need to revel in the insanity that is 3D Theatricals production of the musical Monty Python's Spamalot. If you are a fan of the classic musical comedy genre, you need to experience the great pastiches to some of the most iconic Broadway musicals created by the inventive mind of Eric Idle who wrote the book & lyrics & music, the latter along with John Du Prez. With Tim Hatley's original Broadway sets and costumes (the former impressive, the latter colorful), a recreation of the original Broadway direction and choreography by Carol Bentley (she aced both tasks) and a stellar troupe of singer/dancer/farceurs, it's like you are at the 2005 Broadway opening. Idle based the musical on the 1975 film Monty Python and the Holy Grail, an irreverent spoof of the Arthurian legend. There is not much of a plot; the show meanders from skit to skit, song to song. You don't need to be a true blue Python fan to enjoy killer rabbits, catapulting cows, rude Frenchman, coconut shells, Knights who say "ni" and more odd bits. If you don't laugh at one thing, you will be laughing at another.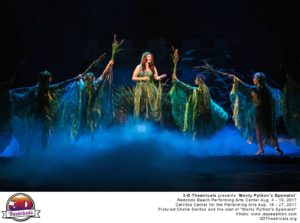 Idle, like Trey Parker and Matt Stone later did with their The Book of Mormon, grounded his silliness and irreverence in a solid, old-fashioned style Broadway musical. Idle had the theatrical legend Mike Nichols as his director and the show works because the formula has worked for decades. The Lady of the Lake (Chelle Denton) has her Laker Girls ensemble while the Round Table at Camelot is staged like a Las Vegas casino lounge act. Sir Robin (Jeff Skowron) laments the fact you need Jews in his big song "You Won't Succeed on Broadway", complete with bottle dance from Fiddler on the Roof. When Sir Lancelot (Marc Ginsburg) is outed as a homosexual his big dance number, "His Name is Lancelot," is a homage to Peter Allen's The Boy From Oz. When the Lady of the Lake turns political revolutionary Dennis (Nick Tubbs) into the blond and gorgeous Sir Galahad, they duet on the power ballad "The Song That Goes Like This," complete with the Phantom's chandelier. When French town folk show up there are not only can can dancers and a mime, but Cosette from Les Miserables. After being absent for most of the second act, the Lady of the Lake shows up to bemoan her lack of stage time with "The Diva's Lament." And it all works beautifully, delivering the knowing laughs as well as the musicality. I still can't get the tune of "Find Your Grail" out of my head 24 hours later. Musical Director David Lamoureux conducted the 14-piece orchestra. Jean-Yves Tessier's lighting design and Julie Ferrin's sound design are also added pluses.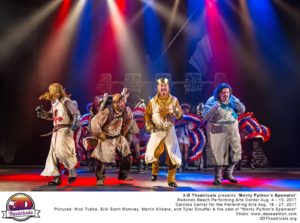 Martin Kildare did a solid job as King Arthur in his quests to find his Knights, the Holy Grail and to produce a Broadway musical, while fending off one nonsensical misadventure after another. He was always accompanied by his faithful squire Patsy (Erik Scott Romney) even though he bewailed "I'm All Alone." Denton steals the show with her every appearance while strong support is supplied by Ginsburg, Skowron, Tubbs, Daniel Dawson, Tyler Stouffer and a robust chorus.

Redondo Beach Performing Arts Center, 1935 E. Manhattan Blvd. in Redondo Beach until Aug. 13. 714-589-2770 ext 1.
Cerritos Center for the Performing Arts, 12700 Center Court Dr. in Cerritos. Aug. 18-27. 562-916-8500.