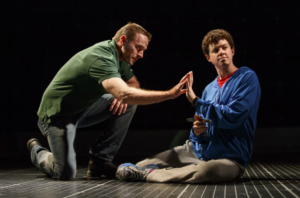 Gene Gillette and Adam Langdon (all photos by Joan Marcuc)
At the start of The Curious Incident of the Dog in the Night-Time, the National Tour is currently at the Ahmanson Theatre, 15-year old Christopher (Adam Langdon), a mathematical genius, is found in a neighbor's garden next to a dog which has a garden fork AKA pitchfork sticking out of it. The neighbor accuses Christopher of killing her dog which he denies but when a policeman arrives and tries to pick Christopher up from the ground Christopher attacks him and is arrested. Although it is never stated in the script, Christopher has a disorder, either autism or Asperger's Syndrome, which creates difficulties with his social interactions with others. He doesn't like to be touched, hence his beating off the proffered help of the policeman. His father Ed (Gene Gillette) explains and though Christopher is given a caution by the police, he is not charged. Christopher decides to play Sherlock Holmes and discover who did kill Wellington, the dog, even as his father tells him not to. Christopher's idiosyncrasies (he doesn't like the colors yellow or brown, cannot lie and won't enter anyone's home) are in evidence as he makes his way through the neighborhood, questioning if anyone knows who killed Wellington. In a shocking turn of events, he finds out the culprit is actually his father. This sends Christopher in a panic—if his father can kill a dog, he might kill Christopher. He also finds out his father has been lying to him for over two years, having told him his mother went into the hospital and died of a heart attack while there. Instead his mother left because of an affair with a neighbor and has been frantically writing Christopher every week. When Christopher discovers the hidden trove of his mother's letters, he decides to head off to London to live with her. Taking his pet rat Toby, he sets off on a harrowing trek to find her.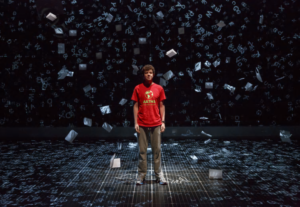 Adam Landgon
It is an intriguing piece of theatre that contains a tour-de-force performance by Langdon. His Christopher can be very off-putting at times, but Landgon never wavers in his dedication to the role. It is a very high tech production—a large black box scenic design by Bunny Christie upon which Finn Ross's video design highlighting Christopher's though processes are shown. Paule Constable's lighting design and the sound design by Ian Dickinson for Autograph are an integral part of the experience. However without the razzle dazzle of the set and high tech effects, the script is basically the story about the slings and arrows that beset a child (albeit quite a quirky child) of divorce. In Mark Haddon's original novel the story is told in the first person. Playwright Simon Stephens has changed that focus, telling the tale as a play-within-a-play as Christopher's teacher reads the book he has written and directs the cast in their various roles. This leads to a lot of "precious" and "too cute" moments that detract from Christopher and his story. Director Marianne Elliott is also guilty of overindulging with her at times "precious" staging of the story. The talented cast plays a variety of roles but they really are just additional set pieces for Elliott to move about. Granted that the show is a wonder for the eyes and ears and contains a very memorable leading performance (Langdon does not do the matinee performances). But it also has the sheen of the Emperor's New Clothes and finally has the air of Much Ado About Nothing.

Ahmanson Theatre, 135 N. Grand Ave. in Los Angeles. Ends Sept. 10. www.centertheatregroup.org