Well, dear readers, it was kind of a grandish Indiegogo day yesterday. In the morning I believe we were around 35% of our goal. That was an extraordinary first day, I thought, and I commented that I would be thrilled if we reached 40% by the end of the evening. Almost halfway home in a day and a half would have been extraordinary. But we went way beyond extraordinary because we hit 40% very quickly and then 50% came and went and by the end of the evening we hit 60% – now THAT is a remarkable first day and a half, and I'm so grateful to all who've kicked in, from the smallest to the largest, it's all appreciated and helpful. The biggest perk of yesterday was someone grabbing an over-the-title producer credit. Two of those left now. I also put up a lot of new perks, most of which went very quickly. They included signed Elmer Bernstein sheet music – put up three and three sold (I have two more going up in the morning), a signed photo with hand-written musical quote of Erich Wolfgang Korngold (sold quickly), and still available but a little pricier are an autograph from the one and only Sergei Rachmaninov, an incredible piece of original Gahan Wilson cartoon art – brilliant and you should check it out – while they are both pricier than some other stuff, both are worth five times what we're asking. It was a fun day to watch things happen and most of the day Indiegogo was updating quickly in real time – that stopped at around eleven last night, when it stalled again and wouldn't update for over an hour – I have no idea whether it's updated or not, but once it does we will indeed be at 60%. You should visit Indiegogo several times a day because you never know when a new one-of-a-kind perk is going up. Here is the handy-dandy link.
https://www.indiegogo.com/projects/levi-a-new-musical-by-the-sherman-brothers/x/9165600#/
I do think I got close to eight hours of sleep. Once up, I answered e-mails, put up some new perks, and then I went and had some chicken tenders and a side Caesar salad, after which I picked up no packages or mail. I came home, did work on the computer, added more perks, and had a gleeful time watching our percentage go up. I also had several telephonic calls, and then had to fill out irritating union forms for our one union actor who's working on a guest artist contract for Levi. That took quite a while because I had to find a Paymaster, as we're not set up for unemployment and worker's comp and apparently just writing a check isn't good enough. Happily I was pointed to our paymaster from Hit Song who just also happened to be our trumpet player from L.A. Now and Then. So, he gave me all the info and I filled it in while talking to him on the phone, so that paperwork is done and e-mailed back to the people who sent it. Hopefully everything is in order and that will be that.
Then I futzed and finessed the commentary – I rewrote some, cut some, added a few things, and fixed a humungous number of typos, so that's done. I then had to take a break so I sat on my couch like so much fish and listened to an SACD of Miles Davis' classic album Sketches of Spain. I'm not sure what to make of the SACD. I didn't think it sounded so great, not anything as crystal clear as Kind of Blue did. So I took out my normal Japanese import CD and it sounds pretty damn good but there are differences in where the instruments are coming from, which I found odd. So perhaps the SACD was remixed, perhaps the channels are reversed, or it could be the CD had reversed channels although I've read no such thing about that in any reviews I've found. There's yet another SACD (the one I played last night was my second – the first got returned because it was really terrible), one from Mobile Fidelity, and that one has gotten raves so that's probably the one to have, I guess.
Then I went to Gelson's and got a little no-calorie salad from the salad bar, came home, ate it, and then it was back to the computer to work on the Levi script – just searching for typos basically, conforming lyrics so they match the score, and adding a couple of bits for our two kid performers. I should be through with that today. After that I relaxed and listened to music – David Diamond's wonderful orchestrations of some Satie music in the usual lousy Delos sound. Oh, and Doug finished our show poster and it looks grand. Here it is.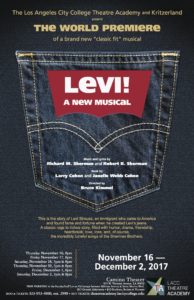 Today, I shall put up a few more perks, continue work on the Levi script and hopefully finish that, eat (I got something to eat here), hopefully pick up packages, hopefully watch our Indiegogo campaign go up (dream wish would be to get to 70% in our second day), and then relax.
Tomorrow we have our second Kritzerland rehearsal, Friday we have one performer coming over to rehearse, Saturday is our stumble-through, and then we have our sound check and show on Sunday.
Well, dear readers, I must take the day, I must do the things I do, I must, for example, put up more perks, work on the Levi script, eat, hopefully pick up packages, hopefully watch our Indiegogo campaign grow, and then relax. Today's topic of discussion: It's Ask BK Day, the day in which you get to ask me or any dear reader any old question you like and we get to give any old answer we like, so let's have loads of lovely questions and loads of lovely answers and loads of lovely postings, shall we, whilst I hit the road to dreamland, over the moon about having reached 60%.