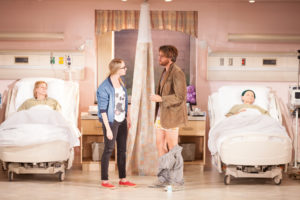 JoBeth Williams, Halley Feiffer, Jason Butler Harner and Eileen T'Kaye (photo by Chris Witaker)
I must confess I did not laugh once while viewing A Funny Thing Happened on the Way to the Gynecologic Oncology Unit at Memorial Sloan Kettering Cancer Center of New York City at the Geffen Playhouse. It was 90 minutes of sheer hell that no amount of chocolate could assuage. The thing is, despite its title, the Halley Feiffer play is billed as a romantic comedy. On the way to the restroom after the end of the intermission-less piece, I overhead one elderly matinee lady telling her friend "this is one of the worst plays I have ever seen". That lady could have written this review but she's not; I am.
With her overuse of the f-bomb from the opening minutes of the play, when standup comic Karla (Feiffer herself), while sitting at her sleeping mother's bedside, works up a new comedy "bit" about being raped by her vibrator, the playwright seems to be trying to earn the rep as a female David Mamet. She more than succeeds in the following 90 minutes which include an onstage simulation of cunnilingus performed in the handicap bathroom of the hospital room shared by the participants' mothers. Karla's mother Marcie's (JoBeth Williams) cancer was discovered during a recent hysterectomy; otherwise the social worker mom has led a healthy life. Don's (Jason Butler Harner) mother Geena (Eileen T'Kaye) has been battling the disease for seven years and is about to breathe her last. Don, who became a millionaire when he sold his tech start up, recently separated from his wife and has a teenage son who hates him and texts him book length messages saying so. Of course Karla and Don would find sexual attraction on the floor of their mothers' hospital room. It's hard to quantify the acting when the script is so devoid of text as well as subtext and Trip Cullman's direction is static. T'Kaye, whose role would probably qualify as an "under five" in film and TV, deserves to receive a Purple Heart after each performance. She has to lie in bed the entire time (starting before the audience is let into the theatre) and is called upon to make some horrifying snorting sounds in her supposed drug induced sleep. But her true valor is achieved by having to be present each performance and hear that inane, foul-mouthed dialogue repeated ad nauseum. Lauren Helpern designed the very realistic hospital room but I would advise against using the bathroom. I'm going to eat some chocolate now.

Geffen Playhouse, 10886 Le Conte Ave. in Los Angeles. Ends Oct. 8. www.geffenplayhouse.org