Well, dear readers, we need us some damn miracles, like now, like today, like happening. It's going to be rather hellish around these here parts if we don't get one or three today. That cloven hoof of negativity was waiting for me this morning when I arose and I arose after only three hours of sleep. Damn them, damn them all to hell. In any cast, miracles are needed so send plenty of those most excellent vibes and xylophones, won't you, and I'll sent them in return, of course.
Yesterday I got only three hours of sleep. I know not why. Why I know not. Not know I why. Know I not why. Once up I did the usual things – answered e-mails (except the irritating one), had telephonic calls, and then I went and had a chicken Caesar salad, which was very good. I then picked up no packages or mail, then came home. I decided to follow up our very first classical release with a second one, since it's easy to do and it's music I love. It's a reissue of a Bay Cities CD – I just happened to check to see if any were on Amazon – it's currently going for almost a hundred bucks, so I think there might just be a few sales in it. And listening to it I think it's mastered a bit hot so we'll make it sound better – the sound itself is fantastic, but it will sound better when it's not this hot – when things are mastered too hot, it's very wearying on the ear. Meanwhile, our very first classical release is now available for order. As most of you know, my favorite symphony ever is the Rachmaninov second. Back in 1946 it was unheard of to perform the symphony without Rachmaninov's sanctioned edits. Well, the great Leopold Stokowski conducted it complete at a Hollywood Bowl concert in that year. And it's an amazing performance – impassioned, soaring, and beautiful. Thankfully, someone at the Bowl recorded it on a transcription disc for their archives. And just as thankfully that disc (not the disc itself, but tape copies) found its way into collector hands, including mine own. I've had a reel-to-reel of it since the mid-1970s when I came into a collection of reel-to-reel tapes of unreleased material, both soundtracks and classical music and even a couple of shows.
This legendary Stokowski performance was issued on CD in the early 1990s by some small company. I bought that recently and was reminded that it's one of the greatest performances of the second. But the sound was filled with warbles, ticks and pops and clicks – very hard to listen to it. So, I found my tape and had it transferred and lo and behold and also behold in lo, it was slightly better-sounding, while still having the requisite ticks and pops and clicks that go with the territory. So, I sent that to audio restoration whiz Chris Malone and he spent several months on it, and the result, while still very obviously archival is rather astonishing. Hearing what we went from and what he ended up with just made me very happy. No more warbles or ticks and pops and clicks. As a companion piece I decided to use the Robert Russell Bennett violin concerto, a wonderful, tuneful work written for violinist Louis Kaufman. I gave that its first CD release on Bay Cities. Chris worked on that one, too – it had some distortion and some tape damage at the beginning of the second movement (if Louis Kaufman hadn't had his reel-to-reel tape in his closet this would be lost to the ages), but Chris did what he could and it sounds pretty good now. The conductor is none other than Bernard Herrmann with the London Symphony Orchestra. I'm hoping folks will take a chance on this – for the Rachmaninov, it's music making of the highest order, and the Bennett is simply delightful. I'm especially happy with the cover Doug Haverty did for this, and I wrote pretty long notes for it, too. Here's the cover.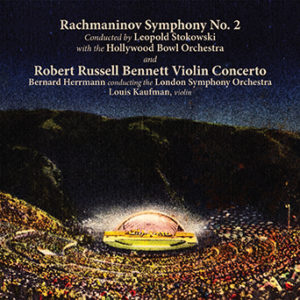 I did some work on the computer and then got everything ready to announce the CD. Then I sat on my couch like so much fish.
Last night, I finished watching The Confession Tapes on the Flix of Net. The final episode was the most galling of all of them. The way they got the confession was so disgusting and awful that the judge wouldn't allow it in court. But the media got hold of it and every potential juror had heard it – the chosen jurors all said they would not be swayed by what they heard. But of course they were. This case was tried by the media – who should hang their heads in shame. And the guy sits in jail and will never get out. This is our justice system and it sucks. This series is a real eye opener and I recommend it highly.
Then I watched some piece of cheese called The Astronaut's Wife, starring Charlize Theron and Johnny Depp. Whilst watching it I kept wondering if I hadn't seen it before, but I checked the archives and there's nothing – I simply think they take every cliché in the book and that's why it seems familiar. Every character, every situation, every line of dialogue a complete cliché. It's a little bit of Rosemary's Baby in sci-fi land. The two leads aren't all that interesting (not really their fault), but I always enjoy Joe Morton, and Donna Murphy is in it. The direction is terrible and the script equally terrible. Definitiely one to miss.
I had some cashews and some Cheetos for my evening snack. Then I had more telephonic calls, and relaxed and listened to music.
Today, we need some miracles, baby. Just send 'em along, won't you? I'll hopefully print out a LOT of orders, I'll eat, hopefully pick up packages, finalize the Kritzerland show, finish choosing the music, and finish casting, after which I'll relax.
The rest of the week is meetings and meals, a workshop at LACC, attending the opening night of The Red Shoes, and not sure what the weekend holds.
Well, dear readers, I must take the day, I must do the things I do, I must, for example, hopefully have a miracle or three, print out a LOT of orders, eat, hopefully pick up packages, do Kritzerland show stuff, and relax. Today's topic of discussion: If you could be a virtuoso on any instrument, what would it be? Let's have loads of lovely postings, shall we, whilst I hit the road to dreamland, happy to be releasing a Kritzerland first – our inaugural classical release.