Well, dear readers, here I sit like so much fish at the end of a mostly relaxing Sunday. I say mostly relaxing because I did do a spot of work during the day. Otherwise I mostly relaxed on the mostly relaxing Sunday. So as I type these here notes I am mostly relaxed. Have I mentioned that it was a mostly relaxing Sunday? If not, it was.
Yesterday was a mostly relaxing Sunday. I got nine hours of needed beauty sleep, got up, answered e-mails, had a nice telephonic conversation with Lanny Meyers and heard an alternate orchestration on the new song Richard Sherman and I wrote – I'd asked him to try a different take on it and I do think I like it better. Then I realized I was lacking one ingredient for Wacky Noodles so instead I made pasta with red sauce – only about four ounces and it was very good. The only other food I ate for the rest of the day and evening was low-calorie low-fat ice cream. I had a couple of other telephonic calls, saw the flyer for our October show, which I show you here and now.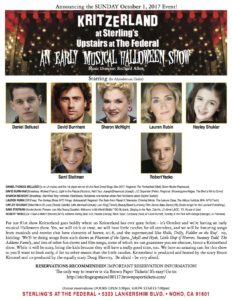 Then I did some work on the computer and at the piano, and then I sat on my couch like so much relaxed fish.
Yesterday I watched a documentary on the Flix of Net entitled A Good American. If you want a real good look at just how corrupt and horrible certain aspects of our country and government are, watch this. It will infuriate you probably as much as it infuriated me – and I believe every word of it. It's about a guy who came up with a system to intercept and figure out terrorist threats and messages, and whose program was cancelled and whose plug was pulled just three weeks before 9/11. And research shows that that horrifying day could have been avoided. There was a very damning report done years later, which is 98% redacted – what does that tell you, as almost all the redacted stuff is not classified. Well, someone actually saw the un-redacted version and said it is the single most damning thing he's ever seen – they cancelled the program to implement a two billion dollar fiasco, the single biggest debacle in security agency history, and guess who got wealthy with that debacle? Not hard to figure out. That is two BILLION dollars of taxpayer's dough. That's where your money goes. Unbelievable. The gentleman who saw the un-redacted version is asking once again with the freedom of information act for the document to be released to the public – and he keeps getting denials so he has also sued that particular agency, said suit launched this past February. I hope he wins the suit, I hope the document is made public, and I hope all those people who had this redacted because it would have tarnished their reputations and names, will finally get their due. While I can highly recommend this, it's not a perfect documentary. The director is a little to in love with his style, and you could shorten it by fifteen minutes just pulling out his unnecessary lingering on shots and long, pointless pauses. But the message is what this is about. Watch and weep for what this country has become. And then fear for you ever having privacy again – for while the man who invented the program which most likely would have made 9/11 avoidable took great precautions with his program to put safeguards and protections in place so that no Americans information could be gathered and studied, the security agency took all that away and there is nothing you do that isn't known to these people. It is an Orwellian nightmare come true.
After that, I did some organizing and got everything ready to do the Facebook page for the October show but for some reason it tickets won't be live until tonight at seven, so it won't go live until then. I listened to some Claus Ogerman – this time his wonderful Cityscape album with sax player Michael Brecker, his follow-up album to Gate of Dreams. For anyone who didn't get the Bay Cities Ogerman CD you are in for a huge treat with our next Kritzerland release.
Today I have to finalize all song choices (still about four to do) and get everyone their music. I'll eat, hopefully pick up packages (haven't been to the mail place since Friday), announce the October show at seven, make a show order, and start writing the commentary.
Tomorrow I'm hoping I can see Richard Sherman and tape his little video for our Indiegogo campaign. We'll also ship Fuller at Fox. The rest of the week is meetings and meals, on Wednesday I'll choose our costume designer and see the three actors who weren't at the workshop, and we'll have a work session for the Kritzerland show.
Well, dear readers, I must take the day, I must do the things I do, I must, for example, finalize song choices and get everyone their music, eat, hopefully pick up packages, get the event page up on Facebook, do a show order, start writing the commentary, and relax. Today's topic of discussion: What is your opinion on whistle blowing? Let's have loads of lovely postings, shall we, whilst I hit the road to dreamland, happy to have had a mostly relaxing Sunday.