Paul Rudnick is one of my favorite living American playwrights. He has written some very funny plays (I Hate Hamlet, Jeffrey, Valhalla) and film scripts (Jeffrey, In & Out, Addams Family Values). Center Theatre Group is currently presenting the World Premiere of his newest play, Big Night, at the Kirk Douglas Theatre in Culver City. Rudnick proves he can still deliver the laughs, most especially his satirizing of the Hollywood mentality and lifestyle, but he has attempted to have a go at a more serious work about today's seemingly constant and meaningless terrorist attacks. His writing fails at making the polar opposite topics co-exist peacefully.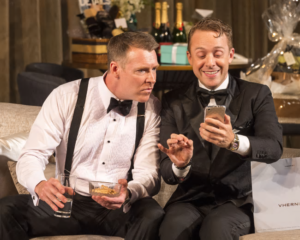 Brian Hutchison and Max Jenkins (all photos by Craig Schwartz)
The action is set in a luxurious suite in a Beverly Hills hotel (to die for scenic design by John Lee Beatty) where Michael (Brian Hutchinson) is preparing to attend the Academy Awards where he is nominated in the Best Supporting Actor category but feels he will lose to Matt Damon. Cary (Max Jenkins) is Michael's young, gay, excitable and new agent who feels he's going to be a winner and drops the news he is wanted for a role in an upcoming Star Wars film. A faux light saber duel ensues. Eddie (Tom Phalan), Michael's transgender nephew arrives and asks a favor. He wants his uncle to denounce Hollywood's lack of diversity and "historic abuse of lesbian, gay, bisexual, transgender, transsexual, queer, questioning, intersex, asexual, ally and pansexual people". Michael is an out actor and has been in a loving relationship for eleven years with Austin (Luke Macfarlane), who is very late to this party. Cary cautions against making such an overtly political speech at the awards show. Michael's mother Esther (Wendie Malick) arrives with news of her own sexual awakening after the death of Michael's father. Her new partner is Pulitzer Prize winning African-American writer Eleanor (Kecia Lewis). When Austin finally arrives he announces there was a terrorist shooting at the local LGBT Center where he was hosting an Oscar viewing party for gay teens.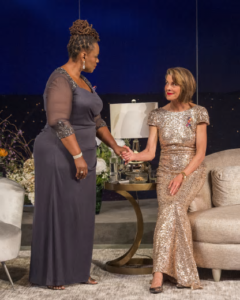 Kecia Lewis and Wendie Malick
From there the play attempts to turn serious with the participants shouting out news from their smart phones and laptops about the Muslim shooter, the growing list of casualties and the eventual police shootout while pontificating on the state of the world. But Rudnick's innate sense of comic satire can't be completely shut down, especially in the voice of Esther whose politically incorrect comments turn the laughs icky rather than hilarious. Rudnick really needs to rework the second half of his play or just face reality and split it into two separate pieces—one a scathing Hollywood satire and the other a serious treatise on modern prejudices and the escalating hatred in the world.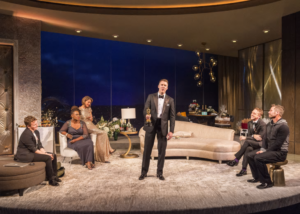 Brian Hutchison finally gets to make his Oscar winner speech
Walter Bobbie's direction makes some nice pictures on that lovely set but he can't overcome the Jekyll/Hyde nature of the script. Malick steals the show with her deadpan "it's all about me" Jewish mother humor. Jenkins comes in a close second as the sharp witted gay agent. Although Hutchinson's character is gay, his Michael is really the straight man for all the funny business around him. Lewis brings a stately elegance to Eleanor and manages a few good laughs, even though her character is weighted down with a heavy duty backstory. Phelan's impassioned young activist is annoyingly one note in character and delivery. Macfarlane is reduced to being the bearer of sad tidings and his character never seems part of the main story. As it is currently constructed, Big Night is 45 minutes of hilarity followed by 45 minutes of sturm und drang that the most expensive Cuisinart couldn't mix into a well blended confection.

Kirk Douglas Theatre, 9820 Washington Blvd. in Culver City. Ends Oct. 8. www.centertheatregroup.org