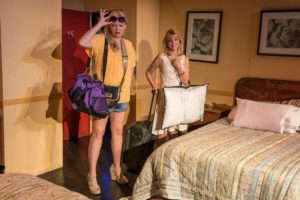 Melissa Peterman and Tersea Ganzel (all photos by Adam Southard)
Four disparate women share a very small two bed motel room in Joshua Tree, California for a "Woman, Writer, Hero" weekend of seminars, classes and female empowerment in playwright Justin Tanner's Heartbreak Help, being revived at the Complex in Hollywood. New age self-help theologies get a royal roasting in Tanner's quick witted and quick paced 70 minute comedy. First to arrive and put their claim on a bed are the highly strung neurotic Paula who is seeking inner piece at a bargain rate and party gal Margo who travels light—a handful of panties and she's ready for the weekend. The two first met in a cramped Prius shared ride to the desert outpost and are a bit sorry they signed up for the $60 two to a bed rate now that they have arrived. They could easily be a female Oscar & Felix odd couple.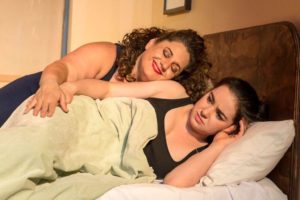 Marissa Jaret Winokur and Sarah Gilman
Last to arrive are battling mother/daughter combo Andromeda, who conducts heartbreak clearing sessions in L.A. and is into crystals and just about everything New Age, and Sage, her rebellious 19 year old who thinks all of her mother's beliefs are bunk and doesn't plan to partake in any of the weekend's events. Andromeda soon has Paula prone in bed, attempting to clear her chakras while Margo and Sage connect while knocking back some beers and discussing possibly meeting men from the nearby army base. The hilarity builds under Stan Zimmerman's tight and knowing direction as these four women try to expand their horizons in the cramped confines of the motel room. The play's series of short scenes keeps ratcheting up the laughs as these women reveal more of themselves and forge new bonds.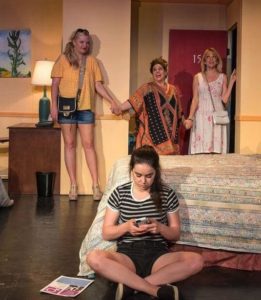 Melissa Peterman, Sarah Gilman, Marissa Jaret Winokur and Teresa Ganzel
Zimmerman has cast with a sharp eye and you couldn't ask for four more able farceurs than featured here. Teresa Ganzel perfectly plays the on edge Paula, perky and pleasant until someone touches her toothbrush or gets cookie crumbs in the sheets. Then she becomes a raging force of nature. Melissa Peterman easily assays the laissez-faire attitude of Margo; not much seems to faze this formidable woman. Marissa Jaret Winokur as Andromeda is a short spitfire with so much energy she's sure to have Red Bull flowing in her veins instead of blood. Her rapid fire dialogue delivery, often while scarfing down cookies and Slim Jims, is a feast for the ears and eyes. Sarah Gilman's Sage has the least flashy role yet she anchors this fabulous foursome with her realistically skeptical yet fun-loving teen. Don't miss this quartet of heroic women who have writer Justin Tanner to thank for giving them these characters.

The Complex, 6476 Santa Monica Blvd. in Hollywood. Ends Oct. 1. www.heartbreakhelp.hpt.me