Well, dear readers, this week has flown by, like a gazelle eating a Creamsicle. Does anyone still eat a Creamsicle? Do they even make such a thing anymore? I was rather fond of them when the Good Humor Man would come down our street. They were much more interesting to me than a plain old Popsicle. Well, blow me over with a turtleneck sweater, they still make the damn things. I can have them right now (or today) – and they're only 100 calories per. How about them egg rolls, Mr. Goldstone. Who knew? For disbelievers, here is the product.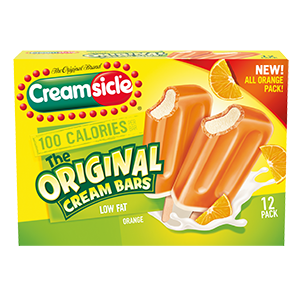 They even make, and I know this will sound hard to believe, Twizzlers Creamsicle-style – I may have to seek those out. I've never once seen them in any store, but they can be had on the line at Amazon. Why the HELL am I talking about Creamsicles? Don't I have some notes to write? I do and I shall, not necessarily in that order.
It was a slow Indiegogo day, as to be expected after the hugely successful launch and first two exhilarating days. But we did get up to 66% and are well into the 8K range. I'm not going to push for a few days, and then we will come out swinging, baby, with at least ten new perks and my aim is to actually reach our goal, and then begin going beyond it. I did get eight hours of sleep, so that was good. I spent some time answering e-mails and having telephonic calls, and then I had two tuna sandwiches, same as the day before. They were good. At some point I went and picked up a package and then came home. Then I just did some work on the computer, and finally it was time for our second Kritzerland rehearsal.
As second Kritzerland rehearsals go, it was a barrel full of fun – everyone knew their material and so I could actually direct a bit, when necessary. The cast is delightful and very strong, and the material is so much fun. We even have two original cast performances: Lauren Rubin doing her Brain from Planet X number that she introduced, and li'l ol' me recreating my behind-the-scenes performance of The Creature's Song (aka I Want to Eat Your Face) from The Creature Wasn't Nice (aka Spaceship aka Naked Space). David Burnham was with us and that's a total pleasure – such a great singer and such a nice guy. And I am telling anyone in LA who has not booked this show for whatever noxious reasons, you will regret missing the opening number performed by Hayley Shukiar. We didn't finish rehearsal until seven-thirty.
I then made some popcorn, had some e-mail volleys, did more work on the computer, made some more popcorn since I was still hungry, and listened to music.
Today, I must be up very early to get to a nine-thirty meeting near LACC – the traffic will probably be disgusting, but one must do what one must do. That should last about ninety minutes, and then I'll come back to the Valley, hopefully pick up packages, then we have one rehearsal with Robert Yacko, who couldn't be with us yesterday. After that I plan to watch something and relax.
Tomorrow I relax until it's time for our stumble-through, after which I'll eat a little something. Sunday I relax until it's time for sound check and then we do our show. Next week is busy with all things Levi – assigning roles, getting my mind in a Levi place, gearing up for another big Indiegogo push, trying to close a deal for a Kritzerland project, and finish casting and choosing songs for the November Kritzerland.
Well, dear readers, I must take the day, I must do the things I do, I must, for example, have a morning meeting and a meal, hopefully pick up packages, rehearse, and relax. Today's topic of discussion: It's Friday – what is currently in your CD player and you DVD/Blu and Ray player? I'll start – CD, various and sundried music. Blu-ray, more Twilight Time releases. Your turn. Let's have loads of lovely postings, shall we, whilst I hit the road to dreamland, while I dreamsicle of the Creamsicle.