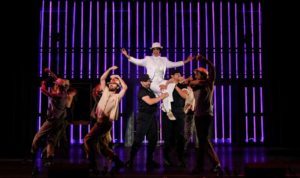 Natalie Nucci as Aurora with her boys (all photos by Ken Jacques)
Kiss of the Spider Woman started life as a novel by Argentine writer Manuel Puig in 1976. It was adapted as a two character play for the stage in 1983 and was given a production at South Coast Repertory in 1991. It was turned into a Best Picture Oscar nominee in 1985 and won an Academy Award for William Hurt. In 1993 it received a big splashy Broadway musical version directed by Hal Prince and starring Chita Rivera and winning seven Tony Awards, including Best Musical, Score and Book as well as for all three leading performers, and running for 904 performances. It received a National Tour, again starring Rivera, in 1994-1996, playing 24 cities including locally in Costa Mesa, Pasadena and the Ahmanson Theatre in Los Angeles. It's rarely been seen since then whether because of the material—two prisoners in a South American jail cell, one a macho revolutionary, the other a gay window dresser—or the elaborate costumes and dance numbers. Whatever the reasons, producer Joshua Carr and The Welk Resort Theatre in Escondido have accepted the risks and have mounted a sterling production that demands to be seen.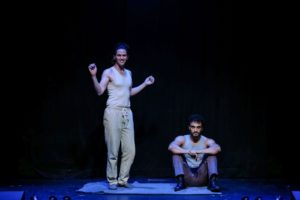 .
Jeffrey Scott Parsons as Molina and Richard Bermudez as Valentin
The original novel was good as was the original stage version and the film, but as only a stage musical can do, the material was been taken to a higher level. In an interview at the time of the New York premiere in 1993, lyricist Fred Ebb said of all his work (which included Cabaret and Chicago) he was most proud of Spider Woman. The score he wrote with collaborator John Kander contains over 20 songs, from heartfelt ballads to insightful character pieces to all out musical extravaganzas with an infectious beat that will have you dancing in your seat. Librettist Terrence McNally's script develops much deeper back stories for the two opposing prisoners than the film did.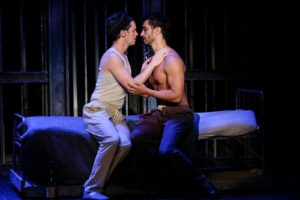 Jeffrey Scott Parsons and Richard Bermudez in a tender moment
Molina is the gay window dresser who is serving the third year of his eight year term for sexual molestation of a minor, male. Into his decorated cell is thrown Valentin, a political prisoner the vicious warden intends to torture for information. When he doesn't get too far with torture, he switches tactics and dangles freedom in front of Molina in the hopes the cellmates will exchange confidences and Molina will become an informer. Instead the men begin to form a bond that turns into love, at first one-sided. To pass the time and to shield their minds from the incessant screams of the other tortured prisoners, Molina begins to tell Valentin about the films of his favorite movie star, Aurora. As he tells them, the big musical dance numbers vibrantly come alive in front of your eyes. The beautifully rendered recounting of the plot of the Marlene Dietrich like "The Flame of Saint Petersburg" gets the second act off to a rollicking start.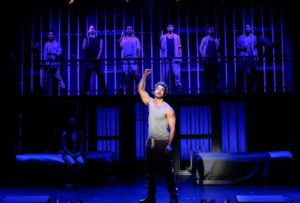 Richard Bermudez as the revolutionary Valentin
The top notch cast really delivers the goods under director Ray Limon's assured and fine-tuned direction. Jeffrey Scott Parsons brings a steely softness to Molina, campy but not totally over the top or a caricature. As Valentin comes to know Molina's kindness and humor, he begins to accept him as a friend and not just see him as a queer. Parsons creates a compassionate and relatable character and his versatility is shown in uptempo numbers like "Dressing Them Up" as well as in ballads like "She's a Woman." Richard Bermudez exudes a strong macho vibe as Valentin, quick tempered and fiery. He's completely believable as a strong man offended by the weakness he assumes Molina's gayness represents and his slowly growing fondness for Molina is artfully presented. He possesses a strong voice and gives the political anthem "The Day After That" all the vigor and power it needs.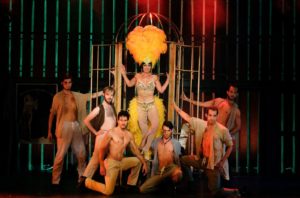 Natalie Nucci and her boys in "Let's Make Love"
Natalie Nucci proves to be a true triple threat. She can wear the outrageous fashions of a movie queen, from feathers to a white tux (courtesy of Janet Pitcher and Theatre Company-Upland's colorful designs). She can sing infectious pastiches like "Where You Are" as well as powerfully seductive and threatening ballads like the title song. She possesses amazing grace as a dancer as she sashays her way through one big production number after another with her boys (Max Herzfeld, Sergio David Salinas, Justin Matthew Segura, John Paul Batista, Sean Kiralla and Matthew Ryan) —doubling as prisoners. Ray Limon's choreography and the flawless execution of it by his cast is the show's strongest asset. The Act One finale, "Let's Make Love" is a real showstopper.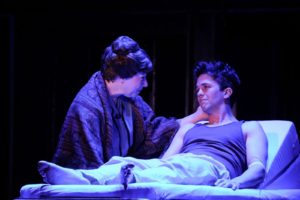 Lisa Dyson and Jeffrey Scott Parsons as mother and son
Lisa Dyson provides strong support as Molina's mother and her "You Could Never Shame Me" is beautifully delivered. She also blends her voice wonderfully with Kylie Molnar, playing Valentin's girlfriend, on the ballad "Dear One." Justin Gray's musical direction of the four-piece pit band makes them sound like an orchestra and makes this score really sound great. The prison setting by Limon, Jennifer Edwards and Doug Davis easily transforms into different playing spaces. Edwards' lighting design colorfully sets the mood, whether prison grim or Technicolor fantasy movie. If you have never seen Kiss of the Spider Woman you need to get to The Welk ASAP. If you have seen it, believe me you have never seen it this up close and personal and dazzling.

The Welk Resort Theatre, 8860 Lawrence Welk Dr. in Escondido. Ends Oct. 22. https://welkresorts.com/san-diego/theatre