Well, dear readers, Kritzerland at Sterling's 80 was, for me, a rousing success. The performers all did a fantastic job and there were so many highlights throughout the evening. Lots o' laughs, too, although it took a few minutes to warm 'em up because they were so damn warm to begin with, what with hour hideous hot spell we're going through, which is fairly unbearable. We were pretty jammed to the rafters, despite some people who paid not showing up, about six of those.  The show got off to a weird start because Michael Sterling forgot his glasses and was on pain pills, so his opening announcement was so surreal that I ended up getting the evening's first laugh by mentioning it. There were a couple of lyric flubs but nothing major and the cast of merry players all did a great job. All the songs went over well, but the highlights, at least for me, were the new What If that opened the show – What if Rodgers and Hammerstein, instead of writing Flower Drum Song had written – Fiddler on the Roof. And it went something like this (to the tune of I Enjoy Being a Girl):
I'm a Jew and by me that's only great
I am proud of my people and religion
I'm a milkman and poor, well, that's my fate
Could I have some respite, well, just a smidgeon
With five daughters you think that life is easy
I can tell you with certainty – it's not
No, our life here – it's not so light and breezy
May I please elaborate just what I've got
When I work so hard all day now
There's one thing that I like to do
To sit in the shul and pray now
I enjoy being a Jew
I have what's a nice ambition
Yes, I'd like to be rich, so nu
Would that be a nice tradition (oy)
I enjoy being a Jew
When Golde, my wife, becomes too shrewish
And yells on me morning, noon, and night
I say do you have to be so Jewish
She says, "Eat some gefilte fish you'll be all right!"
I'm strictly a Jewish Jew here
Living life to a small degree
Like a fiddler – you just get through here
You survive, get through the day, when you're a Jew like me.
The audience really liked it and Robert did it to a "T" and also a "W". So many great laughs. Other highlights for me were Kerry O'Malley's stunning Someone Woke Up from Do I Hear a Waltz, her duet with Robert (Rainbows), Jenna Lea Rosen doing a great job with Making Good, the precursor to The Wizard and I, Sami Staitman doing a joyous What More Do I Need, Hayley Shukiar introducing Opportunity from Levi (complete with trumpet solo), and then she, sister Carly and mom Leasa doing the song I wrote honoring their dad, which went over so well, Roger Befeler doing a very moving and powerful The Kid Inside, and Jason Graae stopping the show with his hilarious Just a Gigolo. And I got to sing my song, Truly Married, which went over well, too. But all the songs were great and everyone shone brightly. Alby Potts was solid as a rock and great at the keyboard. It's just amazing to think this was our eightieth show and seventh anniversary – no one has ever done that before with this kind of monthly show – anywhere, at least that I know of. And while there have been several imitators out there, no one does quite what we do and none of them are within a country mile of how many shows we've done. I'm very proud of our show and everyone who's ever done one.
So many wonderful folks in attendance – cousin Dee Dee and Alan, neighbors Tony Slide and Bob Gitt, dear readers Amy and Mark, Kay Cole, Rachel Frost (the young gal who'll be playing the female lead in Levi), Adryan Russ, Jason Graae's ever-lovin' Glen Fretwell, Leslie Young and beautiful daughter Alexa, singer Maegan McConnell, Grant Geissman and mom and daughter, Barry Pearl's ever-lovin' Cynthia (Barry was off doing something else), ASCAP's Michael Kerker, other Kritzerland performers Hadley Belle Miller, Olivia Knox, and Oliviana Marie, and so many others. Loads of lovely comments afterwards, too.  Here are some actual photographs.  First our merry troupe of players – on the couch, left to right, are: Jason Graae, Leasa Shukiar, Carly Shukiar, Hayley Shukiar, Jenna Lea Rosen, and Sami Staitman.  Behind the couch, left to right, are: Roger Befeler, Alby Potts, Kerry O'Malley, Li'l Ol' Me, and Robert Yacko.
Here's Sami and Jason, together again.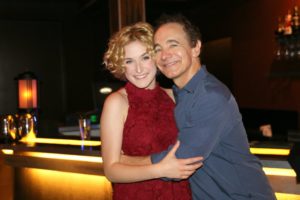 Here's Jenna and Sami, together again.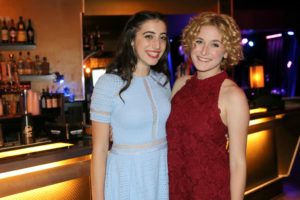 Here's the ubiquitous Sami and me photo.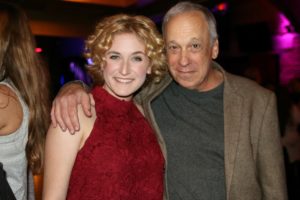 Finally, here's Sami, me, and former Kritzerland co-producer Adryan Russ.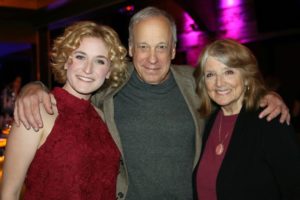 Then some of us went over to Little Toni's after – I had a sandwich and half of a salad. Then I came home and sat at my computer like so much exhausted fish.
Prior to all that, I got eight hours of sleep, then just relaxed until it was time for sound check.
Today, I'll also relax and then at 2:45 I'll mosey on over to the house where the film music thing is taking place. We'll figure out the set-up and then run through as much of the show as we can. Then we do the show at seven and hopefully we'll be done by eight. They say there will be food for us after, but I may just go out to eat. We shall see.
The rest of the week is meetings and meals, hopefully cooler temperatures, and doing my best to keep the cloven hoof of negativity as far from me as possible. It could be a daunting week but I'm hoping not, I'm hoping for positivity.
Well, dear readers, I must take the day, I must do the things I do, I must, for example, relax, rehearse and sound check, and then do a film music thing. Today's topic of discussion: What are your favorite nutmeats? Let's have loads of lovely postings, shall we, whilst I hit the road to dreamland, happy to have had a wonderful Kritzerland at Sterling's 80.