The cast of ONCE (all photos by Jordan Kubat/SCR)
John Carney's 2007 film Once was shot in 17 days for a cost of $150,000. It ended up grossing $20 million worldwide and winning an Academy Award for the song "Falling Slowly," written by the film's stars Glen Hansard & Marketa Irglova. Not a fan of the film (I stopped watching after about 30 minutes from sheer boredom). It became a Broadway musical in 2012, running for 1,168 performances and winning eight Tony Awards including Best Musical. A lover of stage musicals, I had hopes that I would like it better live and in person. South Coast Repertory in Costa Mesa is currently presenting a solid production under Kent Nicholson's direction and it is one of those shows that kept me asking "why bother?" while watching. There is virtually no plot and no real depth. The lead characters aren't even given names–they are just referred to as Guy and Girl. Guy is a Irish busker in Dublin, singing sad love songs about the girlfriend who dumped him and moved to New York. He repairs hoovers with his Da and lives over the shop. Girl is a Czech immigrant with a daughter, a mother and an estranged husband. Guy decides to quit his singing but Girl encourages him to record a CD and go to NYC to woo his ex. Even though they begin to feel an attraction to each other, Girl decides to try to reconcile with her husband for her daughter's sake and Guy contacts his ex and says he's coming to NYC. Curtain. The End.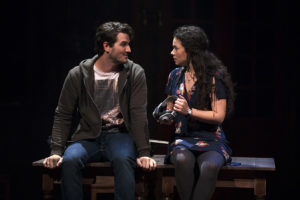 Rustin Cole Sailors and Amanda Leigh Jerry as Guy and Girl
Rustin Cole Sailors as Guy and Amanda Leigh Jerry as Girl are front and center for the bulk of the show and they are personable and possess strong voices. Sailors is especially worth seeing and hearing. The songs are mostly folksy ballads and don't really advance the minimal plot. The other 10 cast members play very small roles occasionally but mostly function as on stage voyeurs and orchestra. Ralph Funicello's scenic design is a Dublin bar which supposedly is open to serve drinks to audience members before the show and at intermission; however no one seemed to be serving up drinks behind the bar. That seems to be the only raison d'etre for the pub setting because not much action is set in a pub. Most of the scenes take place in a music store or a recording studio. Must be that pesky leprechaun from Finian's Rainbow.

South Coast Repertory, 655 Town Center Dr. in Costa Mesa Ends Sept 30. www.scr.org