Well, dear readers, I shan't bore you with yet more tales of Claus Ogerman – a year ago I devoted a whole notes to him – simply put, he was one of the greatest arrangers/orchestrators ever – for Jobim, Sinatra, Streisand, Wes Montgomery, Oscar Peterson, Stephane Grapelli, and, of course, Bill Evans. I fell in love with his work on the Bill Evans Trio with Symphony Orchestra album, in my pantheon of all time greats and a true desert island disc. I learned quickly to spot on Ogerman chart instantly. And when he began his output of serious composition, I fell in love with that, too. In fact the most beautiful track on the Bill Evans album was written by him, Elegia, a track I listened to repeatedly for years. I bought his 70s CD Gate of Dreams the day it came out and wore out several copies. Later, in the 80s I discovered more of his classical pieces, and happily several things were issued on CD, all of which I snapped up. His music just spoke and continues to speak to me.
We met via telephone in 1991, when he called the Bay Cities office. I think I'd written him a note and got it to him through a mutual friend. We conversed, he wrote me some nice letters, and ultimately he gave me two things we could issue on one CD, which we did. It was a release I dearly loved – his brilliant Symphonic Dances coupled with Some Times a ballet he wrote for the ABT. It sold reasonably well, then went OOP when Bay Cities closed down. Over the years that CD has become quite a collector's item – the cheapest copy currently on Amazon is just under a hundred bucks. And so, after we announced the Rachmaninov and the reaction to that was so positive, I took out the Ogerman album and listened. While it didn't sound quite as good as I remembered, I knew that a fresh mastering would take care of that – after all, we've come a long way in twenty-five years. But the music – I was just entranced all over again. The ballet Some Times was made slightly longer and became Claus's most well known album – Gate of Dreams. I like its original slightly shorter form better.
And so it's my extreme pleasure to announce our new Kritzerland CD – Claus Ogerman – Symphonic Dreams/Some Times (Ballet). I'm so thrilled to bring this to people who don't know his work, and I encourage anyone on the fence to listen to the stunning audio samples at the Kritzerland site. And I absolutely love Doug Haverty's new cover design for it – here it is.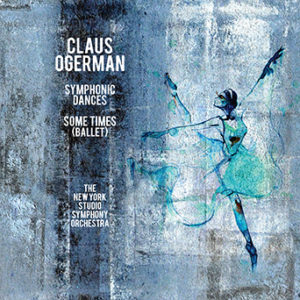 Spread the word on this one, it deserves to be heard by one and all and also all and one.
Yesterday I got about five hours of sleep, got up, answered e-mails, and then gave myself an hour and fifteen minutes to make the twenty-minute drive to visit with our very own Mr. Nick Redman. The drive didn't quite take an hour and fifteen minutes, it took about an hour and five minutes. We had a lovelier than lovely visit, laughed, caught up, I got all the latest and am happy to report that despite his travails this year, health-wise, his attitude is very good. We watched the new 4K transfer from the 65mm negative of Doctor Dolittle and I'm happy to tell you it looks absolutely spectacular – crystal clear and sharp as a tack, great contrast, and a riot of great color and sound. You'll all want to get it when it's released in November.
I then came back home and made the first Freshly meal, meat loaf with vegetables – very good. Then I did some work on the computer – made two thirds of a first pass show order, had some telephonic calls, but most importantly created about half the perks for the Indiegogo campaign, all the main ones. Now I have to figure out what the one-of-a-kind perks are. I'll probably do another Sondheim note, and a few interesting art pieces from the garage. And I may just offer Richard Sherman's original hand-written version of our song, Two Roads. I then picked up no packages, then came back home and sat on my couch like so much fish.
Last night, I checked out transfers of Suddenly, Last Summer (great), Kid Galahad (one of the better MGM/UA transfers), The Long, Hot Summer (very lovely) and Beneath the 12-Mile Reef (absolutely a stunner). I'll have a full report on each as I finish them. I then had my second Freshly meal, Chicken Rustica, and then I got everything ready for our announcement.
Today, I have a one-hour work session at eleven and then a lunch at noon-thirty. Hopefully I'll print out a LOT of orders, hopefully I'll pick up some packages, and then I think I'll be able to relax and watch motion pictures.
Tomorrow she of the Evil Eye will be here, and once she's gone I will write the show commentary for the Kritzerland show and mostly try to relax. The same goes for Sunday. Then next week is our busy Kritzerland rehearsal week, and I will also be in serious Levi! prep mode.
Well, dear readers, I must take the day, I must do the things I do, I must, for example, have a work session, have a lunch, hopefully print out a LOT of orders, hopefully pick up packages, finish the show order, and then relax. Today's topic of discussion: It's Friday – what is currently in your CD player and your DVD/Blu and Ray player? I'll start – CD, various Kritzerland releases. Blu-ray, all the new Twilight Time releases. Your turn. Let's have loads of lovely postings, shall we, whilst I hit the road to dreamland, happy to have had a nice visit with friend Nick and thrilled to release our early Christmas present of Santa Claus (Ogerman, that is).