Well, dear readers, I have literally been working non-stop for the last five hours. That is not usually how I like to spend my evenings but that's how I spent my evening. The work began with getting the Kritzerland show up on Facebook so tickets could be ordered. That has always been an annoying thing to do, but starting with last month's show Facebook has made doing an event page a horror show and a) there's no reason for it, b) it makes an already difficult process even more difficult, and c) there's no reason for it. It used to be that once you created the event and clicked on "Invite" you saw your suggested friends list, which ALWAYS had the people you've invited before and the folks who do the most posting on your page. Not any more. Now it's random people and frankly none of our usuals ever show up on it. I literally had to type in about forty names to find them and enter them. There's no one to complain to, there's nothing to do about, just another wonderful and completely idiotic Facebook "improvement." So I spent two HOURS doing what used to take fifteen damn minutes.
Then after that, I had to do the opt-out list for Fuller at Fox, and get all the online dealers their invoices, and the helper all her stuff (and she's been out of town since Friday), and it was just endless. I did make the remainder of the pasta – it looked like a small amount but it wasn't – that didn't stop me from eating it all, but it was too damn much food considering I'd had a sandwich and a salad for lunch. Then I had to get the Indiegogo campaign started, in terms of laying everything out – so the initial phase is done and we'll have to add video, the copy, the perks, and all that stuff. Here is the current idea for the show logo, which I rather like.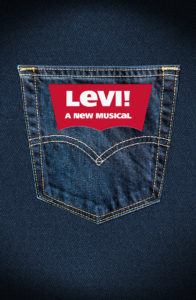 Prior to the busy evening, I'd gotten eight hours of sleep, answered e-mails, had telephonic calls, and then went and had a pastrami sandwich on the rye bread with cole slaw and 1000-Island dressing and a side Caesar salad, all very good. Then I picked up no packages or mail and came home. Once home, I had a long telephonic call with Elizabeth Shermsn and spoke to Richard, too. And then suddenly all this stuff had to be done and I did it.
Now I'm sitting here like so much fish listening to the music of Benjamin Britten, which I very much enjoy. I also found some fun photographs whilst rummaging around in the garage the other day. For example, here is a fun photograph of myself at a younger age is a crazy kind of shirt. I've always liked this photograph.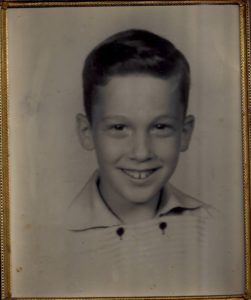 Here's a photograph taken in 1994 at the Unsung Musicals concert in New York. This is me and someone named Jason Graae. Aren't we young?
Here is a photograph taken in the early 1990s at a BAFTA event, when I was a member of BAFTA. Not sure who the lady is, but the man on the right is Patrick Macnee.
Today, we'll ship Fuller at Fox, then I have stuff to do, I'll hopefully pick up packages, and then if all goes according to Hoyle, I'll go to the Shermans, where I'll be joined by a lady with a camera. We'll shoot our little Indiegogo footage for the Levi campaign. It really shouldn't take more than about thirty minutes, if that. I just need a few shots, maybe Richard playing the piano, and some cherce sound bites. Then I'll probably grab a bite to eat on that side of the hill – perhaps at Nate 'n' Al's, since that's not too far away. We shall see. Then I'll come home and do whatever else needs doing.
Tomorrow I have to be at LACC at ten-thirty to finalize my choice for costume designer, then I'll eat, and come back at one-thirty to meet with the actors who missed the workshop. The rest of the week is meetings and meals, prepping the Indiegogo campaign and hopefully getting it up and running by the weekend, and more going and doing and doing and going, hopefully a Thursday visit with Nick Redman, as well as getting the new Kritzerland title ready for announcing.
Let's all put on our pointy party hats and our colored tights and pantaloons, let's all break out the cheese slices and the ham chunks, let's all dance the Hora or the mambo, because today is the birthday of our very own beloved dear reader elmore.  So, let's give a big haineshisway.com birthday cheer to our very own beloved dear reader elmore.  On the count of three: One, two, three – A BIG HAINESHISWAY.COM BIRTHDAY CHEER TO OUR VERY OWN BELOVED DEAR READER ELMORE!
Well, dear readers, I must take the day, I must do the things I do, I must, for example, ship Fuller at Fox, hopefully pick up packages, shoot a video, sup, and at some point relax. Today's topic of discussion: What are the most irritating things about the Internet for you personally? Let's have loads of lovely postings, shall we, whilst I hit the road to dreamland, so tired of the non-improvements of Facebook.