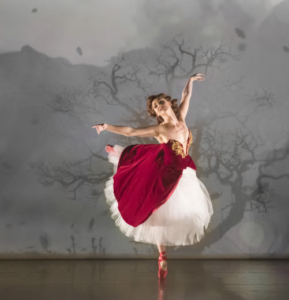 Ashley Shaw as driven and doomed ballerina Victoria Page (all photos by Johan Persson)
The Red Shoes started life as a cautionary fairy tale about vanity by Danish storyteller Hans Christian Andersen in 1845. As most of his fairy tales, as well as those of the German Brothers Grimm, it was a very bloody and brutal tale. Once put on the red shoes could not be taken off and forced the young girl who wore them to dance and dance. The shoes continued to dance even after the girl had her feet amputated. Over a hundred years later in 1948 British filmmakers Michael Powell and Emeric Pressburger crafted the classic film version featuring a love triangle between a domineering ballet impresario, a young gifted ballerina and her composer boyfriend who writes a ballet for her. Although the ballet is a success for all three, the love triangle does not end well, especially for the ballerina wearing the red shoes. Hint: there is a train involved.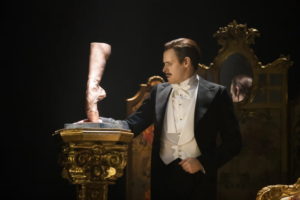 Sam Archer as Ballet Impresario Boris Lermontov
Choreographer/director Matthew Bourne (most famous for his all-male version of Swan Lake) and his New Adventures troupe of dancers have been working for nearly 20 years to bring The Red Shoes to life on stage. They have succeeded triumphantly as witnessed at the opening night of the ballet's American Premiere at the Ahmanson Theatre on September 19. The corps de ballet is exemplary; the visions they create with their dancing are mesmerizing. There are fun nods to No, No Nanette (beach ball ballet) and La Cage Aux Folles (a café in Monte Carlo) and most especially to A Chorus Line (which made the film version famous again because nearly all of the auditioning female dancers, except for Val who didn't give a f*ck, cited The Red Shoes as the reason they became dancers). There is also plenty of homoerotic ballet on display, a Bourne trademark, that sometimes brings to mind the antics of Les Ballets Trockadero.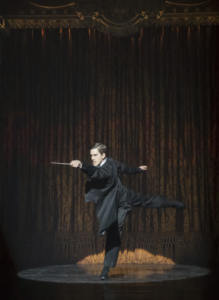 Dominic North as composer Julian Craster
All the roles in the show are double and even triple cast but the opening night trio of stars would seem difficult to equal. Ashley Shaw was incandescent as Victoria, graceful as a swan and sensual as a film noir femme fatale. Her several pas de deux encounters with Dominic North as composer Julian were breathtaking to behold. Sam Archer artfully conveyed the egomaniacal and slightly demonic impresario Boris.

Ashley Shaw and Dominic North in one of their pas de deux
Lez Brotherston created the set and costume design which was beautifully lighted by Paule Constable. Duncan McLean's projection design was an integral part of the design, especially during the Act One finale of The Red Shoes Ballet. Paul Groothuis's sound design was also a key ingredient. The real genius was the orchestrations by Terry Davies of Bernard Herrmann's many and varied film scores which provide the backdrop for all the action. Music from Citizen Kane, The Ghost and Mrs. Muir, Fahrenheit 451, Obsession and other films, most especially the Alfred Hitchcock classics Psycho and Vertigo, are used and rearranged to provide the dramatic texture for the ballet. It's a truly impressive piece of musical and theatrical magic.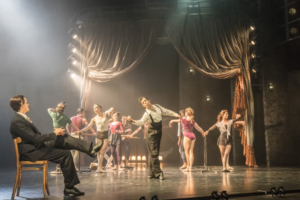 The company of The Red Shoes Ballet rehearse

Ahmanson Theatre, 135 N. Grand Ave. in Los Angeles. Ends Oct. 1. www.centertheatregroup.org/ahmanson