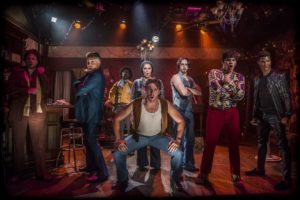 Darren Bluestone leads the cast in a dance (all photos by Matthew Brian Denham)
In an America divided more bitterly every day along racial, gender and sexual orientation lines, in an America where the President says that Nazis and White Supremacists are "fine people," hate crimes and senseless acts of violence keep escalating. Queer Theatre, after seemingly exhausted the coming out sagas and shown nearly all permutations of the AIDS epidemic, is now turning its eyes and pens (do playwrights still write with a pen) towards acts of mass violence against the gay community. Playwright Paul Rudnick's latest Big Night, currently at the Kirk Douglas Theatre, is an unwieldy attempt to meld his patented brand of Pop Satire with a deeper theme of a fictional mass shooting of young people at a gay center. In June the Hollywood Fringe Festival presented Katherine Cortez's In the Valley of the Shadow, which examined the aftermath of the mass shooting at the Pulse nightclub in Orlando in 2016. The Fringe also presented Wayne Self's 2013 Upstairs-A Musical Tragedy, a historical fantasy which recounted the 1973 fire at a gay club in New Orleans. Now Celebration Theatre is presenting another new musical take on that still unsolved mass murder at The Upstairs Lounge in Max Vernon's The View Upstairs.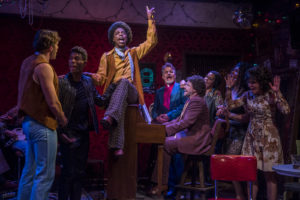 Pip Lilly leads the cast in song
Like Self before him, Vernon's heart is in the right place but he just doesn't possess the talents necessary to pull of the long one-act musical in which he has contributed the book, music and lyrics. Vernon also takes a fantastical view into the long ago tragedy by having Wes, a hip young clothing designer in 2017 buy the building that once housed the Upstairs Lounge. After a couple of hits of cocaine, Wes (Matthew Hancock) is transported back to that fateful night of June 24, 1973 and meets some of the staff and customers. He's sort of Marty McFly powered by cocaine instead of a DeLorean; he doesn't believe he's in the past and his companions don't believe he's from the future, even with his outrageous clothes and smartphone. We get mini-sketches of lesbian bartender Henri (Benai Boyd), bisexual piano player Buddy (Jake Anthony) and their customers–hustler Patrick (Darren Bluestone) who is universally liked and hustler Dale (Joey Ruggiero) who is not, drag queen Freddy (Reyhan Rivera) and his supportive mother Inez (Chala Savino), MCC Minister Richard (Pat Towne) and old queen Willie (Pip Lilly who gets a moment near the end and really works it). The cast does well trying to breathe life into these thinly drawn characters. There are some nice touches as Wes uses his 2017 knowledge of gay rights struggles to try to inform the 1973 activists.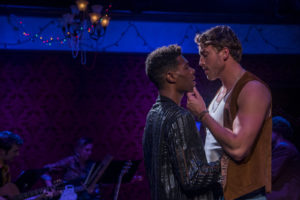 Matthew Hancock and Darren Bluestone
Under Michael A. Shepperd's direction the action has a nice flow and he always manages to keep the audience interested in what is transpiring. Anthony doubles as music director, leading his four piece onstage band. Vernon has written some lively melodies but his lyrics though are pedestrian and most songs sound more like underscored dialogue rather than true songs. Cate Caplin has provided some lively and period choreography on the postage stamp sized stage. Alex Calle's scenic design is a riot of color; it looks like a Mardi Gras float exploded and covered every surface with beads and photos.

Celebration Theatre, 6760 Lexington Ave. in Hollywood. Ends Nov. 12. www.celebrationtheatre.com